Chromatic Christmas - eclectic - family room - chicago
http://www.decor-ideas.org 05/07/2013 10:25
Decor Ideas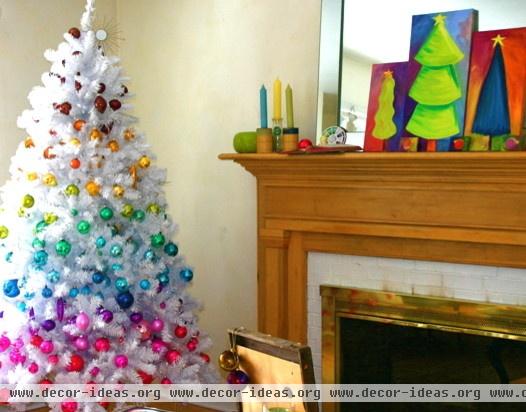 Chromatic Christmas - eclectic - family room - chicago
Follow me at
http://www.opendoorstudio.blogspot.com for more fun Chirstmas ideas!

The inspiration was the artist Kim Parker and my mothers Art box. I developed a chroma of color on the white artificial Christmas tree by layering vintage shiny brite ornaments in a palette of color.
After completing the tree, I painted 3 whimsical trees to accompany the Art box inspired tree. My mothers vintage wooden art box decked out in the center of the room with colorful modern Christmas tree balls bursting forth. I added artful touches throughout the room for a fresh take on Christmas decor.
Tags:eclectic,family room,christmas,colorful,home,opendoor studio,opendoorstudio,opendoorstudio.blogspot.com,opendoorstudio.etsy.com,ornaments,rainbow,tree,vintage,white
URL:
Chromatic Christmas - eclectic - family room - chicago
http://www.decor-ideas.org/cases-view-id-364.html