My Houzz: Fashionably Simple in a Williamsburg Apartment
http://www.decor-ideas.org 10/28/2015 22:13
Decor Ideas
Hillary Taymour has always had big ideas about design. At the age of 10, the fashion designer behind women's clothing line Collina Strada was already drafting elaborate floor plans, such as a renovation of her childhood bedroom that included an acrylic floor with sand beneath it, fish tank walls, a bed shaped like a boat and lights built into the floor that would let you see the underwater design at night. She applied the same kind of creativity in 2014 when gutting and renovating her 700-square-foot apartment in Brooklyn, New York, to fit her simple and modern aesthetic.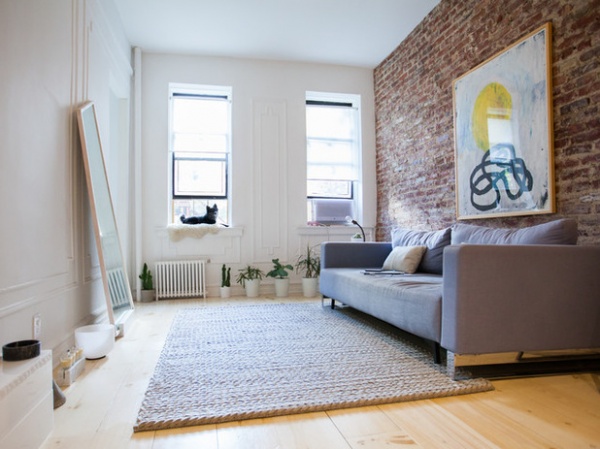 Houzz at a Glance
Who lives here:
Hillary Taymour and her 3-year-old blue merle Pomeranian, Powwow
Location:
Williamsburg neighborhood of Brooklyn, New York
Size:
700 square feet (65 square meters); one bedroom, one bathroom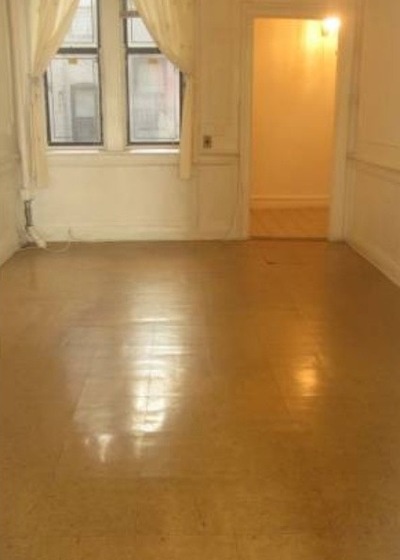 BEFORE:
"The amount of natural light that came into the space was incredible for it being on the ground floor," Taymour says of the apartment, which has high ceilings. As the founder of boutique women's clothing line Collina Strada, she is always traveling for fashion shows and other events, and she instantly saw the potential of that ceiling height for luggage and equipment.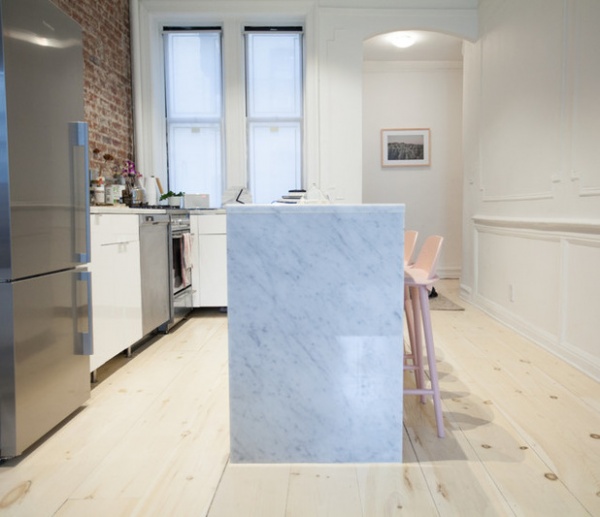 AFTER:
One of the biggest design decisions that Taymour made was to knock down the wall to the second bathroom. "I wanted the kitchen to be very involved with the living room, to feel more open and light. It was a big but necessary decision," she says.
Taymour also uses the kitchen island as a workspace to plan concepts, hold meetings and sort out last-minute flight arrangements.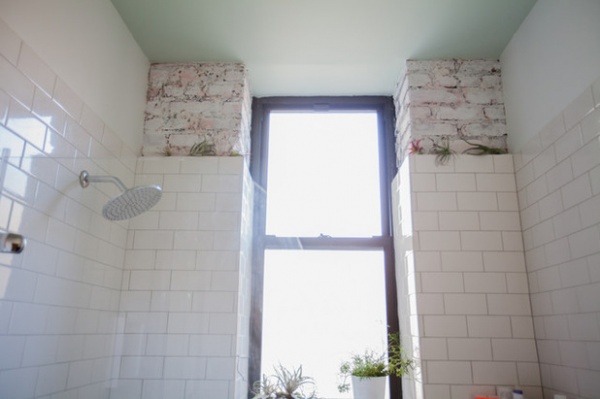 One of her favorite design choices is the exposed brick, especially in the bathroom. "It is so subtle, but it adds an interesting element that makes it feel so beautiful and special," she says.
Air plants: Hibiscus Flowershop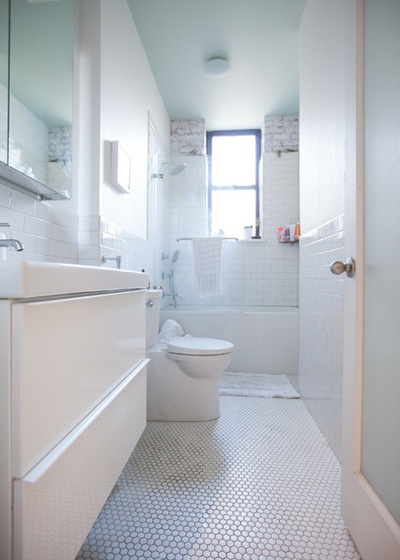 Overall, the apartment was a step down in size from Taymour's previous home in Los Angeles, which had an entire room dedicated to her clothes. "I ended up taking 12 inches out of the bathroom to allow for a walk-through closet without making my bedroom too small," she says. "Literally every inch counted, when it came down to it." Taymour went with penny tile for the floor and subway tile for the shower.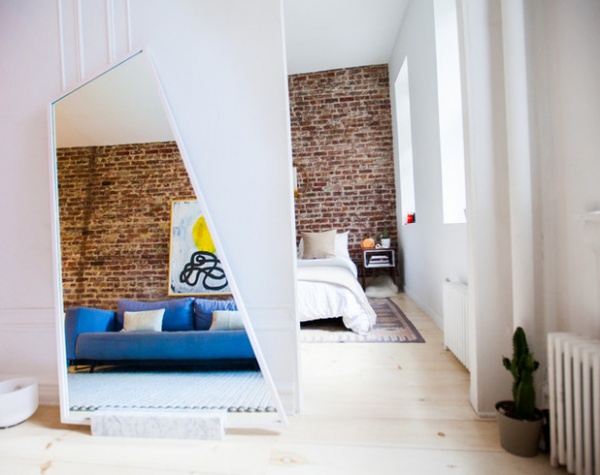 For Taymour, interior design is an extension of fashion design. "It's always been what inspires me and has been a fun creative process for me to clear my mind of the fast-paced world of fashion," she says. She designed the full-length mirror in her living room, Object B, for Social+Studies, her interior design company. It's a fitting example of her sensibility to make art functional.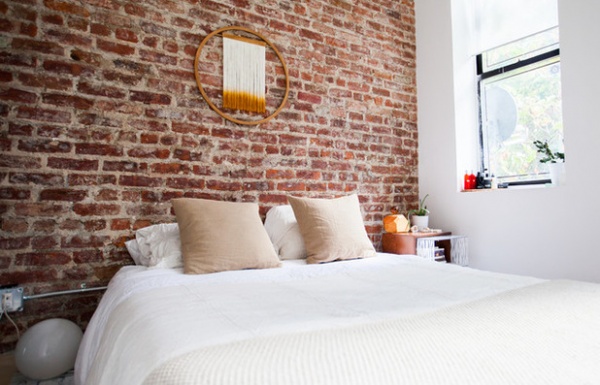 The homeowner describes her style as "modern minimalism with a cozy New Age approach." Her bedroom, with warm brick walls that offset the clean palette of the bedding, exemplifies that vision.
Wall hanging: Julie Thevenot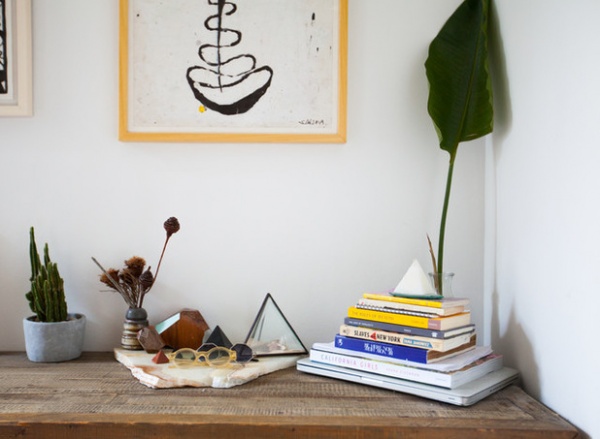 The mix of New York and Los Angeles aesthetics is apparent on a bedroom dresser, which is accessorized with sunglasses, rose quartz crystals and a cactus.
Dresser: Restoration Hardware; wood geo: Haley Ann Robinson; terrarium: Urban Outfitters; pyramids: Healing Crystals; painting: Suzannah Wainhouse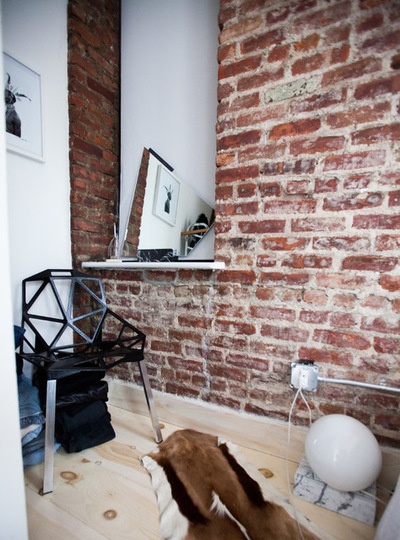 Another one of Taymour's mirrors for Social+Studies, Object D, decorates a corner of her bedroom.
Connections dining chair: Overstock; Fado lamp: Ikea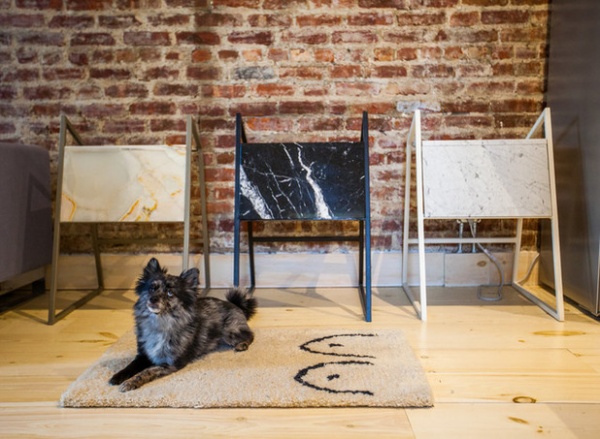 Powwow sits in front of three conceptual stools that Taymour designed.
Object E stools: Social+Studies; Private Parts: 2 rug: Cold Picnic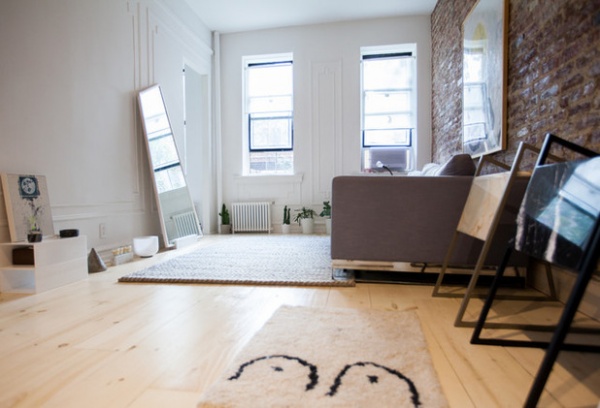 Everything from Social+Studies is made in New York. The marble and glass are cut in Williamsburg, and the wood is fashioned in Bushwick, another neighborhood in Brooklyn.
Painting at left: Gail Stoicheff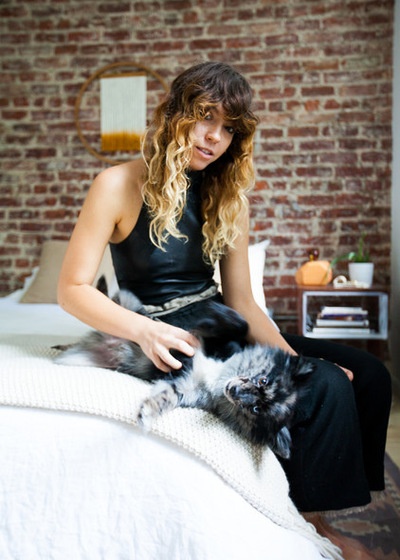 "I love my apartment, but I dream big. I have two dream spaces: one being a minimal, large white room with white floors and a white worktable that disappears into the distance. A home that is so sterile, I can just be alone, draw and create, with zero distractions from design or any other influences," Taymour says. "My second dream space would be a large, open modern structure upstate or maybe the desert somewhere. I want to live in a beautiful modern home, maybe next to a waterfall or a hot spring."
My Houzz is a series in which we visit and photograph creative, personality-filled homes and the people who inhabit them. Share your home with us and see more projects.
Browse more homes by style:
Apartments | Barn Homes | Colorful Homes | Contemporary Homes | Eclectic Homes | Farmhouses | Floating Homes | Guesthouses | Lofts | Midcentury Homes | Modern Homes | Ranch Homes | Small Homes | Townhouses | Traditional Homes | Transitional Homes | Vacation Homes
URL:
My Houzz: Fashionably Simple in a Williamsburg Apartment
http://www.decor-ideas.org/cases-view-id-27089.html