7 Striking Paint Colors for Your Powder Room
http://www.decor-ideas.org 10/27/2015 22:13
Decor Ideas
Interested in adding dramatic color to your home but worried about going too far? Rather than dialing down the vibrancy of your favorite bold hue, think instead about using it strategically. An intense color on the wall of a living room or bedroom may be too much, but it can be a fun option for rooms we tend to pass through or spend less time in, such as the powder room.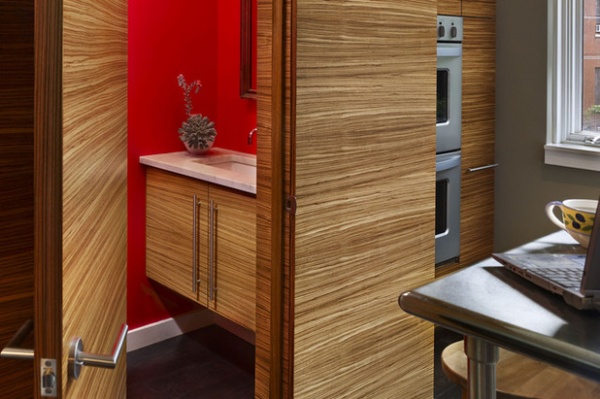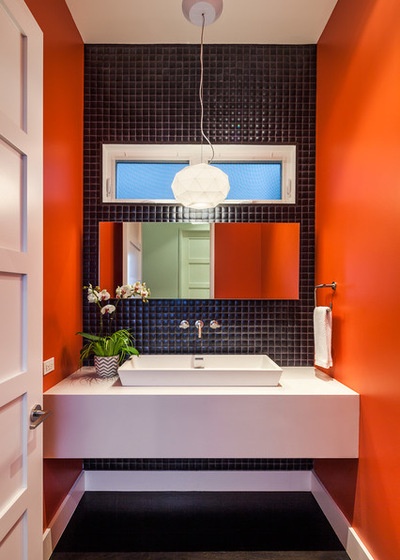 1. Tomato Red
Bold reds are an invigorating choice for wall color in a powder room. Whether you go for a pure red or a modern red-orange, it will provide a high-energy kick. It's also a flattering shade to surround yourself with since it tends to give people a rosy glow.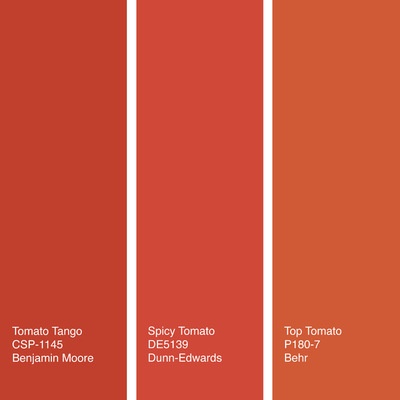 Tomato reds work well with medium to dark wood tones and oil-rubbed bronze metal accents. Some crisp white lightens up the palette.
Try these:
Tomato Tango from Benjamin Moore, Spicy Tomato from Dunn-Edwards or Top Tomato from Behr.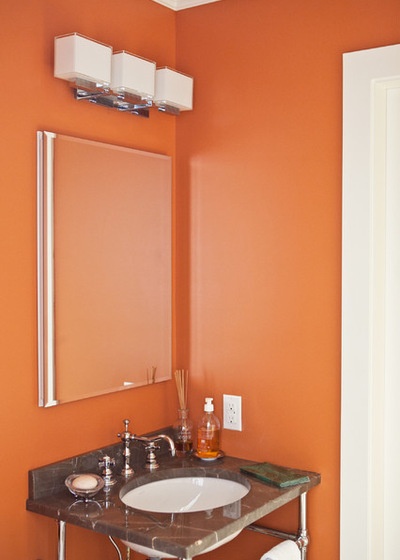 2. Spicy Orange
Powder rooms are often cramped and have little wall space for artwork or other accessories. That's why I love an eye-catching color on the wall, such as a hot orange. It can stand on its own as the only decorative element you need in such a tight space.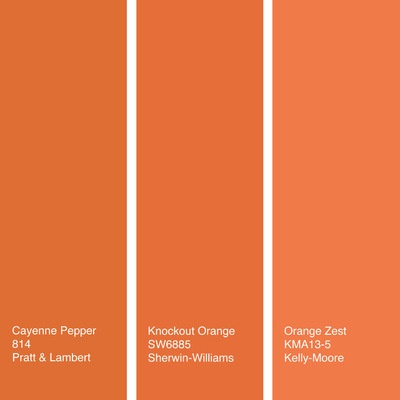 Bold oranges play nicely with warm whites or light grays and polished chrome or stainless steel metals.
Try these:
Cayenne Pepper from Pratt & Lambert, Knockout Orange from Sherwin-Williams or Orange Zest from Kelly-Moore.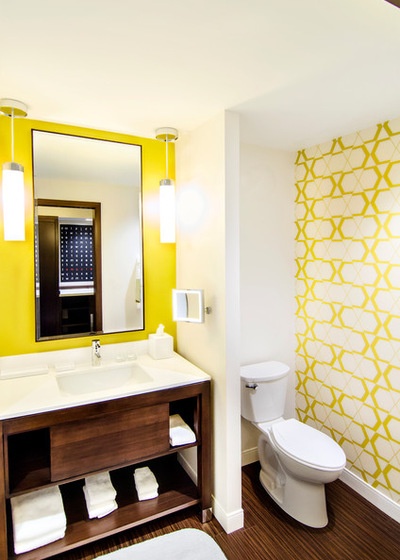 3. Citrus Yellow
If your bathroom lacks natural light, fake it with a dash of a vivacious yellow. The more neon it is, the less you'll want to use, but it's a terrific way to set an optimistic, cheery tone.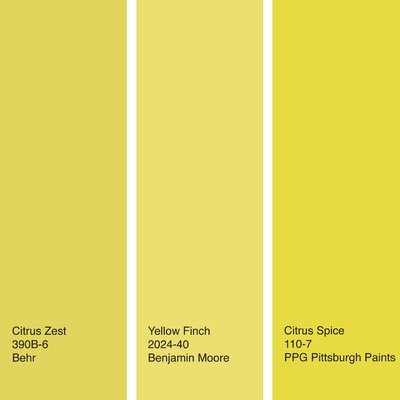 Citrus yellow hues need a good dose of pure white in the room to keep them from being overwhelming.
Try these:
Citrus Zest from Behr, Yellow Finch from Benjamin Moore or Citrus Spice from PPG Pittsburgh Paints.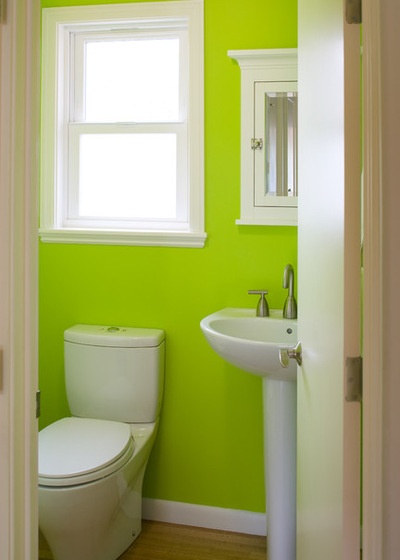 4. Acid Green
If a window in the powder room brings in abundant natural light, you can get away with an almost-fluorescent green. Just make sure you also have good overhead lighting, so the room is well-lit after dark.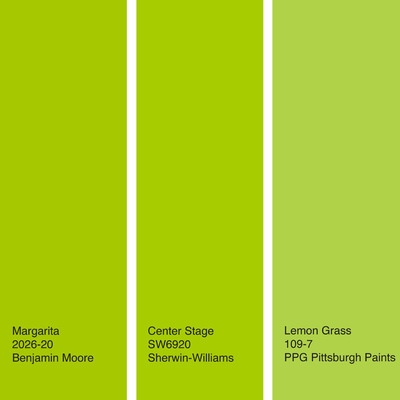 Acid greens look fantastic with crisp whites, light wood tones and matte metal finishes like brushed stainless steel or satin nickel.
Try these:
Margarita from Benjamin Moore, Center Stage from Sherwin-Williams or Lemon Grass from PPG Pittsburgh Paints.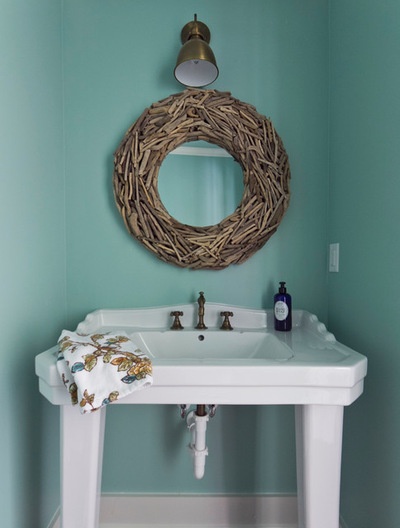 5. Watery Blue
One of my favorite colors for a bathroom is a watery blue because it gives a hit of color that's still soothing. Look for a shade with a touch of gray if you prefer something darker. The gray tones down the blue for a relaxed vibe.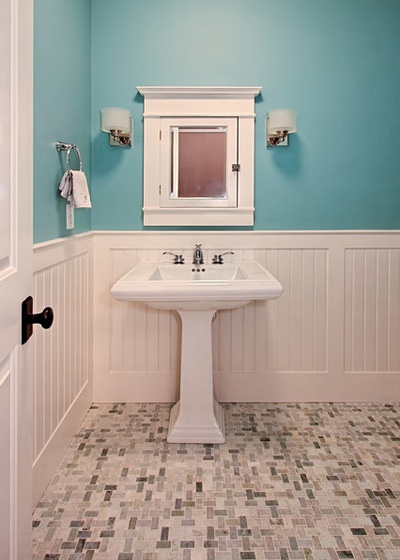 Here's another turquoise-clad powder room that exudes a calm, cool and collected feeling. Because cool colors are thought to relieve stress, they're great if you want your room to evoke a spa-like sanctuary. They also tend to visually recede, making a space seem more expansive than it is.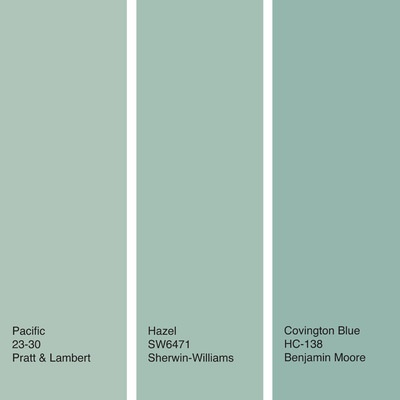 Watery blues get even beachier when paired with light sandy browns. Go modern with brushed stainless steel finishes or, for a more traditional or transitional look, choose oil-rubbed bronze accents.
Try these:
Pacific from Pratt & Lambert, Hazel from Sherwin-Williams or Covington Blue from Benjamin Moore.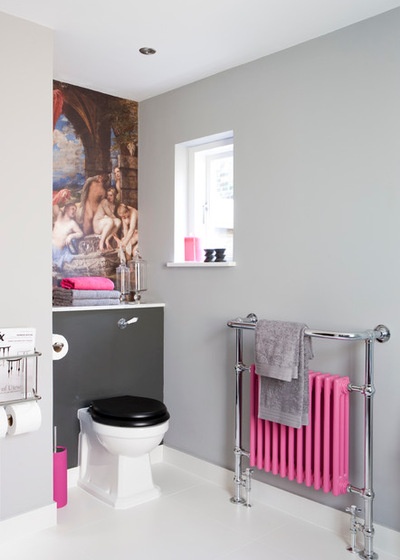 6. Hot Pink
Tough to pull off in large amounts, hot pink can be a striking accent in a powder room. Here, it mixes with black, white and shades of gray for a sophisticated look.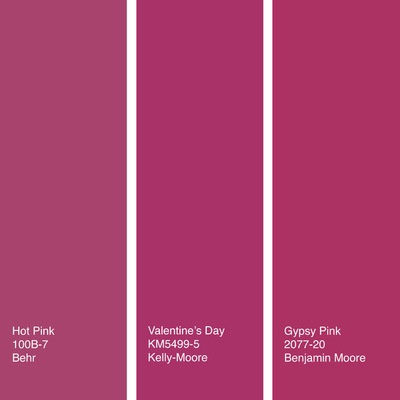 A bit of hot pink goes a long way, so think of giving it a supporting role. If your room gets a lot of natural light, you can use this attention grabber in larger doses.
Try these:
Hot Pink from Behr, Valentine's Day from Kelly-Moore or Gypsy Pink from Benjamin Moore.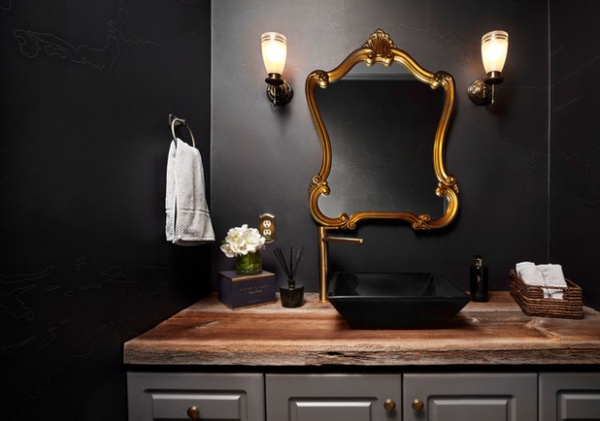 7. Inky Black
Black isn't so basic when it's a wall color. And though it's definitely not a neon hue, it's still tricky to use indoors in large quantities because it can gobble up the light. So while an all-black living room may be ill-advised, it can be a stunning option in a powder room. It's especially handsome with bronze or copper metals.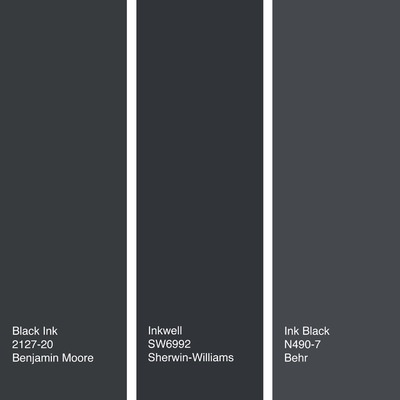 You may have noticed that most paint companies offer different shades of black. If you view the swatches next to one another, you can pick up on the subtle undertones in each hue. Cooler blacks have a touch of blue or violet in them, and warmer blacks have a hint of brown. If most of your other colors in the space are cool, stick with a cool black; with a warmer palette, work in a warm black.
Try these:
Black Ink from Benjamin Moore, Inkwell from Sherwin-Williams or Ink Black from Behr.
Tell us:
What color is your powder room? Or what color are you thinking of painting it? Share in the Comments.
More
102 Eye-Popping Powder Rooms
Yes, You Can Go Bold With Wallpaper in a Powder Room
Key Measurements to Help You Design a Powder Room
URL:
7 Striking Paint Colors for Your Powder Room
http://www.decor-ideas.org/cases-view-id-27084.html