My Houzz: Bohemian Home Inspired by Organic 1970s Design
http://www.decor-ideas.org 10/27/2015 02:13
Decor Ideas
Artist Adam Porterfield bought a 1906 fixer-upper in the northeast corner of Portland, Oregon, with his father in 2008 and knew it was just the type of home he'd been patiently searching for. The two embarked on an intensive DIY renovation, updating the plumbing, heating and electrical systems and even reinsulating the house themselves. At one point, they had the place stripped down to the studs. They converted the four-bedroom, one-bathroom home into a three-bedroom, 2½-bathroom bohemian haven. Porterfield shares the space with his girlfriend, Emily Katz, a macrame artist with a knack for interiors who helped add warm and eclectic design touches.

Though they still have ongoing projects throughout the house, the couple embrace the fact that it's a work in progress. "I think it is really cool to think of houses as organic things," Katz says. "They are always evolving. As a contractor once said to Adam when he was first working on the house, 'It's never done.' "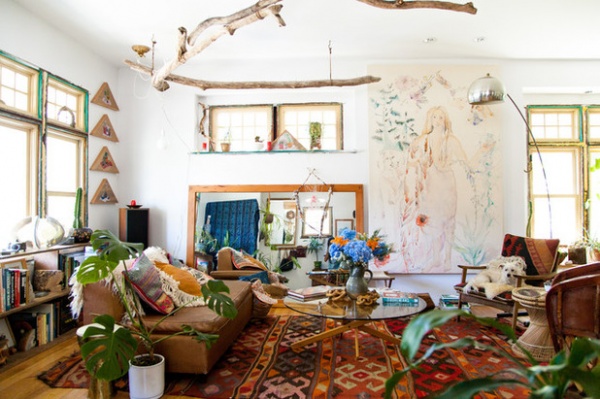 Who lives here:
Emily Katz and Adam Porterfield; their dog, Donut; and their cat, Cowbear
Location:
Northeast Portland, Oregon
Size:
1,600 square feet (149 square meters); three bedrooms, 2½ bathrooms
Year built:
1906
A floor-to-ceiling embroidered self-portrait of homeowner Adam Porterfield's girlfriend, Emily Katz, stands as the focal point in the bright and open living room. Some of the couple's favorite pieces in the home include the driftwood light fixtures, like the one seen here —made as a collaboration between the couple and sold by Porterfield through his company, Golden Rule Design — and their collection of colorful textiles, which includes a kilim rug.
The couple describe their joint design aesthetic as "a modern maker-collector home." Each room is filled with prized finds from their travels and visits to thrift shops and estate sales, as well as pieces by their favorite artisans. The home is also an incubator space that houses prototypes of some of their products in progress.
Dream catcher: Anna Korte; mirror: Golden Rule Design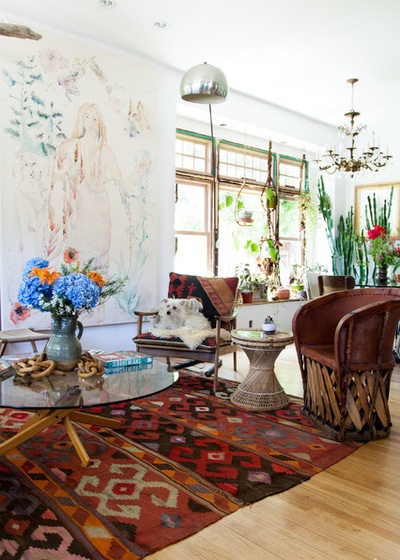 Katz credits her father as a big source of inspiration. "My dad influenced my design style. There was always midcentury furniture and thoughtful design around me when I was a kid," she says.
The couple kept their decorating costs down by making a lot of the decor themselves and by using their secondhand shopping skills at thrift stores and on Craigslist. One of their most notable finds is their Dan Droz Popsycle coffee table, which they bought for $50. Katz also traded her skills in marketing and photography for some pieces.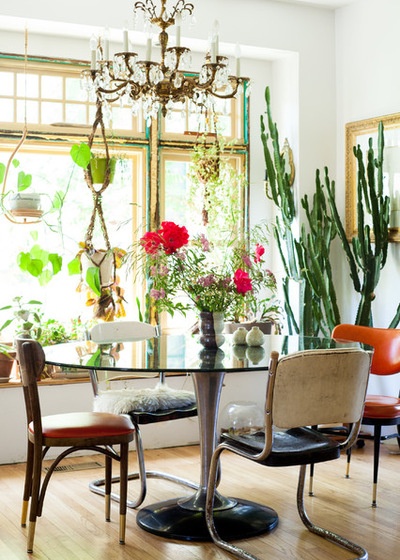 The living room leads into the dining room, which in turn sits adjacent to the kitchen on the first floor. The open floor plan makes entertaining easy.
Katz especially finds inspiration in 1970s design books, which feature rooms overflowing with plants. As a result, the couple have more than 100 plants throughout their home, many of them in the dining room. This space features a thriving cactus-like euphorbia and hanging plants cradled in macrame hangers crafted by Katz and sold through her company, Modern Macrame.
Windows: Infinity from Marvin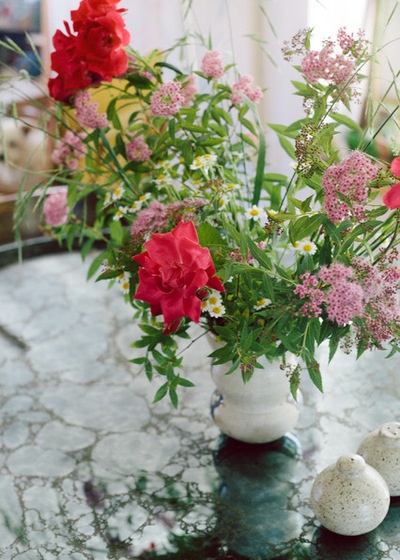 A bouquet from the backyard adds a colorful touch to the mirrored marble dining room table.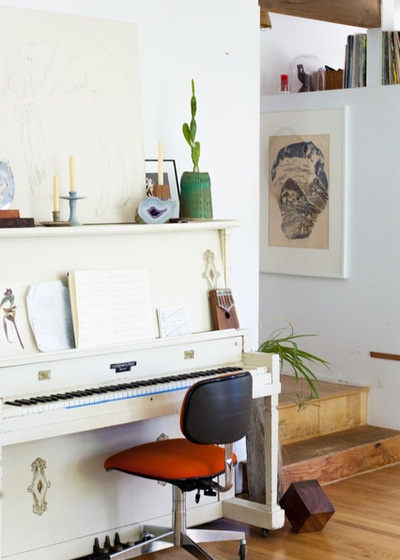 The house is often filled with music, thanks to the couple's upright piano, which is centrally located on the first floor next to the kitchen and dining room.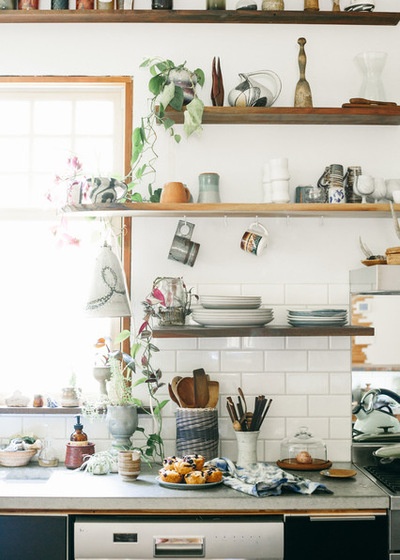 Porterfield decided on an open kitchen for ease in entertaining. "It's always the center of a party, no matter how comfortable the couch is and how styled the backyard is. People love a kitchen."
The simple wood shelving displays the couple's growing collection of one-of-a-kind ceramics and pottery.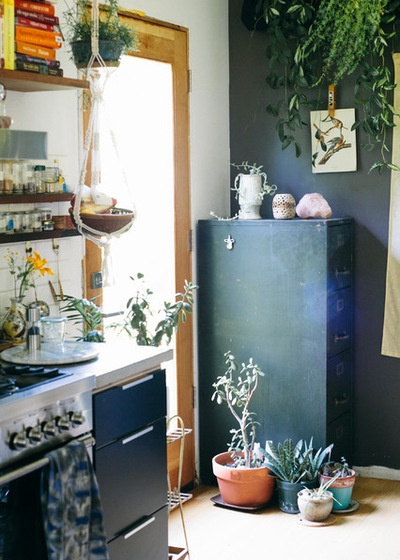 During the renovation, Porterfield invested in a Fratelli Onofri gas range to help ensure that every meal would be a gourmet experience.
The wood floors in the main living area are original. Porterfield salvaged them during the renovation and matched the new oak flooring in the kitchen almost exactly.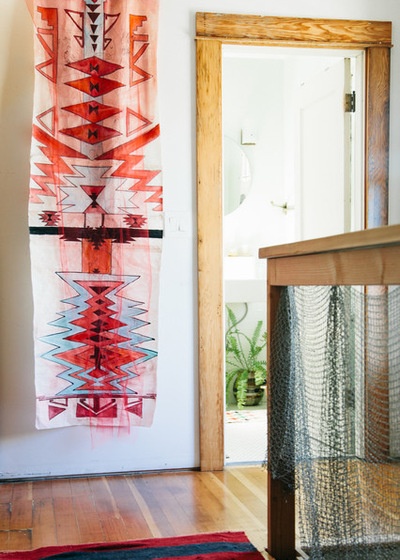 Colorful collaborative works are found in every corner of the house, such as this large banner at the top of the stairs. Katz made the piece in collaboration with designer Halley Roberts.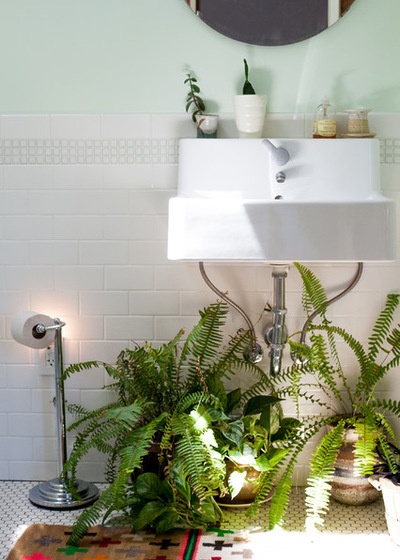 Skylights make the guest bathroom an unexpected home for ferns and pothos, which thrive in the light and humidity.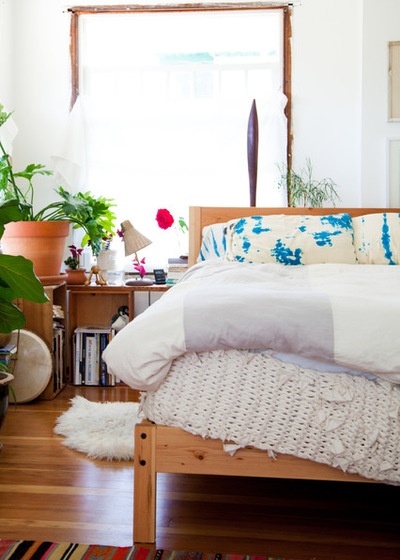 Porterfield hand-dyed the pillowcases and Katz made the duvet and bedskirt for their bed.
Pillowcases: Golden Rule Design; bedskirt: Modern Macrame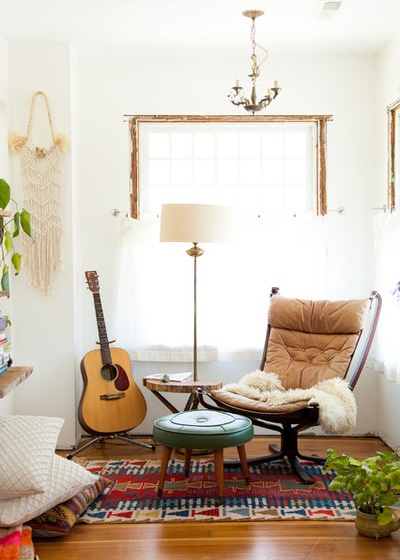 Katz bought the vintage Falcon chair that sits in the reading nook of the master bedroom for $400 at an estate sale store. Though it's one of the handful of pieces the couple decided to splurge on, it was still quite a deal: Similar original Sigurd Resell pieces can sell for upward of $3,000.
Rug: Kaya Kilims; pillows: Loloi; macrame piece: Modern Macrame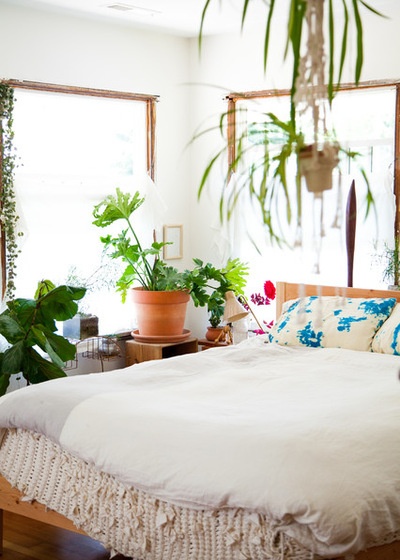 A glance in almost any direction in the home will reveal healthy plants, like the ones seen here in the master bedroom.
Bed: Mission Craft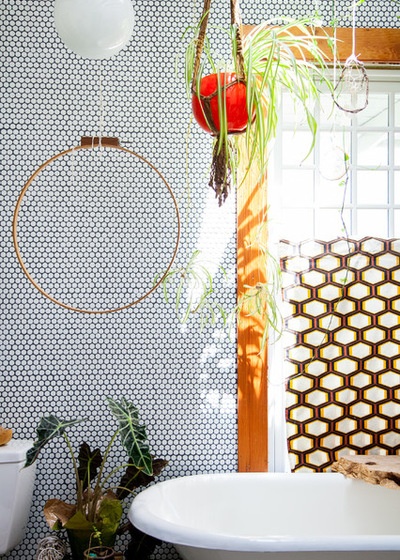 The master bathroom is outfitted with vintage plant hangers and lights, creating a calming atmosphere for end-of-a-long-day soaks in the porcelain tub.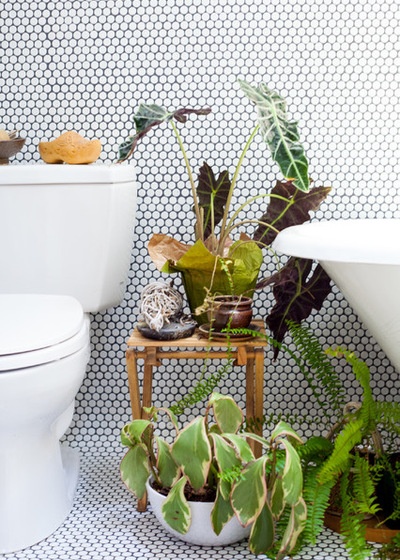 The walls and floors of the master bath are covered in penny tile for a dramatic look, and more plants can be found in here as well.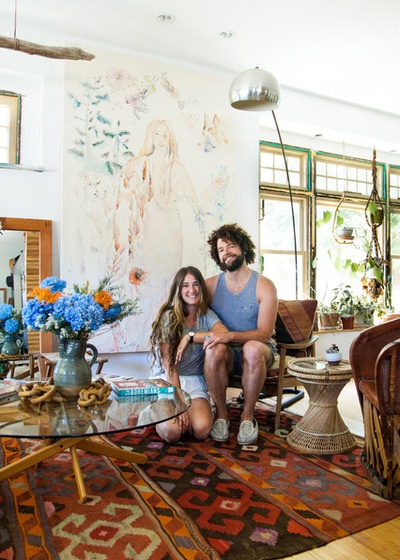 After an an indeterminable amount of sweat equity, there are some things that Porterfield, pictured with Katz, wouldn't change and some he would do differently. "We hired out for all of the drywall, which I will always do," he says. But he feels differently about their choice to go with DIY wiring. "YouTube how-to videos for the win," he says with a laugh. "I'm not sure we would do it that way again. It takes a really long time to bore all of the holes through the joists and studs and it's super exhausting."
Besides his father, Porterfield worked closely with Colin Grey of Cielo Design Build, who helped guide him through the more technical aspects of the remodel. With the help of James Moulton, who acted as 3-D project manager, Porterfield was able to serve as general contractor and architect for the renovations. Moulton facilitated all of the 3-D rendering and drafting that helped Porterfield make key design and spacing decisions for the home, a step he highly recommends to others thinking about remodeling.
My Houzz is a series in which we visit and photograph creative, personality-filled homes and the people who inhabit them. Share your home with us and see more projects.
Browse more homes by style:
Small Homes | Apartments | Barn Homes | Colorful Homes | Contemporary Homes | Eclectic Homes | Farmhouses | Floating Homes | Guesthouses | Lofts | Midcentury Homes | Modern Homes | Ranch Homes | Townhouses | Traditional Homes | Transitional Homes | Vacation Homes | Homes Around the World
URL:
My Houzz: Bohemian Home Inspired by Organic 1970s Design
http://www.decor-ideas.org/cases-view-id-27079.html