Fall on the Wall: Decorating With Rich Reds, Browns and Oranges
http://www.decor-ideas.org 10/06/2015 23:13
Decor Ideas
Autumn has arrived, and with it are colorful changes to the natural world around us. Deciduous trees, in particular, put on a pretty show with verdant green leaves transforming into gorgeous shades of gold, orange, red and brown. I've been known to take my paint color fan deck out with me on fall hikes to match these beautiful hues. Whether you tend to favor warmer colors over cooler hues, or are just looking to inject some warmth into your home, take inspiration from your favorite fall flora for year-round color in your home.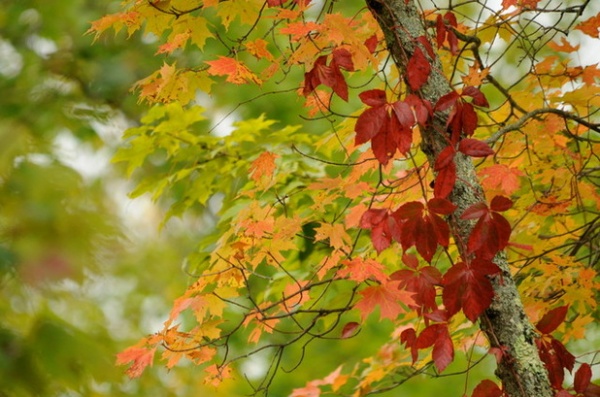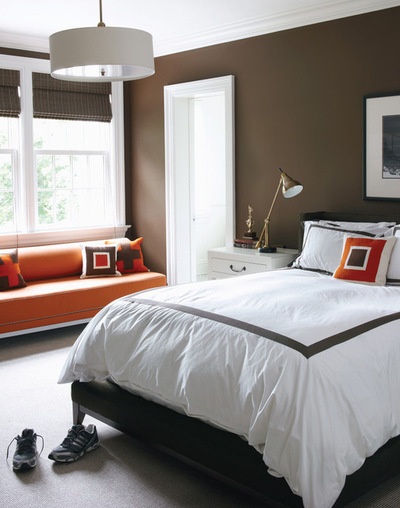 An autumn-inspired rich brown and bold orange palette is tricky to get right, but this bedroom showcases the colors brilliantly. With lots of clean, pure white and minimal art and accessories, it has a fresh and modern feel, rather than a dark and overwhelming one.
Of course, it also helps that this room gets plenty of natural light. If your room is light-deprived, you could still use a similar color scheme, but perhaps limit the dark brown wall color to a single accent wall. Another light-boosting option is to paint just the lower third or half of the headboard wall in the accent color, leaving the upper level and ceiling white or clad in a light neutral.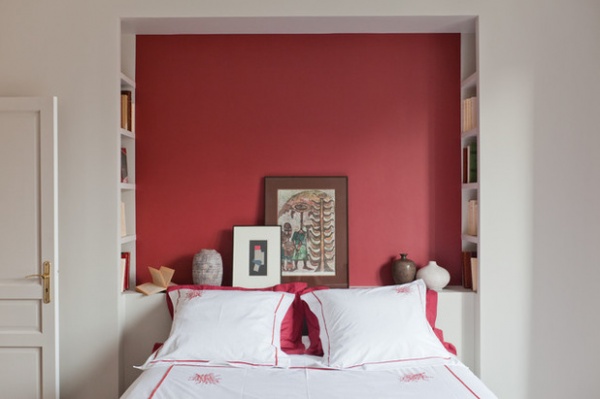 Here's a nice example of using restraint when working with a deep, intense color. An entire room painted this deep red could feel confining, and the room would appear much smaller than it is, especially if there aren't many windows. But by limiting the color to a small niche, you get a fantastic hit of color without the downside of all four walls clad in the hue.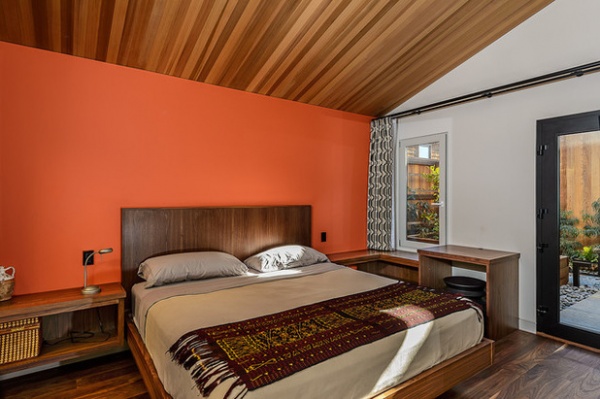 Here's another bold bedroom accent wall, this time in a tangy orange. I'm a huge fan of wood-clad ceilings, especially in bedrooms, because they add such warmth and coziness. The orange accent wall draws your eye right in and then up toward the beautiful ceiling.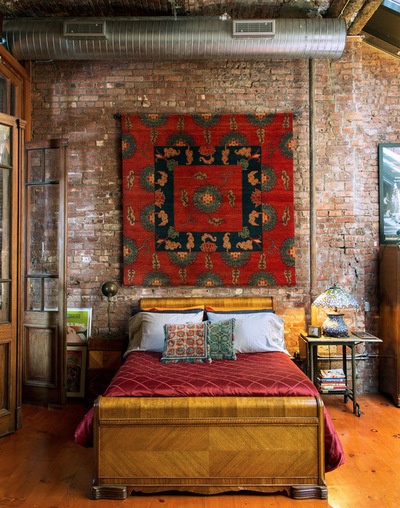 Paint isn't the only way to add a focal point in a bedroom. This beautiful, richly hued carpet is a fantastic choice in this vintage industrial space. The exposed ductwork and brick walls could feel hard and cold, but not when the space is infused with such a warm, autumn-inspired palette.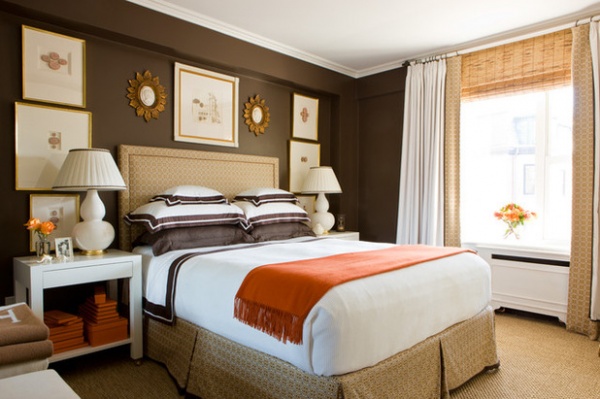 Here's another handsome bedroom clad in warm orange and brown. Notice how the more intense colors are reserved for items that are relatively easy and economical to change — wall color and decorative accessories. The more expensive items — window treatments, flooring and furniture — are light and neutral. This gives the flexibility to change up the palette in the future without having to buy all new things.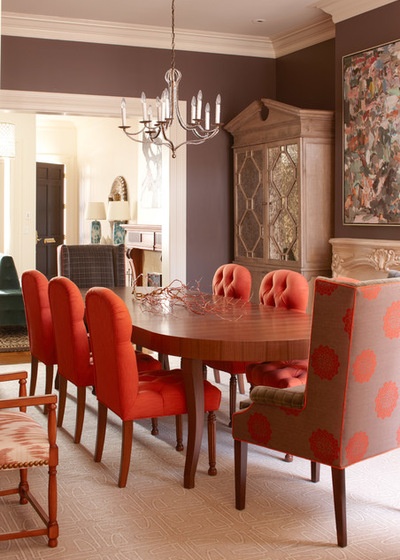 Let's step out of the bedroom and look at autumnal hues in dining areas. Warm colors such as red and orange are thought to stimulate the appetite as well as conversation, making them excellent color options for the spaces we gather in to eat and chat with friends and family. Don't be afraid to go a bit deeper and darker with color in the dining room. It's typically a space that you want to have a more closed-in, intimate and cozy vibe.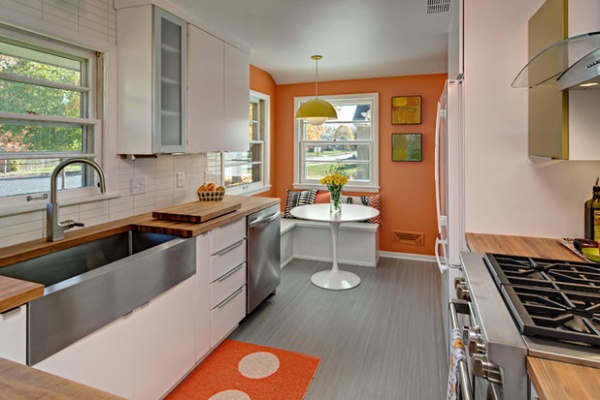 Bright pumpkin orange and gray are a popular duo for modern interiors. Here they combine to make this kitchen a fun and inviting place in which to cook and gather.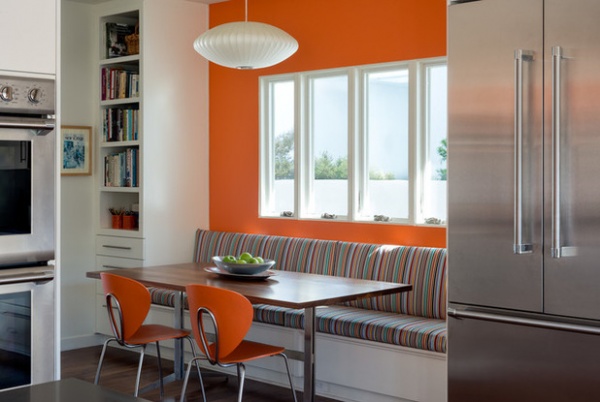 Here's another fun colorful orange eat-in nook. If you have such an area in your kitchen, it's a terrific location for a spot of bold color. Use that color in smaller bits throughout the space to balance it out.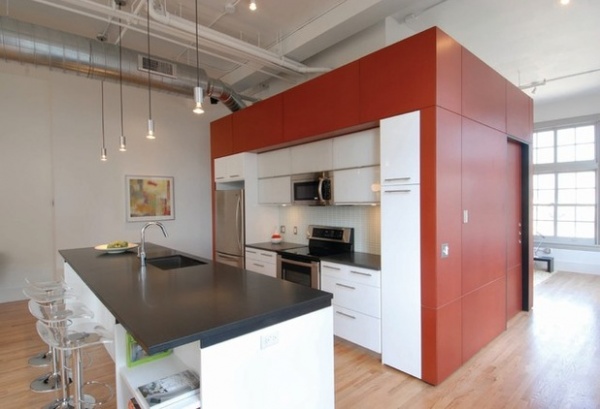 If yours is an open-concept home, keep the majority of the walls a light neutral hue that will easily flow throughout each space, and then use bold color strategically to break up the different areas. Vibrant reddish-orange hues are perfect for calling attention to interesting materials or architectural details.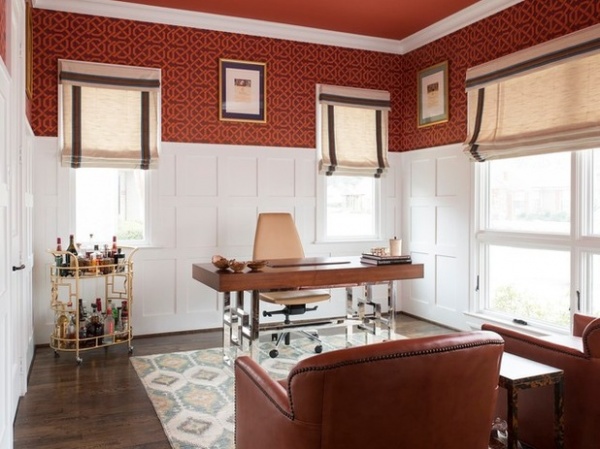 If you have tall ceilings or want to create a cozy feeling in a room, use one of these featured fall colors near or on the ceiling. It will visually lower the ceiling and make the space feel warmer and more intimate.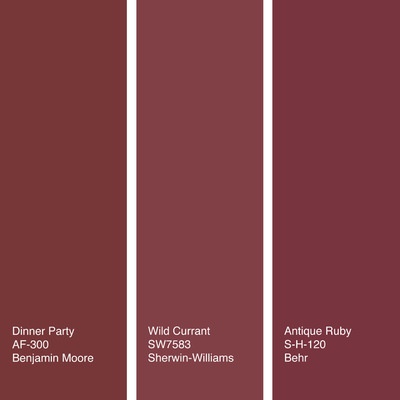 Try These Palettes
Inspired to add a dose of fall color to your own home? Here are some paint color options inspired by nature's rich autumn hues.
Deep reds:
Dinner Party from Benjamin Moore, Wild Currant from Sherwin-Williams and Antique Ruby from Behr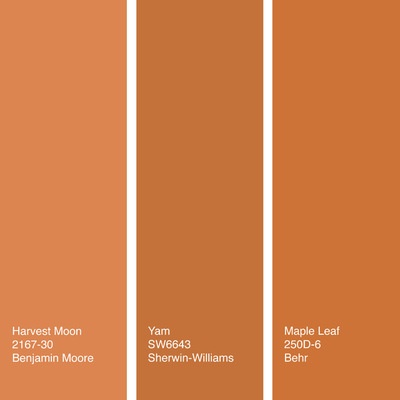 Autumnal oranges:
Harvest Moon from Benjamin Moore, Yam from Sherwin-Williams and Maple Leaf from Behr.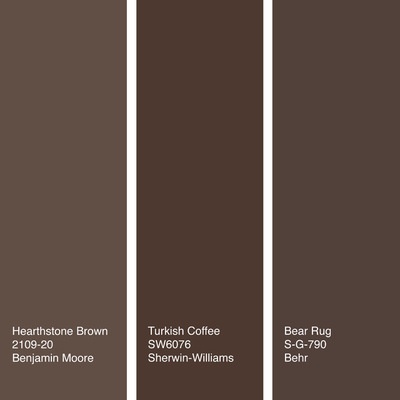 Rich browns:
Hearthstone Brown from Benjamin Moore, Turkish Coffee from Sherwin-Williams and Bear Rug from Behr.
More:
11 Top Home Decorating Colors and How to Use Them
Tell us:
What's your favorite fall-inspired hue? How have you used it in or on your home?
URL:
Fall on the Wall: Decorating With Rich Reds, Browns and Oranges
http://www.decor-ideas.org/cases-view-id-26979.html