Kitchen Confidential: 7 Ways to Mix and Match Cabinet Colors
http://www.decor-ideas.org 10/06/2015 20:13
Decor Ideas
There are as many ways to add color to your kitchen as there are hues to choose from, but cabinets will always be prime real estate for a zap of personality. While many homeowners settle on just one shade, choosing multiple cabinet colors can give your space a designer edge. (It's also a godsend if you're indecisive.) If you're searching for ways to blend two or more color tones into your kitchen design, check out these seven ideas that offer a blueprint for mixing and matching cabinet colors.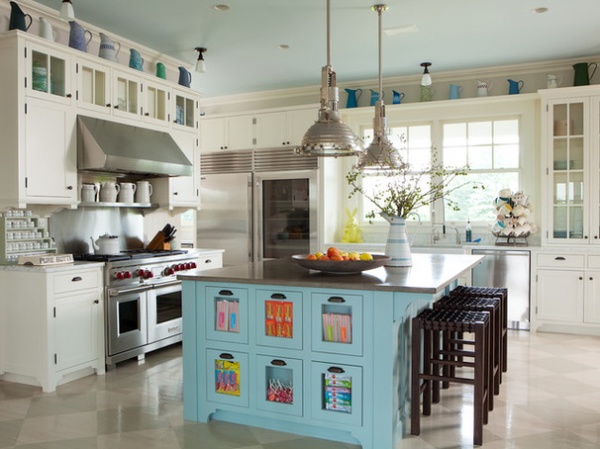 1. Turn your island into an accent piece.
It's a classic way to incorporate a second color into your cabinet design, no matter what the style of your kitchen is. It can spice up clean, contemporary designs without adding unnecessary detail, or it can add another layer of color to complement wall paint and decor in traditional designs. The options are especially endless when you go with white or off-white for your main cabinets.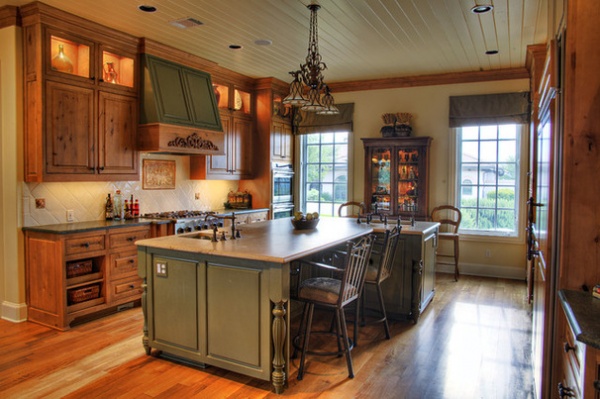 That said, white kitchens aren't for everyone. If you prefer deep wood tones, you can still use your island as an accent piece without white cabinets. This traditional Texas kitchen creates a down-to-earth country feel by coupling alder wood cabinets with an olive green island finish.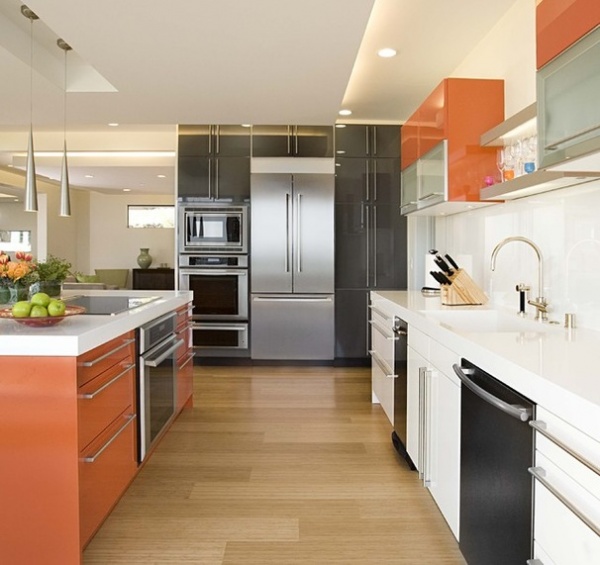 2. Use three complementary colors instead of two.
If you're not satisfied with just two hues for your kitchen cabinet design, keep flipping through the color swatches to find a third color. Not only do three shades give your kitchen more of a designer feel, they also evenly distribute color throughout the space.
White is a good starting point because it pairs well with other neutrals as well as bold primary colors. Mark English Architects chose to balance this modern kitchen's white cabinets with both tall black cabinets and a smack of high-gloss orange cabinets.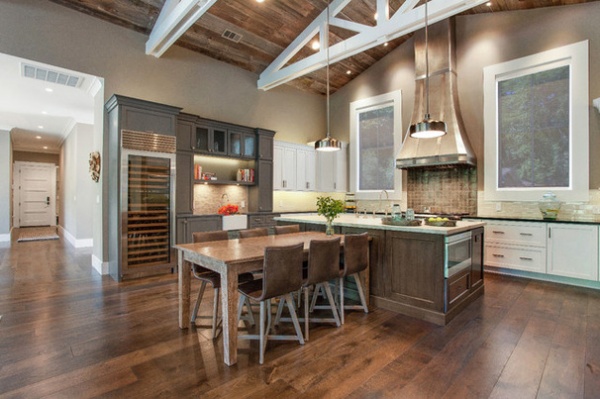 Not every three-toned cabinet design needs a primary color, so feel free to stick with neutral tones, especially in industrial and rustic designs. This San Francisco kitchen stays true to its farmhouse roots with a rural color palette that includes white, brown and dark gray.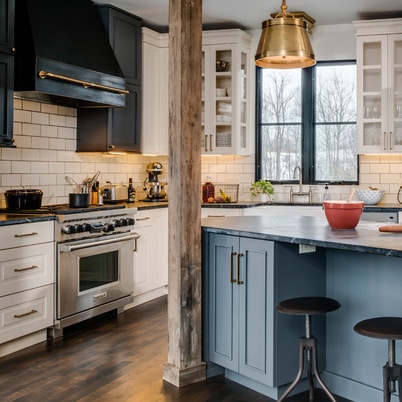 3. Accentuate a single cabinet piece.
The island doesn't always have to be the showpiece of the kitchen. It certainly isn't the only cabinetry that can flaunt a splash of color. Wooden hoods, glass wall cabinets or even sink and range base cabinets are hot spots for a dab of baby blue or rustic red. It's an unconventional way to design colorful accent pieces that aren't overly fussy.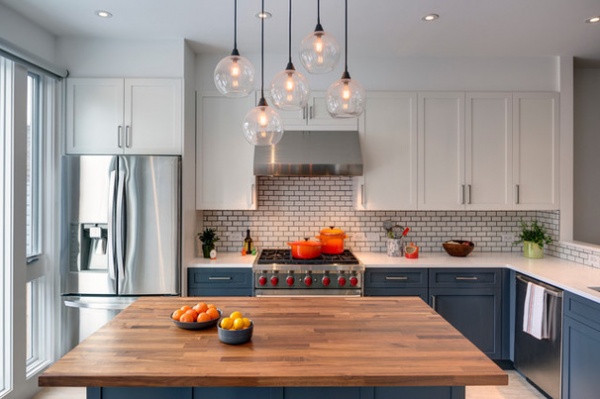 4. Choose a different color for your uppers and lowers.
Designating one color tone for your upper cabinets and another for your lowers is a way to inject color into your kitchen and maintain an organized design. Choose a darker color for your lower cabinets to ground the design, then experiment with lighter shades like whites and grays on the upper. This prevents the design from feeling too top-heavy.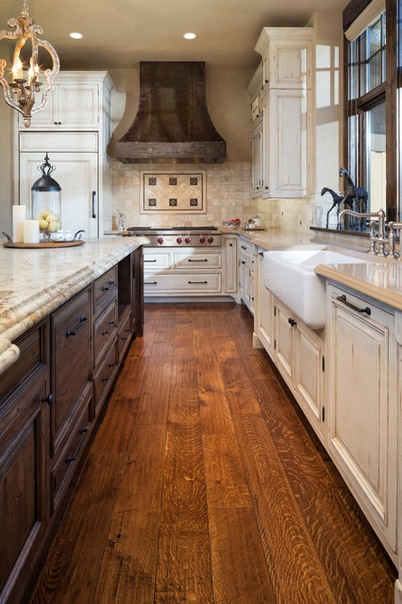 5. Add a stain or glaze to one of your cabinet colors.
While an antique finish or charcoal glaze can add extra oomph to your accent color, it can also soften your main cabinet color. This rustic kitchen's antique white cabinets allow the dark island stain to command its fair share of attention in a space full of visual intrigue.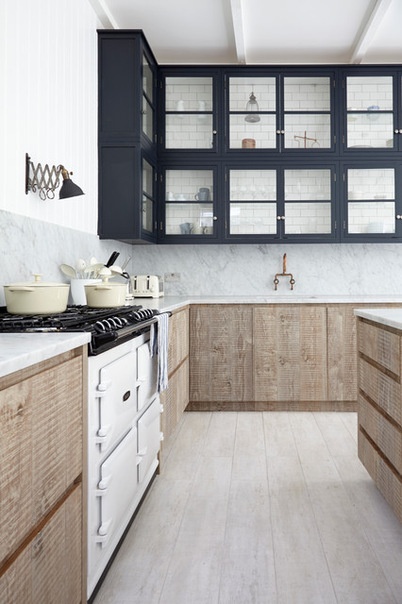 6. Play with texture.
Mix different colors with different textures, as this transitional kitchen does. It combines a midnight blue painted finish on its upper cabinets with a grainy wood veneer on its lower cabinets. Exploring textures like wood and metal along with color can give you a kitchen design that breaks the mold.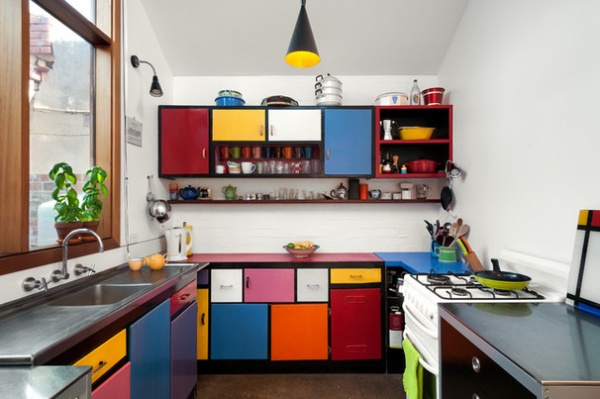 7. Break the rules.
Yes, it's OK to toss the rules of design aside (for a moment, at least) and let your creativity run wild. Design with daring color combinations, or opt for singularity instead of contrast. Put color in places it shouldn't be, such as single drawers or cabinet doors. This eclectic kitchen does just that, integrating seven color tones into a unique puzzle-piece design.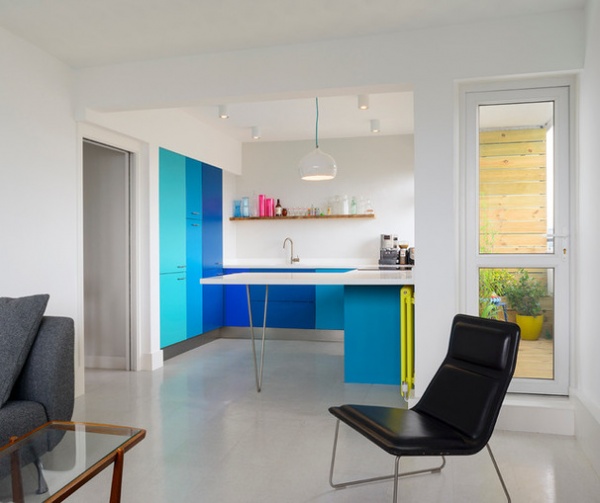 Not many designers would think to incorporate three color tones from the same family in their cabinet design, but Brian O'Tuama Architects did in this contemporary kitchen. The spectrum effect is truly one-of-a-kind, and that type of creativity can help personalize your own kitchen space and make it yours.
More Kitchen Confidential:
11 Islands With Furniture Style | The Case for Corbels
URL:
Kitchen Confidential: 7 Ways to Mix and Match Cabinet Colors
http://www.decor-ideas.org/cases-view-id-26978.html