11 Fairy-Tale Bedroom Flourishes to Fall in Love With
http://www.decor-ideas.org 10/05/2015 22:13
Decor Ideas
The glam in a bedroom styled for modern-day beauty queens comes from choosing luxurious materials and combining them with decorative flourishes. So if you've bought a good bed but are not sure how to create a heavenly haven around it, steal some of these sweet styling ideas for a dreamy bedroom — from chic chandeliers to sweet sconces, and pretty pastel palettes to whimsical wallpapers.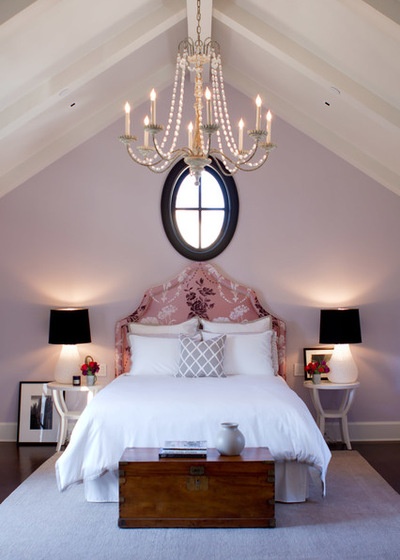 1. Lovely lights.
Nothing says, "Twinkle, twinkle little starlet" like a glittering chandelier. Illuminate your bedroom with a statement pendant and create a soft glow on either side of the bed with elegant table lamps. A pair of wall sconces strategically positioned above side tables can also create an attractive ambience, especially when encased in decorative housings, such as neoclassical moldings. But steer clear of cupids, lest the whole scheme turn saccharine.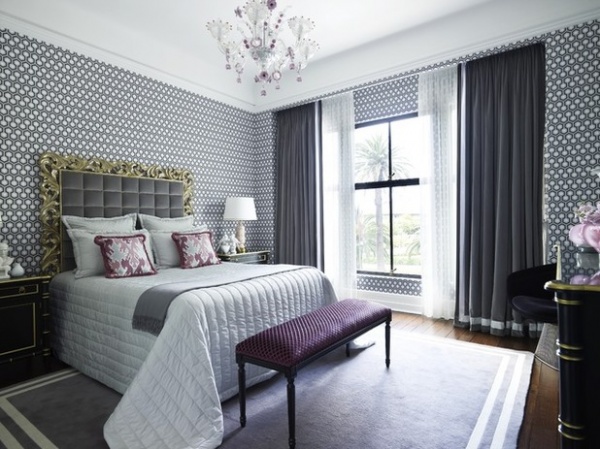 2. Beautiful headboard.
Whether upholstered in velvet, silk or linen, a padded headboard is mandatory in a dream bedroom. Here, in this refined suite, a gilt-edged framed and padded headboard fit for a screen siren is perfectly suited to the 1920s-opulence-meets-Hollywood-glamour theme. Other signs that a princess sleeps here can be seen in the billowing gown-like, quilted bedspread that amply covers the bed, and the generous blackout curtains that deliver privacy as well as light control.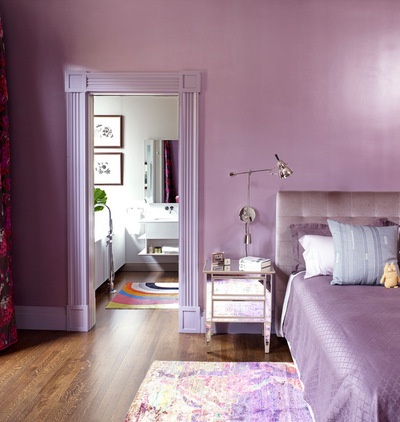 3. Pastel power.
If purple is the color of kings, then surely lilac is meant for queens. This lustrous bedroom could just be the ultimate in princess suite decorating: It has a velvet headboard, shimmering sheets and satiny walls — all in a lovely shade of lavender. But why stop with the color of lavender? For extra sensory pleasure, use an essential oil burner to scent the air with a lavender fragrance; it will enhance the ambience of the room while satisfying your olfactory senses.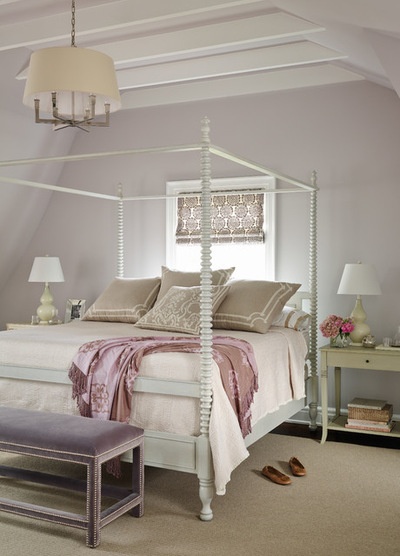 4. Sensual fabrics.
Cover the bed with an heirloom or a vintage bedspread and layer it with silky pillows for shimmery delight. Then add extra pillows and throws to your place of slumber to make it more inviting. At the foot of the bed, station a plush and pretty ottoman, such as this velvet-covered one with studded trim, so you'll have somewhere to sit and remove shoes at night.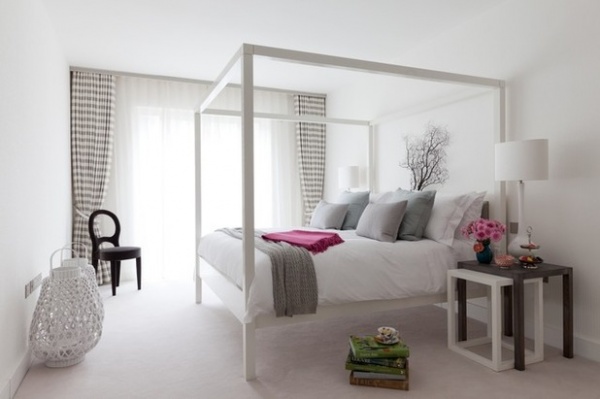 5. Calming colors.
Create a restful haven by introducing a peaceful yet modern color scheme. White will always be right, but if you add a couple of key colors, you can widen your scope for further decorating options elsewhere in the room. A variation of pink is perfect for a princess, but be mindful of any preferences a partner might have. If you need to make the call by yourself, pairing pink with a soft dove gray usually strikes a good balance.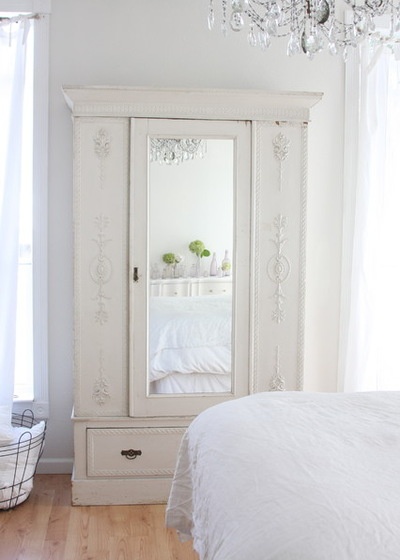 6. Armoire amour.
Romantics will always fall for furniture that creates a sense of wonderment, especially pieces that have a story to tell. A walk-in closet or built-in storage is good for practical types, while a French armoire will make romantics swoon. Plus, if roomy enough, and many vintage ones are, a stand-alone wardrobe provides great storage for even the most delicate bedding.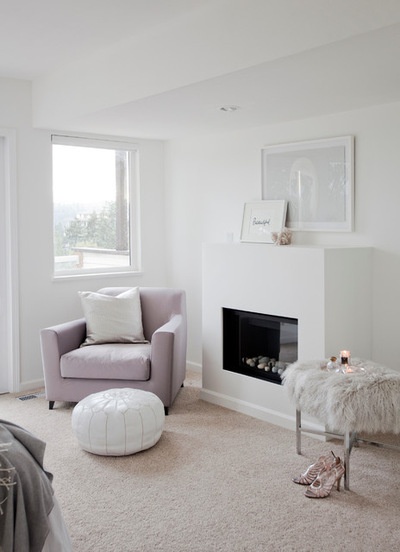 7. Welcome seat.
Not yet ready to slip into silent slumber? Take a seat, sit awhile, read a book or watch a movie in the peace and quiet of the heavenly setting you have created. A small but comfortable boudoir chair can provide just the welcome resting spot you've been looking forward to all day.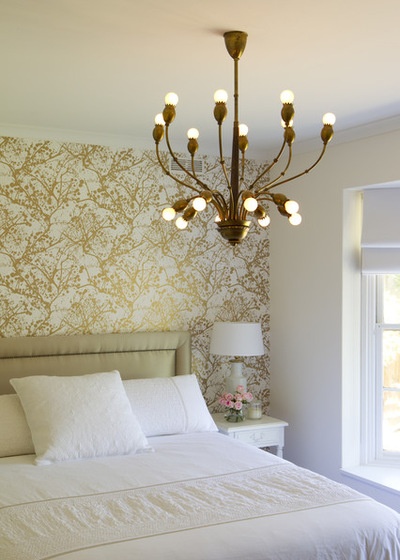 8. Whimsical wallpaper.
Choose wallpaper to create a magical mood. Hues at the mauve end of the spectrum are restful; colors toward the pink end are enlivening, but nothing beats the glimmer of gold (or silver and copper, for that matter). A metallic patterned wallpaper sets off delicate accessories perfectly, and when paired with matte white linen to counter the wallpaper's shimmering effect, it creates a study in sophistication.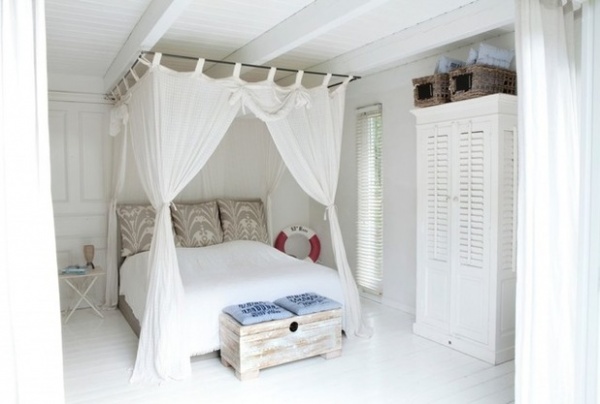 9. Cozy curtains.
Let lightness reign supreme in an all-white bedroom with voile or gauzy curtains hung around a four-poster bed. The snug ambience creates a cozy atmosphere, but be careful the look doesn't sink because of too much sweetness. To counterbalance, add some natural or nautical elements.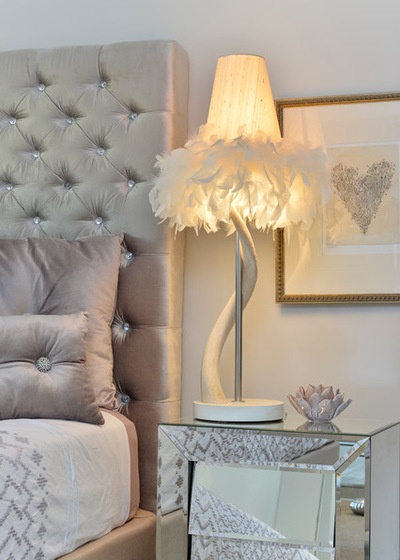 10. Glam nightstand.
Retro Hollywood glamour rules in this shimmering bedroom sanctuary. Featuring a chic mirrored bedside table, a feathery lamp, a bejeweled buttoned-tufted headboard and the finest silk bedding, this boudoir has "diva darling" written all over it!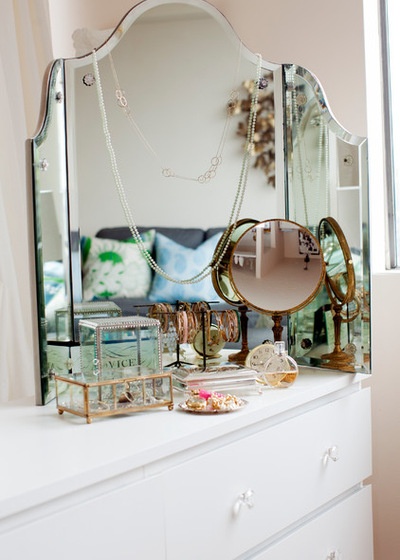 11. Shelf life.
Adorn an empty shelf or tabletop dresser with an eye-catching display of your favorite perfume bottles and jewelry. This vintage folding mirror transforms a chest of drawers into a final prep spot for someone heading out the door.
More:
13 Simple Steps to a Perfectly Made Bed
URL:
11 Fairy-Tale Bedroom Flourishes to Fall in Love With
http://www.decor-ideas.org/cases-view-id-26973.html