Room of the Day: A Bright, Colorful Playroom for Kids and Adults
http://www.decor-ideas.org 10/05/2015 19:13
Decor Ideas
How do you create a fun playroom for kids with just enough sophistication so adults can use it too? Designer Jeni Robison may have found the right solution with an addition for these Arizona homeowners and their two small children.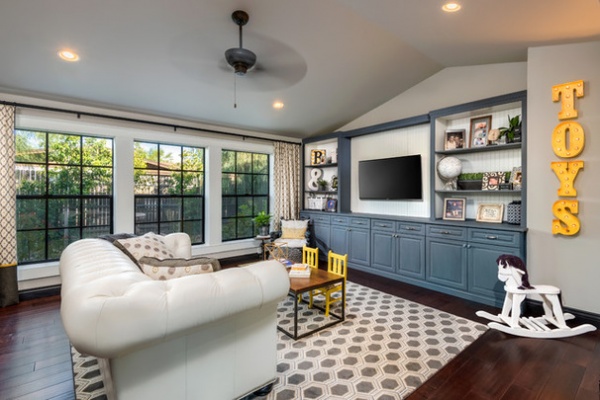 Playroom at a GlanceWho lives here:
Mark and Linnell Phillips and their children, Brayden, 3, and Jaxon, 1
Location:
Scottsdale, Arizona
Designer:
Jeni Robison of Dettaglio Interior Design
Year built:
Home: 1960s; playroom addition: 2015
Size:
About 20 by 20 feet (6 by 6 meters); vaulted ceilings from 8 to 10 feet (2.4 to 3 meters)
Game plan:
Robison balanced the two functions by bringing in the color gold, playful patterns, a decorative toy display, children's art and a light-up "Toys" sign to establish the playroom feel. To strike the family room chord, she avoided rainbow colors and too many toys on display, and used more sophisticated materials, finishes and furnishings, such as a marble tabletop with a metal base, a white leather chesterfield sofa and a gray glaze on the built-ins. Lower cabinets, a closet and storage under the banquette seat store toys and games.
"The homeowners tended to migrate toward gold, so we went toward a color scheme of gray and gold with the dark navy accents in the woodwork," Robison says. "We wanted light walls, which gave us our light gray scheme early on."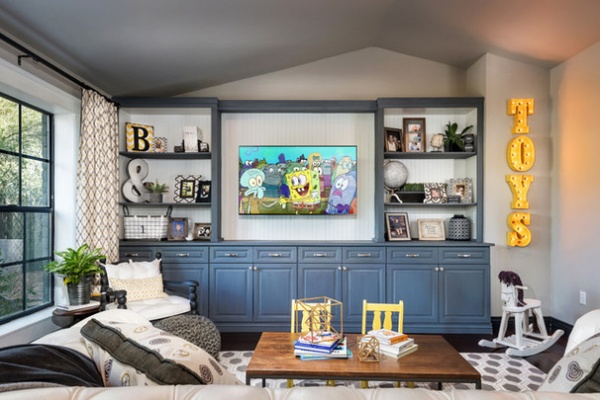 What goes on here:
The parents play with their kids, watch TV and supervise other activities. The 3-year-old pulls up a chair to the coffee table to make art, or plays games at the corner table with his parents. When the kids are older, they'll use the table for homework. "It is now the most used room in the house," Robison says.
Biggest challenge:
"One large challenge, and also a great blessing, was starting with a completely blank slate," Robison says. She had to establish the window location, ceiling design, lighting, special features and where to place the TV, storage and the corner table. The homeowners also requested the ability to close off the addition to block noise and conceal large messes.
Robison didn't want to use a typical door that would make the space feel like a converted bedroom. Instead, she used two 5-foot-wide barn doors that create a 10-foot opening to the rest of the home.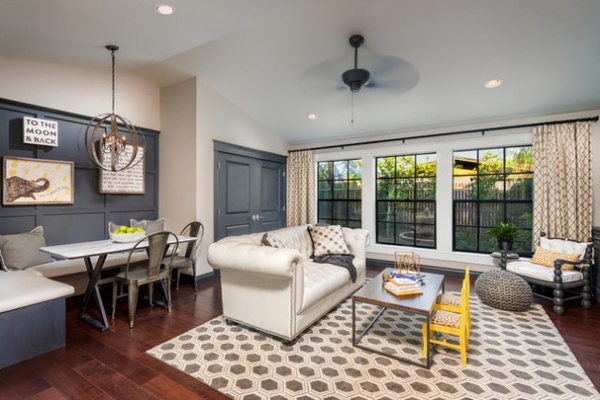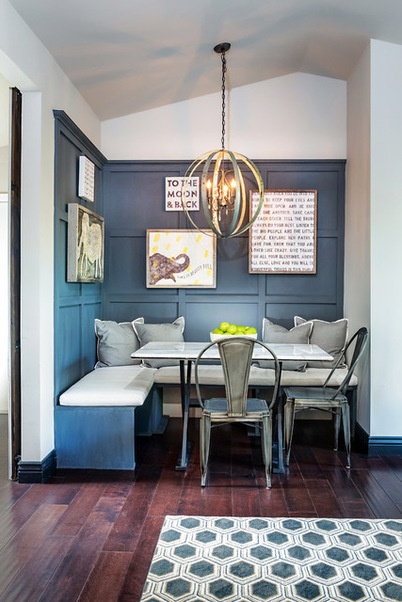 Favorite element in this room:
"I have quite a few favorite items in the room: the banquette, the white leather sofa, the rug, the 'Toys' sign, the large windows and the barn doors," Robison says. "I feel all of it was important to tie the room together."
Splurges and savings:
Robison and the homeowners saved by adding custom shelves to prebuilt base cabinets, and using broadloom carpet that was cut and bound. They splurged on custom window treatments and the white leather sofa — "a splurge in price and sensibility," Robison says. "The homeowner really wanted a white sofa, which seems fairly impractical for a playroom, so I suggested leather versus white fabric. It has held up very well."
Breakdown:
Drapery fabric: Pindler; rug: Milliken, bound by a local carpet company; banquette table: marble top and custom metal base; paint: Heather Gray, Dunn-Edwards; floor: Silverline birch, The Garrison Collection; barn doors, built-ins and wood surround: custom; 'Toys' sign: Etsy; chandelier: semicustom
Team involved:
Inckx Photography
URL:
Room of the Day: A Bright, Colorful Playroom for Kids and Adults
http://www.decor-ideas.org/cases-view-id-26971.html