Pro Panel: 'The Material I Love to Work With Most'
http://www.decor-ideas.org 10/05/2015 04:13
Decor Ideas
Most home design professionals have go-to materials that help them define their signature style, like glass, concrete or natural stone. And though there may be favorites within the industry, how they are used in the hands of individuals is what opens up designs to infinite possibilities. We asked seven Houzz professionals in Australia what material they love to work with most, and how it helps their ideas take shape. Their answers may spark inspiration for your own home projects.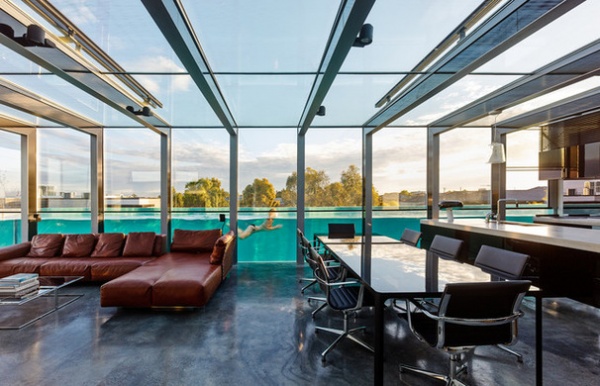 GlassInterior designer and decorator Larissa Davis of Lewisham Interiors:
Glass has been a favorite material of mine to work with throughout my career. Along with its elegance and high-end appeal, I find it extremely versatile in that it can be utilized for so many elements in a design, be it interior or exterior.
We recently designed a carport that featured a glass roof, as it was important for the clients that the structure maintained a light, open feel and not interfere with the symmetry of their home's Art Deco facade. We also designed a curved glass canopy over the upstairs balcony doors, and incorporated some existing lead light feature windows into a much larger window design.
Furthermore, we have had a lot of success with mirrors as a backsplash when trying to visually open up a small kitchen, and a warm bronze or antique style can really "class up" a laundry. To introduce a full wall of mirror in a tiny bathroom with a frameless glass shower screen is an exciting transformation to see, and clear glass set over a feature wallpaper can further expand the design and color possibilities. Extending to furniture, lighting and accessories, glass is always such a welcome inclusion at the final dressing stage.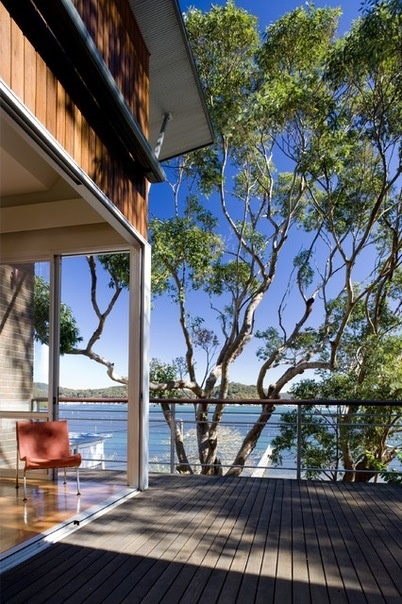 Hardwood Siding Architect
Scott Weston:
One of our favorite building materials to use is hardwood siding in either Victorian ash or blackbutt. We like the timber to be uniform in appearance and usually specify it to be hand selected. We finish both species in a clear Cutek varnish and allow the warm honey brown wood to naturally fade to an even silver-gray. It's highly durable, low-maintenance and provides a soft, textural warmth to the building's external facade, and you can very easily incorporate other building materials to sit comfortably alongside it.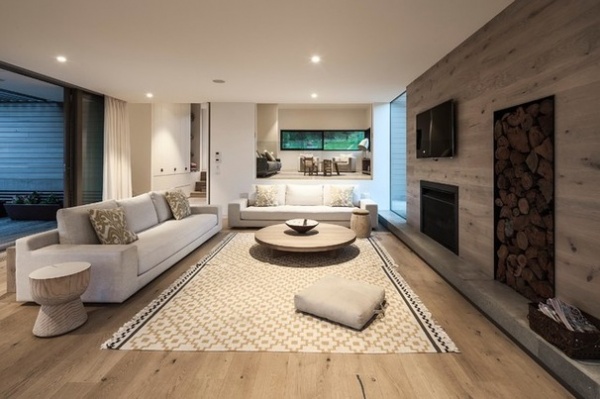 Engineered Wood FlooringInterior designer and decorator Sarah Gavan of Point 2 Design:
Lately we have been excited by engineered wood flooring, and the large range of possibilities it holds beyond flooring. In a recent project, we used engineered wood flooring to clad, in this case, a TV unit. This allowed us to match the floorboards perfectly with the unit, providing a fluid cohesion to the space. This wooden effect in cabinetry would usually be achieved by using a wood veneer. Wood veneers are quite labor-intensive — they require the veneer to be laid on board and finished at a specified gloss level. The beauty of engineered wood flooring is that each board is prefabricated and prefinished, with a solidity not often achieved by veneers.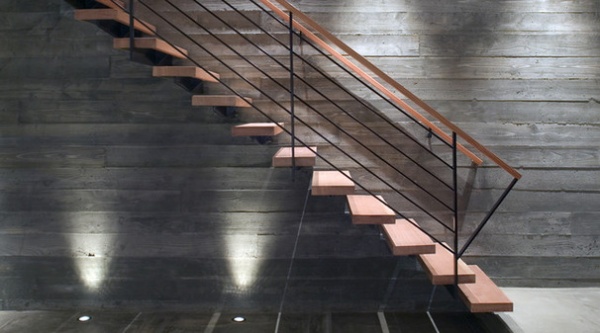 Off-Form and Board-Formed Concrete
Design consultant
James
Cooper of Sanctum Design:
I am loving off-form concrete and particularly board-formed concrete. As both a structural and decorative element, it requires a good builder-form worker to get it right. However, it is well worth the effort. Used in structural blade and feature walls, fireplace chimneys and landscape elements, an off-form wall adds valuable thermal mass and structural expression.
Board-formed concrete, made by using timber boards as the formwork, is later stripped to reveal the boards' patterns. If done well, it can read like lime-washed timber, more than like concrete, and provide wonderful soft, light gray tones, with the reversed grain and knots from the timber creating a beautifully natural finish.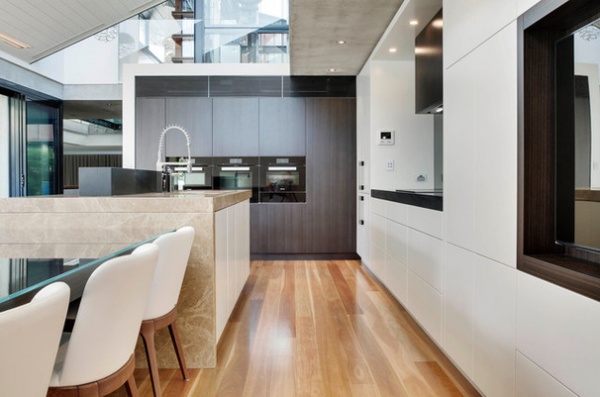 Wood Veneer
Kitchen designer and renovator Graeme Metcalf of Dan Kitchens:
Few materials have the warmth, beauty, texture and sheer variety of wood. In the kitchen environment, thin slices of wood are usually bonded to a substrate to produce wood veneer panels. Doing so imbues the wood with structural integrity (less warping and cracking), dimensional accuracy (large standardized panels for workability), and is far more sustainable than in solid form.
Wood veneer can be difficult to work with, but in the hands of a master woodworker, the most amazing pieces of furniture can be built — just look at the achievements of midcentury Scandinavian craftsmen. As a natural product with no two grain patterns the same, I like that each time I work with it, I get a completely unique outcome. Visiting the timber yard with clients and selecting veneer panels is as exciting for me as selecting stone slabs. When paired with stone, wood veneer is a very elegant combination that will not tire with time.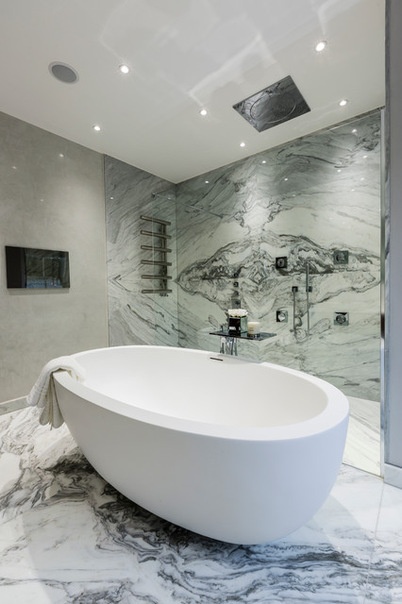 Natural StoneArchitect Dominic Bagnato:
Something that is real and provided by Mother Nature is always going to be better than any man-made material. Like a piece of fruit from a tree or a freshly grown vegetable from the ground, there is an overwhelming goodness provided that no processed food can give you.
Natural stones, too, are provided by Mother Nature and are quarried from all over the world in exotic locations, and provide a rich and earthy material that can be used in many parts of your home. The selection of color, texture and variety is vast. There are limestones, travertine, granites and, one of my favorites, marble. The wonderful attribute of this material is that it can be used as a floor finish, on a wall, on a kitchen countertop and as cladding on your home.
Stone has a natural durable quality that I love, and provides a connection to the earth that synthetic substitutes cannot. It's also no coincidence that buildings that have lasted thousands of years and have aged gracefully are covered in natural stone. Stone has a longevity and a warmth that will make any piece of architecture rise to another level.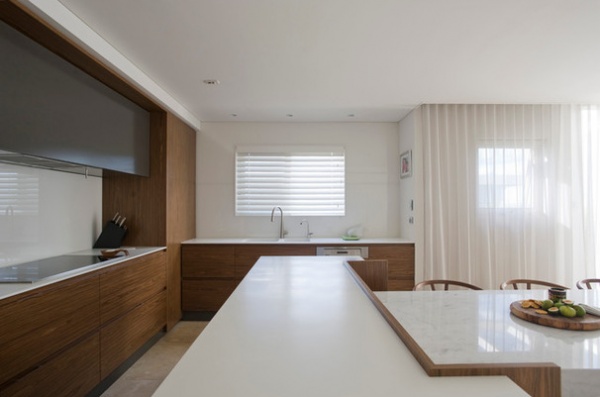 CorianInterior designer and decorator Anne Ellard:
One of my favorite materials to work with is Corian. It is a nonporous, man-made material composed of acrylic resin and natural minerals. It's an extremely versatile material that can be used to create almost anything, including vanity basins, wall paneling, tabletops and even bathtubs. It's most commonly used in the home for countertops. It can be curved and rolled into almost any shape, and the seams are invisible. It's also a renewable surface, so in the unlikely event that it gets damaged, it can be repaired onsite.
I love to use it on kitchen countertops and seamlessly return the surface up the wall behind the counter. I also love the fact that any number of sink bowls can be worked into the countertop using the same material and, again, with no [visible seams]. It's such a great material to work with as a designer, and clients love its durability and hygienic qualities.
Tell us:
What's your favorite material to work with? Share your thoughts and pictures in the Comments.
More:
An Architect Shares His Go-To Materials
URL:
Pro Panel: 'The Material I Love to Work With Most'
http://www.decor-ideas.org/cases-view-id-26970.html