My Houzz: Charming Cottage Getaway in Steamboat Springs
http://www.decor-ideas.org 10/05/2015 00:13
Decor Ideas
Jen and Dan Grooters live in Denver with their daughter and son, but for nearly 15 years the family have enjoyed vacationing in Steamboat Springs, Colorado. They had shared a vacation home in the area with another family but, Jen says, "we longed for uninterrupted time together." In 2013 they found a charming cottage built in the 1930s that was located on a quiet street just a few blocks from Main Street in Old Town. "One of the cottage's biggest draws was the opportunity to downsize and simplify — to live with just the basics, and in no more space than we needed," Jen says.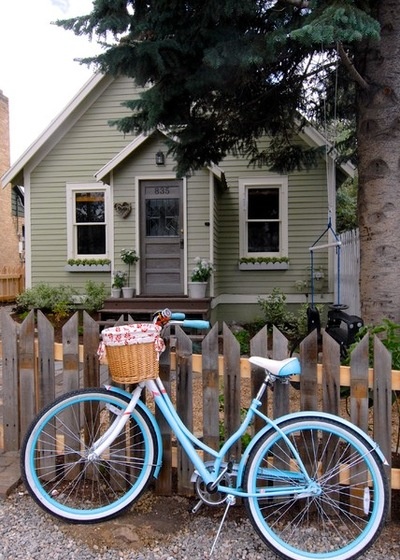 Houzz at a GlanceWho lives here:
Dan and Jen Grooters; daughter Ella, 12; son Brady, 10; and their Goldendoodle, Otis
Location:
Old Town in Steamboat Springs, Colorado
Size:
1,000 square feet (93 square meters); three bedrooms, one bathroom
Year built:
1930s
That's interesting:
The cottage was originally built in the now-deserted mining town of Mount Harris. It survived a fire in 1948 and was later moved to its current location.
Within six months of the family's purchasing their mountain getaway, the cottage delivered the longed-for lifestyle shift from their suburban lifestyle in Denver they were hoping for. "Even groceries are accessible by bike," Jen says. The family enjoys their cottage for several weeks in the summer as well as many weekends and holidays throughout the rest of the year.
Schwinn Womens Legacy 26-inch cruiser bike: Target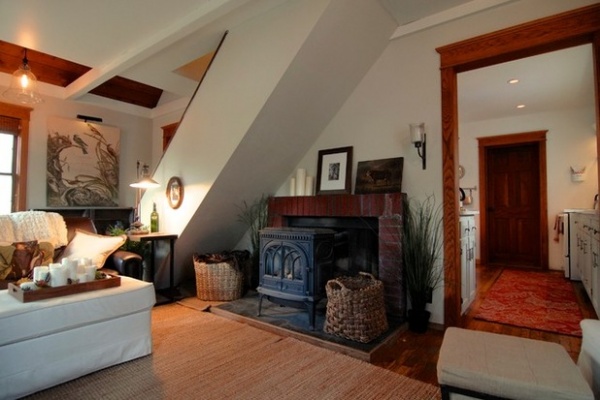 One thing that drew them to this cottage was that the interior was in great shape when they bought it. "It mostly just needed paint, decor and improved lighting," Jen says. "We knew we could add these things and adapt it to our needs without adding any long-term financial stress."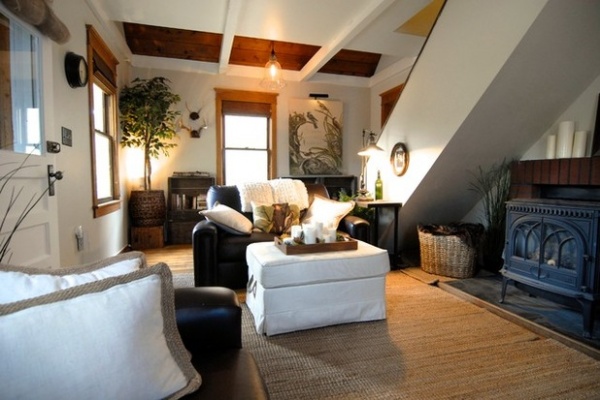 The family's eclectic style is reflected in their use of repurposed materials, including wood crates used as storage along the back wall, and sentimental decor.
Large giclée print on back wall: Ballard Designs; Rustic Glass indoor-outdoor pendant: Pottery Barn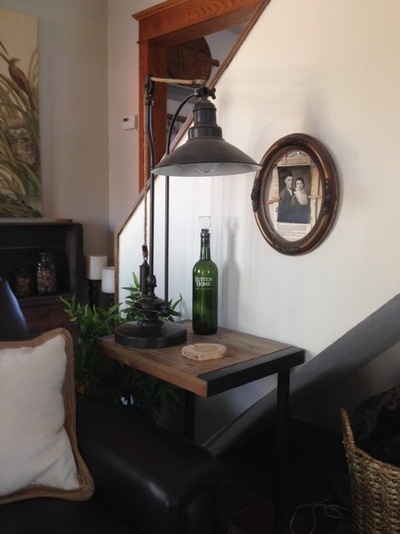 Family photographs throughout include one of Jen's grandparents' wedding, and Jen's grandfather's war ration stamps are also on display. The wine bottle illuminated by the table lamp was the one the couple shared the night they were engaged in 1995.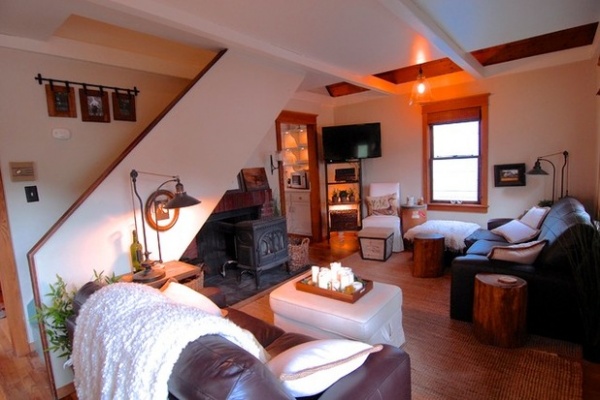 The cozy living room is simply furnished but still contains the luxuries of home, including comfortable sofas and throws, a small TV and a good stereo. The family loves to watch movies and sporting events, play cards and cozy up to the wood-burning stove.
Throws, rug and Ektorp slipcovered ottoman: Ikea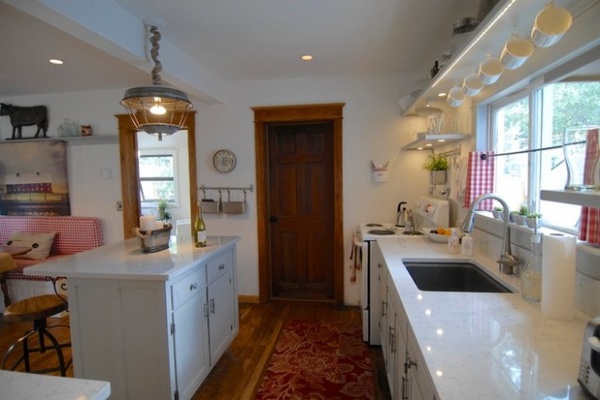 The biggest challenge with the interior was the small closed-off galley kitchen. "The only way we could make it work was to figure out a way to open the kitchen area," Jen says.
They achieved this by moving the refrigerator and repurposing a cabinet as an island. They rebuilt the latter to include space for stools and a spice rack, and topped it with white Silestone. The kitchen lights are old barn lights.
Jen and Dan painted the kitchen cabinets a soft gray with a hint of green to brighten the room, and took out upper cabinets in favor of open shelves to simplify things and make the kitchen feel even more open.
Adjustable round wood and metal stool: Cost Plus World Market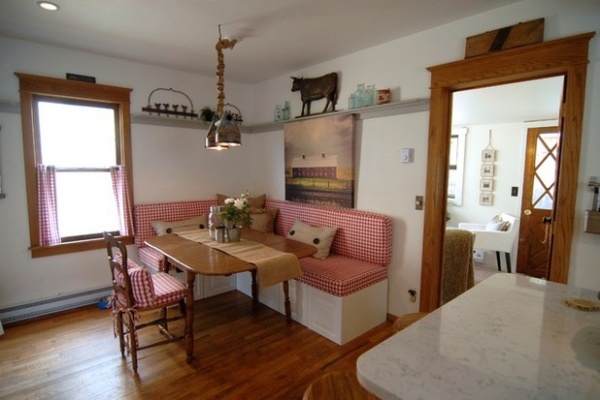 Jen built an L-shaped banquette using Ikea kitchen cabinets and added cushions upholstered in red gingham. It "reminds us of a family picnic from a bygone time," she says.
Banquette upholstery: custom by Anita McGregor, Anita's Studio Designs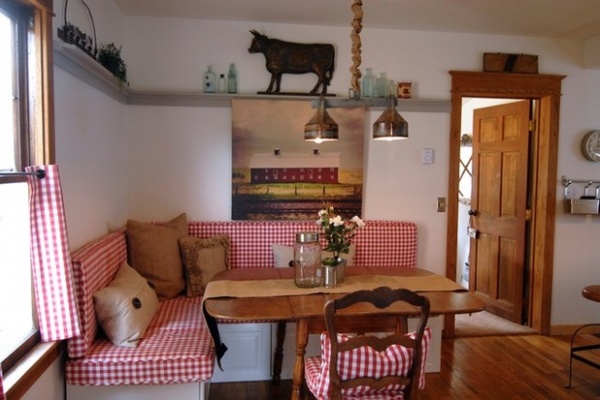 Jen bought the light fixture, the kitchen table (from a farm in Iowa) and the photograph of the barn at Dwell Antiques & Home. She refinished the vintage table herself.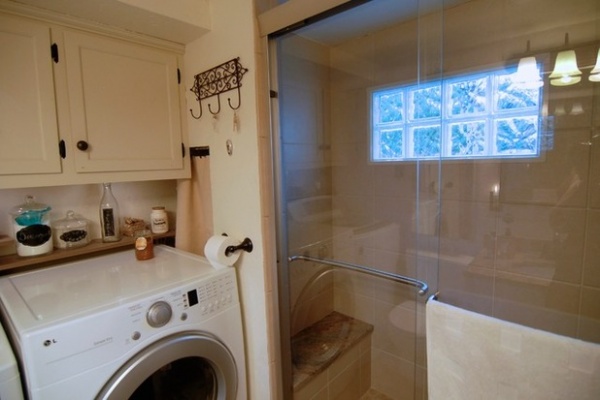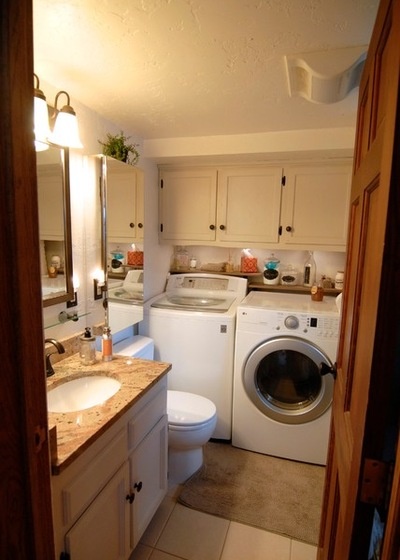 The only bathroom in the house is off the kitchen and doubles as the laundry room, with ample storage. The shower is oversized and comfortable, with new tile and a large glass door and glass block windows that bring in natural light.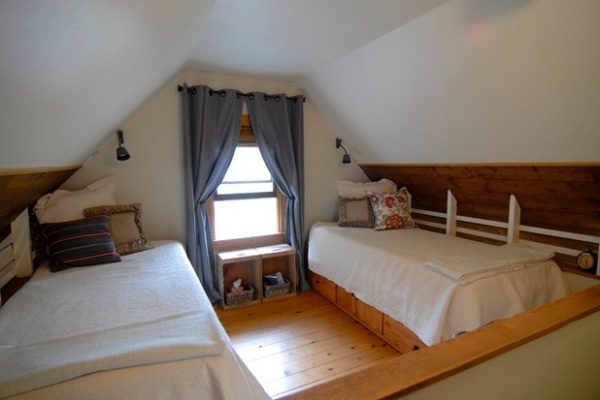 Upstairs, the stairway divides the two bedrooms. This room, shared by Ella and Brady, overlooks the street. "It offers great private reading nooks," Jen says.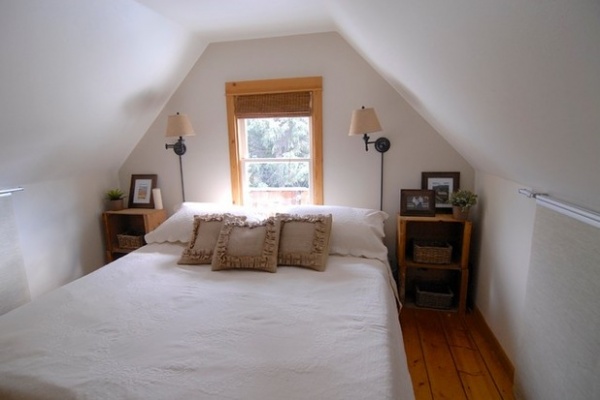 The couple's bedroom overlooks the backyard. All of the bedspreads are matelassé. Jen says the fabric "reminds us of the simplicity of Grandma's house." She added Ikea sliding covers for two closet alcoves to make the most of every bit of space.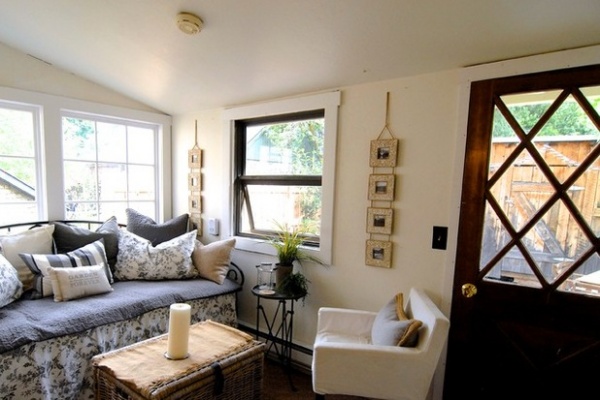 The couple transformed this sun porch off the kitchen on the main level, which had been mainly used for ski and bike storage. With new carpet and a cozy daybed dressed in neutral gray linens, it now is one of their favorite spaces in the house, serving as a comfortable guest room and a gathering spot when they don't have guests. "It has become our morning meeting place, where we ease into and make plans for the day," Jen says. In the summer, their agenda may include a walk to the farmers market, a wine festival or concert, tubing, a hike or a trip to Strawberry Park Hot Springs.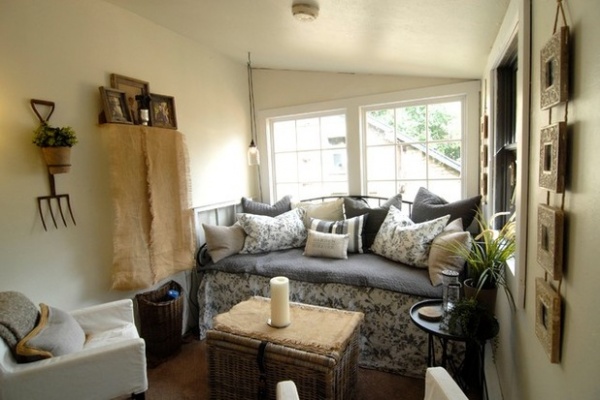 The comfortable space gets ample light from the two windows looking into the backyard. Jen found an inexpensive solution to hiding their electrical panel box: simply hanging two strips of burlap. "We love sitting in this room all at once, reading the paper and sipping our coffee," Jen says.
Daybed: Big Lots; slipcovered chairs and bedding: Ikea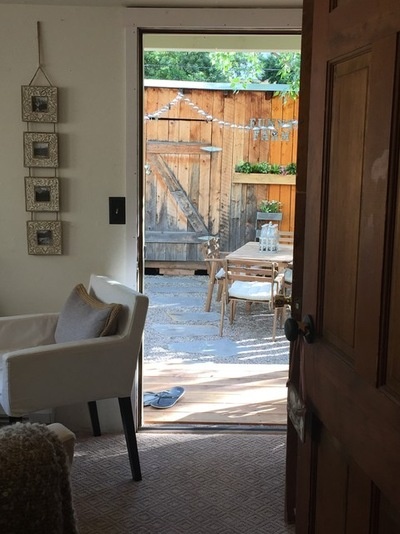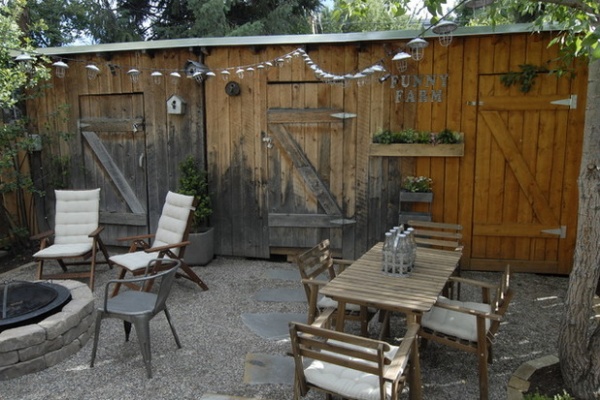 The sun porch leads out to the backyard. In the summer of 2014, the couple hired Mike Baran of Gecko Landscape & Garden Center to help redesign and install a new landscape. Given the snowy winters, sporadic summer visits and water conservation considerations, they created a backyard landscape devoid of any watering needs. They have old beautiful trees that add dimension, shade and greenery to the pea gravel and flagstone hardscape, which is practical and attractive.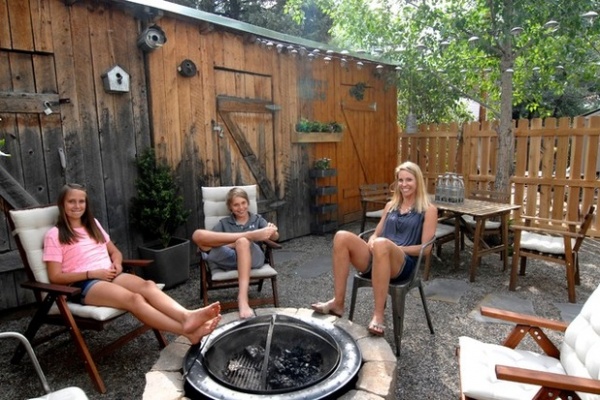 The redesigned landscape includes a fire pit, a picnic table, lots of lights and whimsical and creative decor for an inviting summer gathering place. "We love our meet-ups with our neighbors to roast marshmallows," says Jen, pictured at right with son Brady and daughter Ella.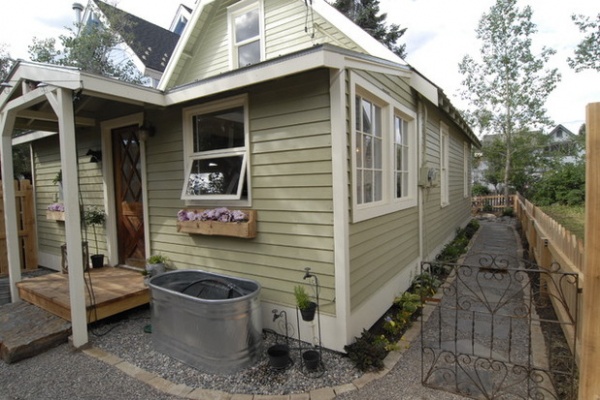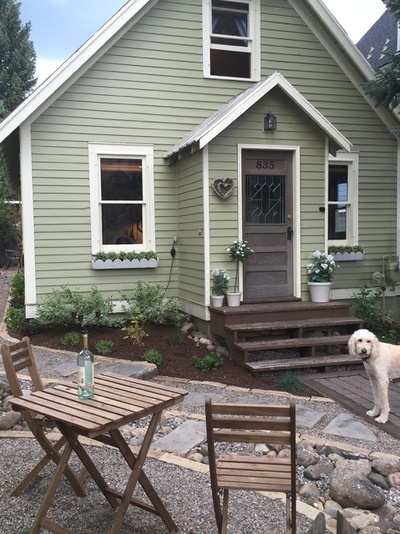 Other landscaping features include the trough seen above, which has a new purpose as a flower bed. The iron gate is an eBay purchase. The untreated cedar fence will age within two years to a beautiful worn gray. On the other side of the back doorway, not visible here, there is a small hot tub ideal for soaking after skiing or hiking.
Bob Hessenberger of Western Range Enterprises Inc. helped with other exterior improvements, including residing, reroofing, replacing windows and even salvaging and rebuilding the storage sheds. "Also, he arched our back entry when reframing so my 6-foot-4 husband would no longer bump his head on the porch," Jen says. Electrician Barry Steadman, Lawton Painting Co. and Great Divide Fencing also helped the family complete the projects.
Jen stained the front door herself, hoping it will eventually match the cedar fence.
Bistro table: Ikea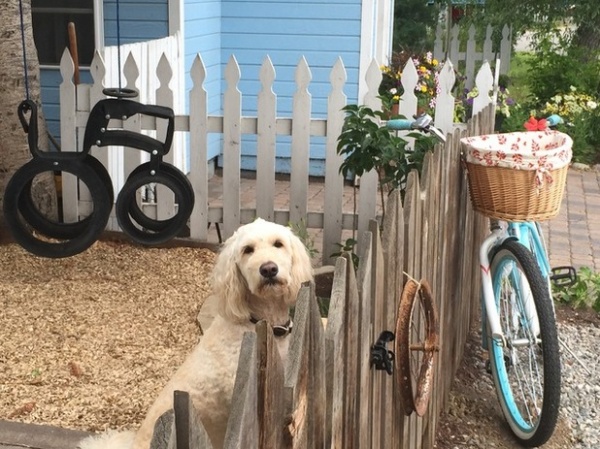 A front picket fence with a gate completely surrounds the property, giving the family's dog, Otis, more space to play and also to be entertained by the pedestrians going by on the street.
A recycled tire swing from Murdoch's Ranch & Home Supply hangs from a Colorado spruce. Otis stands guard while waiting for the kids to come out to use it.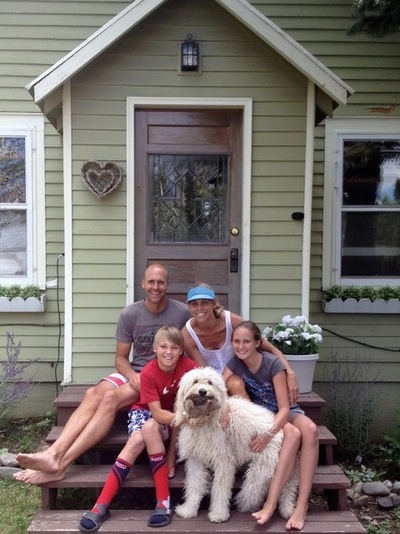 The family loves that the town of Steamboat Springs retains its Old West flavor, with its summertime rodeos, its downhill-skier cowboys fully clad in leather chaps and its many unpretentious, salt-of-the-earth-type residents. Right out their front door are restaurants, shops, river access for fishing and tubing, trails for mountain biking and hiking, and a free 10-minute bus ride to the ski area. "We dreamed of a space in Steamboat that we could make our own, to promote comfort and connection," says Jen, seen here with the whole family.
My Houzz is a series in which we visit and photograph creative, personality-filled homes and the people who inhabit them. Share your home with us and see more projects.
Browse more homes by style:
Apartments | Barn Homes | Colorful Homes | Contemporary Homes | Eclectic Homes | Farmhouses | Floating Homes | Guesthouses | Lofts | Midcentury Homes | Modern Homes | Ranch Homes | Small Homes | Townhouses | Traditional Homes | Transitional Homes | Vacation Homes
URL:
My Houzz: Charming Cottage Getaway in Steamboat Springs
http://www.decor-ideas.org/cases-view-id-26968.html