A Dozen Ways to Work In Patterned Tile
http://www.decor-ideas.org 10/04/2015 03:13
Decor Ideas
Patterned tile of all kinds, from encaustic and cement to ceramic and porcelain, is enjoying a surge in popularity. This classic design element is being put to all sorts of new uses, from wall treatments to fireplace surrounds — and tiled bathrooms and backsplashes are getting a fresh look, too. Here are a dozen ways to put beautiful, eclectic tile to work all around the house.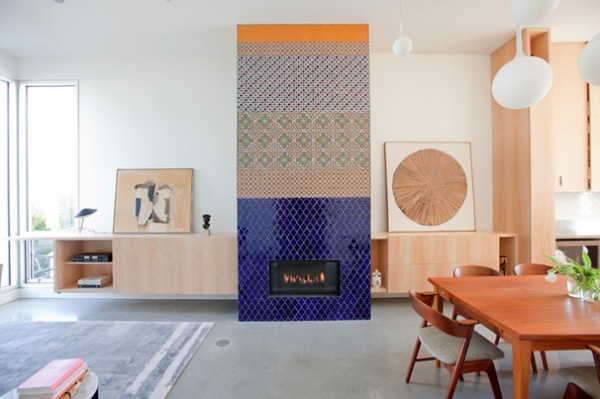 Focal-point fireplace.
A clean-lined fireplace that goes right up to the ceiling can make the perfect canvas for playing with tile patterns. Choose just one favorite pattern or mix and match designs — this application was inspired by the bold colors and patterns of tile seen in Spain.
See more of this home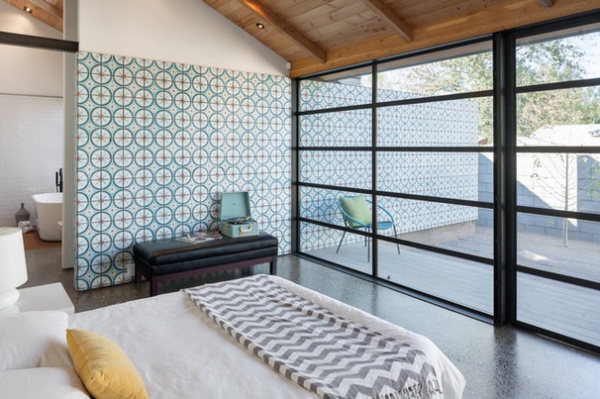 Indoor-outdoor wall.
Tile continues from the wall of this master bedroom right through to a patio outside a set of large sliding glass doors. Repeating the same tile pattern indoors and out enhances flow and can make a small room feel more expansive.
See more of this home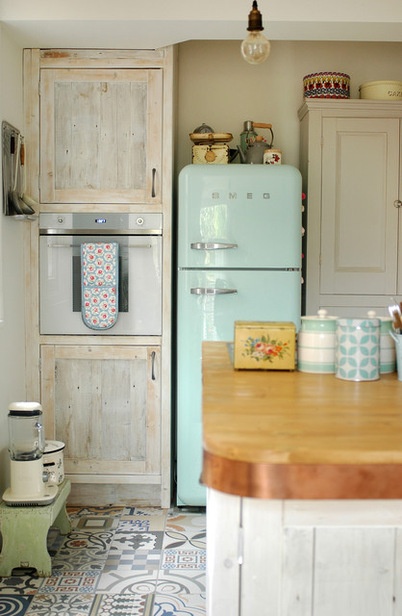 Patchwork kitchen.
A happy jumble of color and pattern on the floor works beautifully to warm up the kitchen, a room that can sometimes run the risk of feeling too sterile. The porcelain tile shown here has digitally printed patterns designed to be applied randomly for a unique patchwork look. Amp up the charm even more with a vintage-style fridge in aqua blue.
Tile: Patchwork in beige, Armatile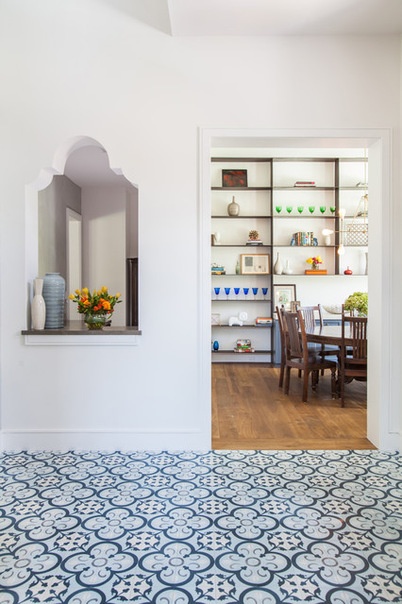 Grand entrance.
Tile can make an excellent, sturdy choice for the entryway — it holds up well to heavy traffic, and the colorful choices available can make a rug optional. Tile floors can be slippery when wet, so be sure to lay out an absorbent rug and rug pad on rainy days to prevent slips.
Custom hand-painted encaustic tile: Granada Tile
See more of this home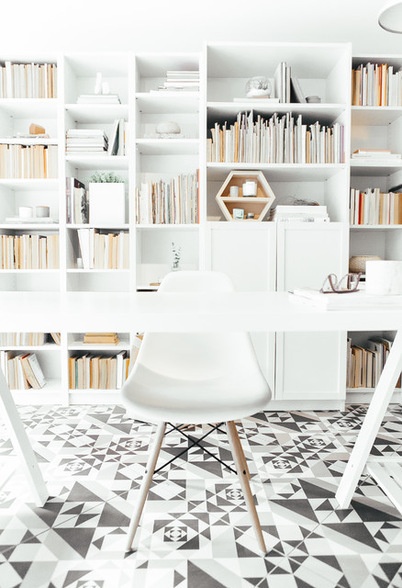 Graphic workspace.
Create a crisp backdrop for getting work done with a cool, modern geometric tile on the floor of the home office. Surrounded by all-white shelving and furnishings, it makes for a pulled-together look that's chic enough to host client meetings.
Frame collection ceramic tile: Refin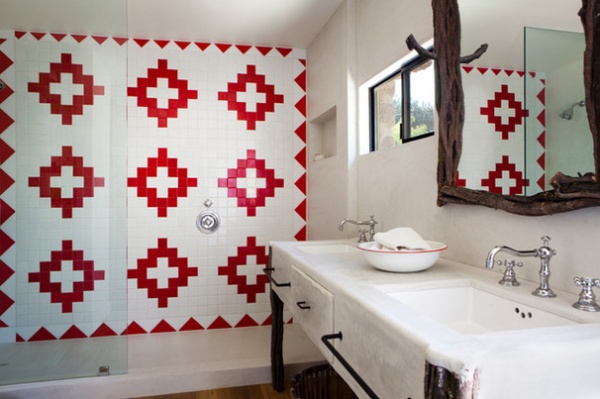 Quilt-inspired shower stall.
Homeowner Lori Morris has a passion for quilts. So during her home renovation, interior designer Suzan Fellman drew inspiration from a classic quilting pattern, known as the chimney sweep, to tile the shower stall. (For a blended look, Fellman used red grout between each of the red tiles.) To make this look your own, browse through coffee table books on quilts or peruse your own treasured heirlooms to find a pattern you love.
See more of this home and ranch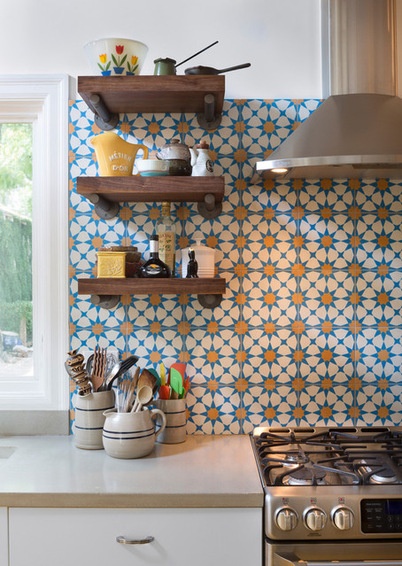 Colorful cement tile backsplash.
Patterned tile in a warm color palette makes a richer and more interesting backdrop to cooking projects than solid-hued tiles ever could. Increase the warm, homey feeling by installing a few grainy-wood floating shelves over the tile to store frequently used tools.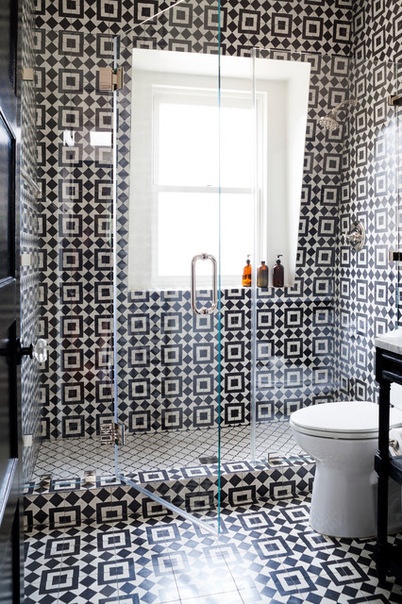 Black and white bath.
Repeating the same graphic black and white patterned tile on the floor and walls of the bath creates a fresh, modern look that would work especially well in a small city bathroom. In the space shown here, the expanse of black and white tile is broken only by a complementary pattern in a smaller scale on the shower floor.
Tile: Fez, Granada Tile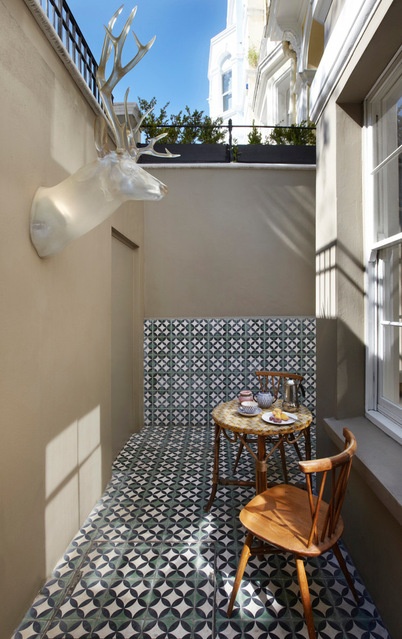 Patio perk-up.
Why settle for ho-hum flooring in a tiny space when you can make a statement with pretty tile instead? Bringing the tile partially up the wall makes this petite patio feel more spacious. A fake stag head sculpture is quirky, but if it's not your style, try accenting your tiled patio with a burbling wall fountain instead.
Beirutiful Circle handmade tiles: designed by What_architecture and made by Al Andalous, Morocco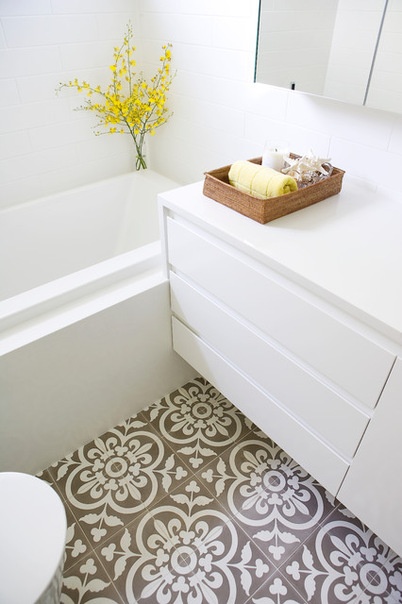 Neutral cement tile floor.
A repeating white pattern on neutral cement tile is soothing and beachy — in a fresh and modern, not over-the-top way. Try this in the bathroom for a spa-like vibe, in the bedroom paired with floaty white curtains and an all-white bed, or anywhere relaxation is on the menu.
Tile: Villa Lagoon, Granada Tile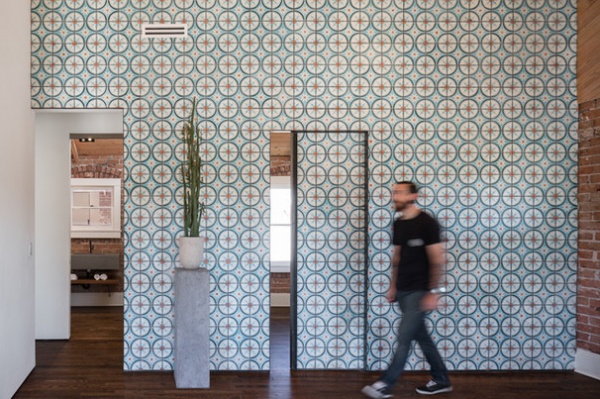 Tile accent wall.
Move over, wallpaper statement walls, and make room for tile. Cool, colorful and packed with personality, a tiled accent wall can become the focal point of the house. Here, an entry wall is clad in custom-made tile with a Moroccan-inspired pattern.
Tile: custom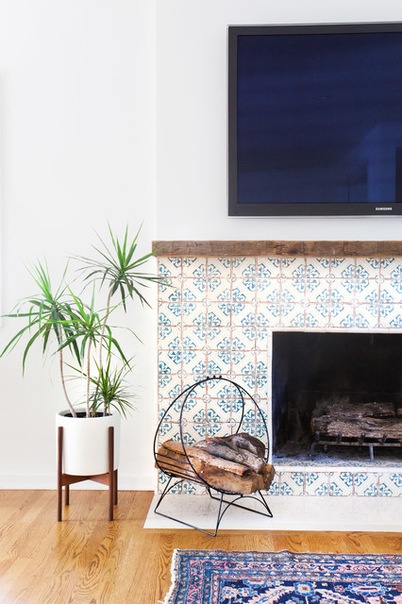 Mantel makeover.
If you already have a tiled mantel (or a mantel with no adornment at all) putting in fresh tile is a relatively small job that can completely transform the look and feel of your space. Here, a blue patterned tile, raw wood mantel top and midcentury planter come together to create a soothing, organic-modern look.
Tell us:
Are you a fan of patterned tile?
More
So Many Reasons to Love Cement Tiles
How to Choose the Right Tile Layout
URL:
A Dozen Ways to Work In Patterned Tile
http://www.decor-ideas.org/cases-view-id-26964.html