Houzz Tour: Loft Redo Ups the Industrial Factor in Toronto
http://www.decor-ideas.org 10/04/2015 01:13
Decor Ideas
This former department store warehouse built in 1910 became one of Toronto's first successful loft conversions in the late 1990s. But a previous redesign had covered over the loft's original ductwork and exposed ceilings. The homeowners brought in designer Ryan Martin to bring back the industrial look, seen through a modernist lens.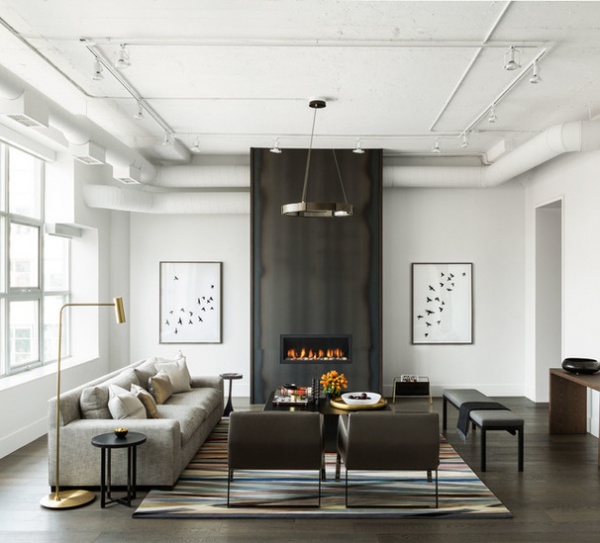 Houzz at a GlanceWho lives here:
A family with three young children
Location:
Toronto
Size:
3,200 square feet (297.3 square meters); four bedrooms, 4 bathrooms
Designer:
Croma Design Inc.
"Subtraction was truly addition when it came to the living room," Martin says. By removing the drywall facade from the ceiling, the designer exposed the original ductwork. A hot-rolled steel floor-to-ceiling fireplace surround replaced a black granite surround that was too shiny for the new subdued motif. Hot-rolled steel has a rough texture and a gray finish with random highlights ranging from blue to purple, as opposed to cold-rolled steel, which has a smooth texture with a solid gray finish.
Sofa: Mary, Montauk Sofa; leather chairs: Berkeley, Avenue Road; coffee table, Floating Square, Martha Sturdy; rug: Carnival by Paul Smith, The Rug Company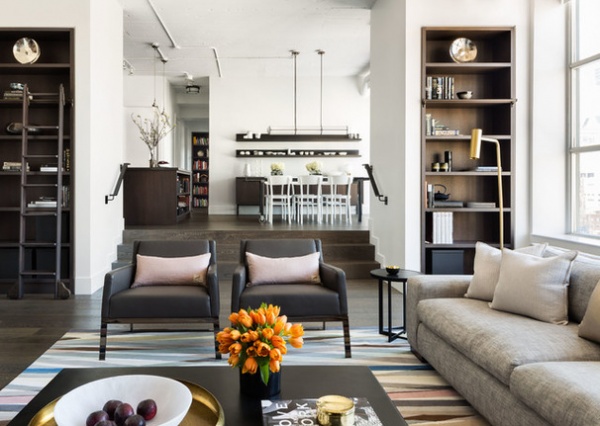 More subtraction was involved in removing a small door between the living room and dining room. "The larger, doorless opening creates much better flow and connects the two spaces," Martin says. Two built-in bookshelves on both sides of the opening are oak veneer with the same stain used on the oak floors.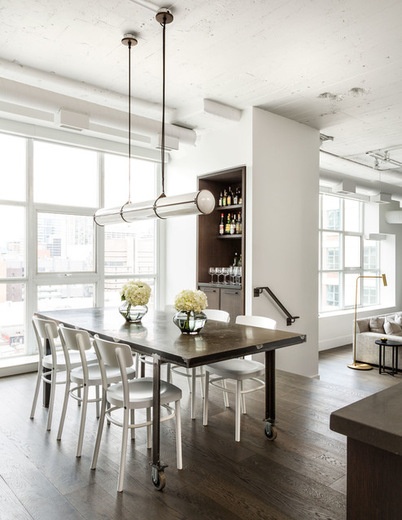 The wall of windows with views of the Toronto cityscape faces west and receives direct sunlight in the afternoon. Electric solar shades can be lowered to filter sunlight while preserving the views. A built-in bar made of oak veneer occupies the other side of one of the built-in bookcases in the living room.
The concrete-topped, steel-base dining table on wheels is a new design, but it appears as if it could have come straight off the building's original factory floor.
Dining chairs: Idolf, Ikea; chandelier: Endless Straight by Jason Miller, Roll & Hill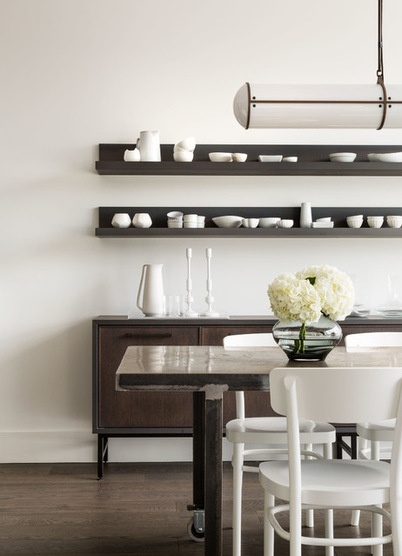 Two custom horizontal steel shelves line a dining room wall and display the homeowners' collection of white serveware. "We wanted to do something interesting on this wall that was visually appealing and functional," Martin says. The buffet underneath the shelves is also a custom design, and has the same oak veneer and hot-rolled steel utilized throughout the home.
Shelves and buffet: manufactured by Parallel General Contractor Corp.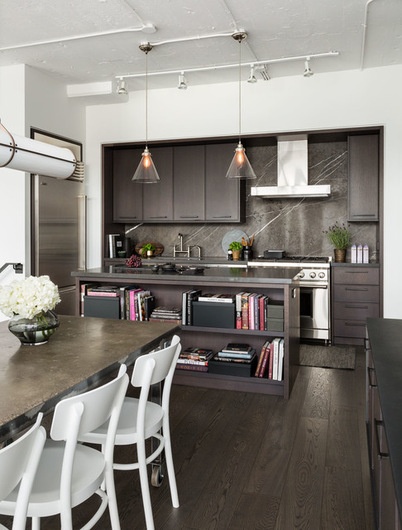 A decision to forgo a kitchen island with counter stools in favor of one with bookshelves speaks to the homeowners' love of the culinary arts. "These are homeowners that really enjoy to cook, and it was necessary for them to have easy access to their collection of cookbooks," Martin says. "They also prefer the family all gather at the dining table for dinner and conversation rather than the island."
Pendants: Elte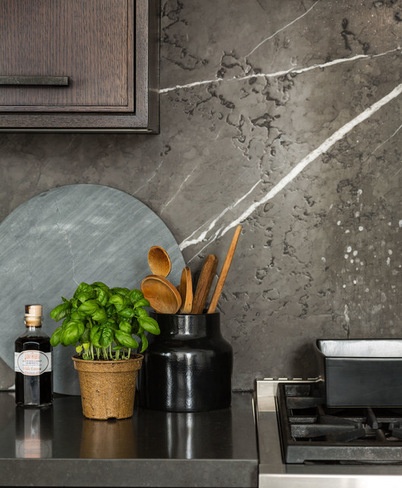 The Greystone marble with a leather, or distressed, finish covers the backsplash and continues the charcoal and white color palette featured throughout. "This marble is rough, textured and has a matte finish that works so well with the other design decisions we made," Martin says. "A shiny, smooth marble would've looked completely out of place."
Backsplash: Greystone, Ciot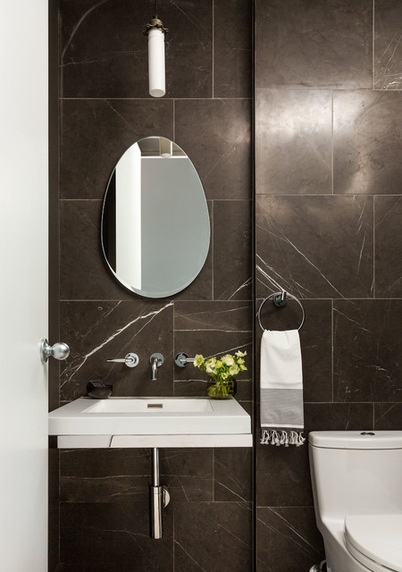 Twelve-by-24-inch tiles of shiny Greystone marble line the powder room walls. A thin-profile sink, an unframed oval mirror and a single milk glass sconce are among the other highlights. "The home has three other full bathrooms with plenty of storage. This was designed to be a pretty powder room, plain and simple," Martin says.
Mirror: 28th Street by Yabu Pushelberg, Avenue Road; Floating sink: Wetstyle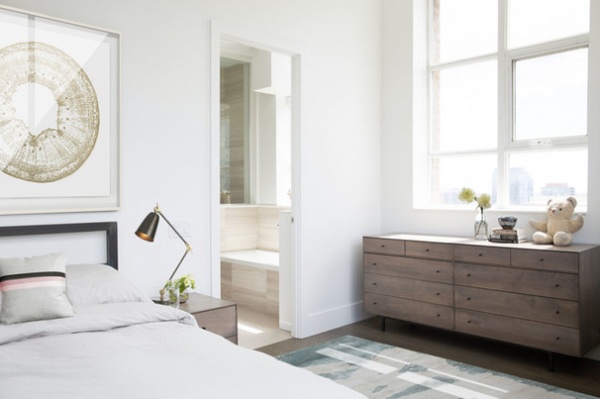 The master bedroom is a mostly white space with a large window with views of the surrounding cityscape. The simple steel frame headboard continues the preferred metal choice used throughout. A print featuring a crosscut image of a tree trunk hangs above the bed. "The space is very industrial, so it was important to bring in some images of organic material to make it not feel too sterile," Martin says.
Bed: Parsons, Room & Board; art: Willow Wood 2, Art Squared; dresser: Hudson, Room & Board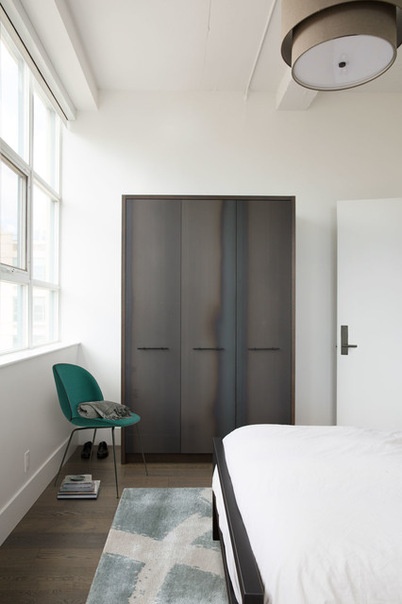 A custom armoire made from hot-rolled steel brings the same striking material found on the living room fireplace surround into the master bedroom. "With hot-rolled steel, the colors that come out of the process can vary quite a bit. This armoire came out with a lot of blue tones that played up the turquoise chair and blue area rug," Martin says.
Chair: Beetle, Gubi; rug: Grafitto by Kelly Wearstler, The Rug Company
Browse more homes by style:
Apartments | Barn Homes | Colorful Homes | Contemporary Homes | Eclectic Homes | Farmhouses | Floating Homes | Guesthouses | Lofts | Midcentury Homes | Modern Homes | Ranch Homes | Small Homes |Townhouses | Traditional Homes | Transitional Homes | Vacation Homes
URL:
Houzz Tour: Loft Redo Ups the Industrial Factor in Toronto
http://www.decor-ideas.org/cases-view-id-26963.html