World of Design: 11 Book Lovers and Where They Like to Read
http://www.decor-ideas.org 10/02/2015 21:13
Decor Ideas
One in a series from Houzz international editors on how our lives shape home design around the world

If you're a book lover, you're probably curious about the books other bibliophiles are reading, not to mention where they like to relax with them and how they store and manage their collections. A home library often reveals the personality of its owner, and Houzz has peeked into the homes of 11 book aficionados around the globe to see which titles are on their must-read lists, where they keep their tomes and how they've made those spaces special.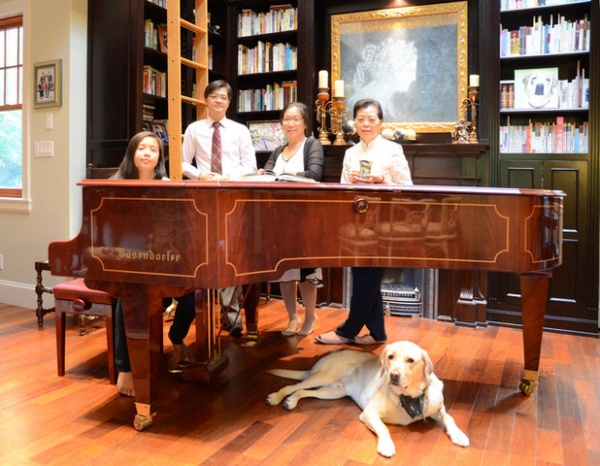 1. Double-Height Library in CanadaWho reads here:
Iris Lee; along with Edmund Luke; their three children; Edmund's 74-year-old mother, Meishia Luke; and their Labrador retriever, Hero
Occupation:
Homemaker and full-time mother
Location:
Vancouver, British Columbia, Canada
The book space:
The two-story-high library features bookshelves custom-made in Indonesia, a rolling ladder and a grand piano.
How many books:
Roughly 6,500.
Personal touches:
"Having a two-story library was the reason we wanted to build our own home," Iris Lee says. "We deliberately located it next to the kitchen, as we wanted it to be the place we'd spend most of our family time together. When the kids are at school during the day, I have the library to myself and can enjoy a cup of coffee and have my favorite music on."
What she loves most:
"It's big enough for us to be able to adapt it and make changes as our kids grow. When we first moved in, the children were 6, 8 and 10 years old. Now two have gone to college, and we've added two reading recliners into the room. I enjoy reading in my favorite recliner while listening to classical music."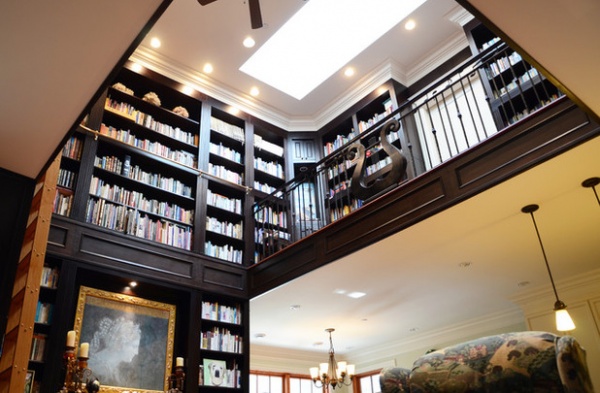 Managing a growing collection:
"Our library is at full capacity, so each time I bring more books home, I need to get rid of some. My kids often have a hard time letting go of them, so I try to reassure them their books will find homes, that they will get to be loved again, such as by their younger cousins or in school classrooms."
What's next:
"We love our house and plan on living here for a long time. My only concern is that at some point I may not feel comfortable using the ladder. We will then need to find a solution, such as perhaps a catwalk that circles the shelves."
What she's learned from having books in the house:
"We are never bored or out of things to do. Books create conversation among us; we share some common 'friends.' I love it when one of my kids recalls a character from a book and another will quickly join in, or when one reads a good book and passionately recommends it to another."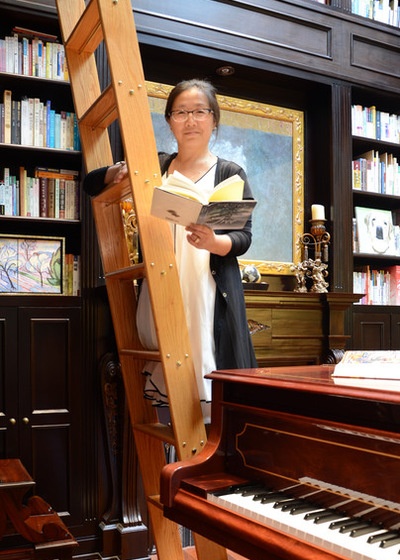 When she knew she was hooked on reading:
"I was 9 years old and I'd just finished reading the translated Chinese version of Baby Island, by Carol Ryrie Brink. I was transported to a different part of the world that I didn't know existed. In fact, I knew nothing about the world except my home and school in a tiny, crowded city, Taipei. The book opened my eyes, and I wanted more. I begged my mom to take me to bookstores. I searched for all the translated novels for children I could find: Mary Poppins, Danny the Champion of the World, The Swiss Family Robinson, The Secret Garden…. There weren't a lot, but as I read every book I could find, I started to venture out, and before I knew it I was hooked — I wanted more!"
Currently reading:
Soul Made Flesh, by Carl Zimmer; This Idea Must Die: Scientific Theories That Are Blocking Progress, edited by John Brockman; Hot to Cold: An Odyssey of Architectural Adaptation; and a Chinese collection of ancient scholarly correspondence, dealing with Chinese calligraphy, literature and history pre-Tang dynasty. "I usually have four books on the go at any given time," Lee says. "One in the bedroom, one in the library, one in the car and one in my handbag."
Next on the list:
"People often comment on how many books we have and question whether we're actually going to read them all. I tell them I see my books as my life reading plan; I only keep ones that are on my life reading list. In our home that means six individual reading lists, all full of different books."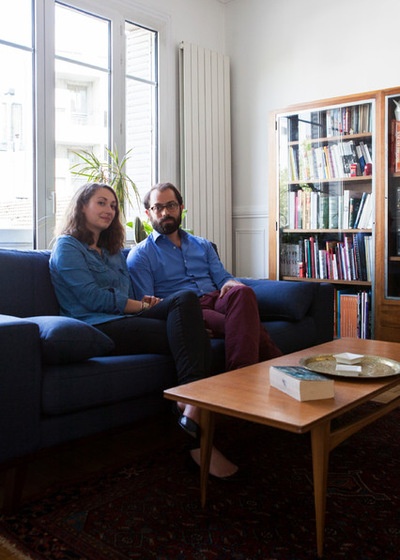 2. Book-Lined Hallway in France
Who reads here
: Marie-Cécile Puissochet and Romain Graveleau
Occupations:
She's a content strategic planner; he's an after-sales manager
Location:
18th arrondissement (district) of Paris, France
The book space:
Custom-made bookcases in the hall and a bookcase that belonged to Romain Graveleau's great-grandfather in the living room.
How many books:
About 500 paperbacks in the hall and about 130 books and 100 comic books in the living room.
Personal touches:
"We decided to paint the border around the hallway bookcase orange to break the rhythm of the hallway and harmonize with the blue wall in the living room, as you see the two when you enter the flat," Marie-Cécile Puissochet says.
"In the hall bookcase, science fiction titles have been shelved at the top, then the rest have been sorted out in reverse alphabetical order," Graveleau says. "They used to be arranged from 'A' to 'Z,' but we wanted to change the order so we didn't keep picking up the same ones."
What they love most:
"It enabled us to make the most of the hallway, which is 9 meters [about 30 feet] long!" Puissochet says.
"We spend a lot of time reading in the living room, because the sofa is very comfy and the large window behind makes the reading very pleasant," Graveleau says.
Managing a growing collection:
"When we moved into this flat a year ago, we decided to declutter our collection and sold about 100 books on the Internet," Puissochet says.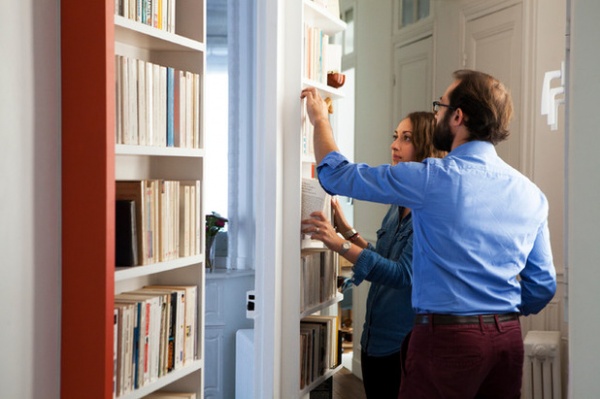 What's next:
"We need to find nice bookends, especially for the contoured bookcase [which curves around the hall wall], where the books fall otherwise," Puissochet says.
What they've learned from having books in the house:
"When we were working with Pauline Brassens, the interior architect who helped us create the bookcase, I learned the importance of measuring the size of books and creating bookcases that fit them perfectly, in order to use the space efficiently," Puissochet says.
When they knew they were hooked on reading:
For Graveleau, it was when he was 9 years old and read Around the World in 80 Days, by Jules Verne. Puissochet says her epiphany came with Sirga: Queen of the African Bush, by René Guillot.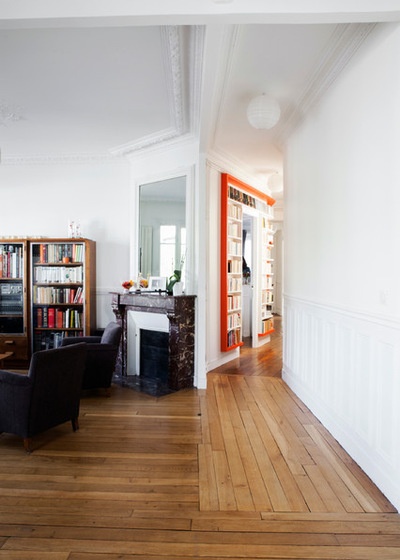 Currently reading:
Graveleau: The Temple of the Golden Pavilion, by Yukio Mishima.
Puissochet: Nine Princes in Amber, by Roger Zelazny (eighth volume).
Next on the list:
Graveleau: "I will read The Chronicles of the Deryni, by Katherine Kurtz."
Puissochet: "I will read the ninth Amber volume before reading again A Wild Sheep Chase, by Haruki Murakami, to remember the atmosphere of our last trip to Japan. We like to alternate between classic novels and science fiction and fantasy."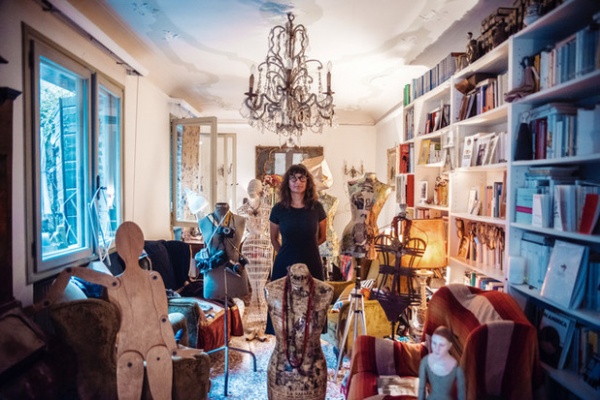 3. Literary Nest in ItalyWho reads here:
Anna Toscano
Occupation:
Poet and university linguistics instructor
Location:
Venice, Italy
The book space:
Two big bookcases, one in the living room and one in the studio-bedroom.
How many books:
About 3,000.
Personal touches:
"Before I came to this house, it was my uncle's. As soon as I moved in, I created two extremely high bookcases, and then I started to feel at home."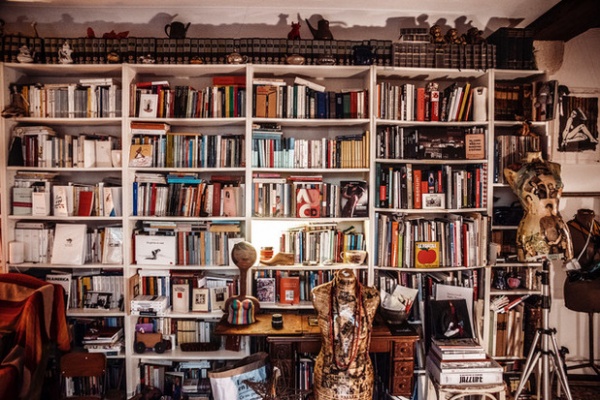 Managing a growing collection:
"I have a strict and precise way to store books: Every shelf is dedicated to a different type of book. The titles are also organized alphabetically and by publishing house."
What's next:
"The lack of space is becoming a real problem. Comics, for instance, are all stored in the little shelves in the bathroom. But then? Where can I find a new space for books? Maybe some shelves on the ceiling!"
What she's learned from having books in the house:1.
The value of literature and the value of life itself.
2.
Public libraries are very important.
3.
The high tide (acqua alta) in Venice can be really dangerous for books.
4.
You can live thousands of different lives when reading.
5.
When you read a book, you are never alone.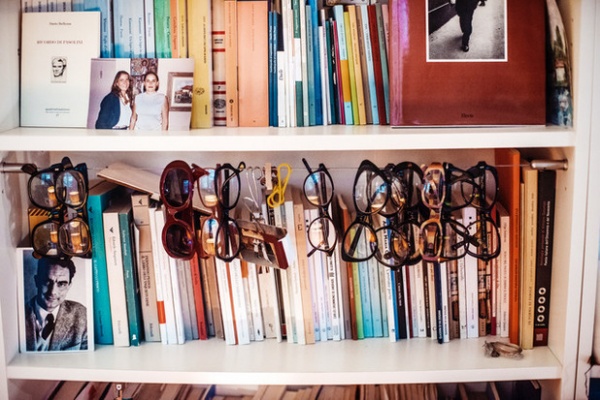 When she knew she was hooked on reading:
"When I was a young girl, because my parents' home was filled with all kinds of books. In one bookcase they gathered all the works by the winners of the Nobel Prize for literature, sorted by year."
Currently reading:
"I'm in a creative period, so I more or less stopped reading, because I need to focus on my own writing, poetry and monographic books during this creative time."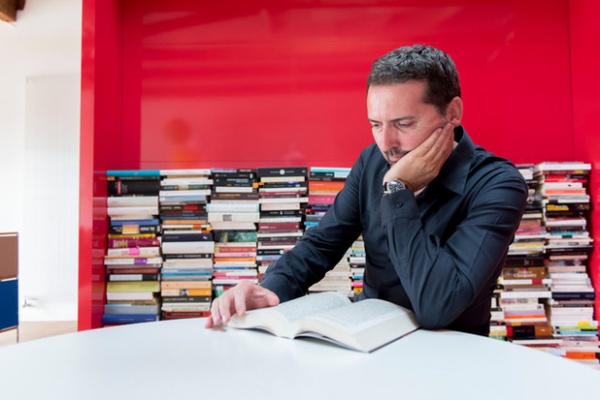 4. Simple Stacks in SpainWho reads here:
Andrés Rubio
Occupation:
Journalist
Location:
Madrid, Spain
The book space:
"It's an open library. I've found shelves I like [string system by Swedish architect and designer Nils Strinning], but I'm saving the money to buy them. As the books are at the moment stacked on the floor, I enjoy the mix of colors on the spines."
How many books:
About 300.
Personal touches:
"I have the objects and furniture I love around me. I especially love the Guéridon table designed by Jean Prouvé; it's a masterpiece of midcentury modern design."
What he loves most:
The random combination of the different colors of the book spines.
Managing a growing collection:
"The Kindle has helped me manage the uncontrolled growth of my library quite a lot. Now I try to find the right balance between digital and paper. In this sense, the paper books I purchase now are of much more significance to me."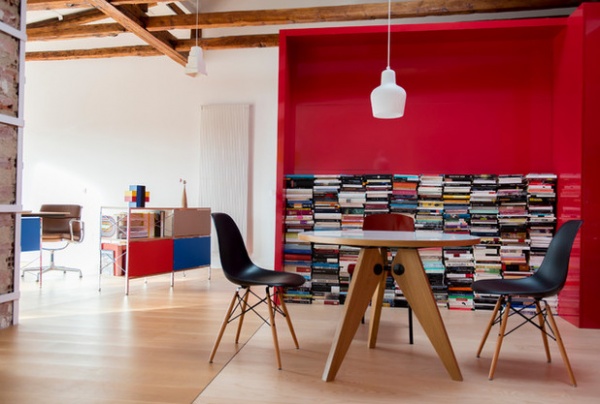 What he's learned from having books in the house:
"Let me quote a famous phrase: 'Book lovers never go to bed alone'"
When he knew he was hooked on reading:
"When I was a child and I read The Famous Five, a series written by English writer Enid Blyton."
Currently reading:
Goethe: La Vida Como Obra de Arte, by Rüdiger Safranski.
Next on the list:
"Purity, the latest novel by Jonathan Franzen, my favorite American writer."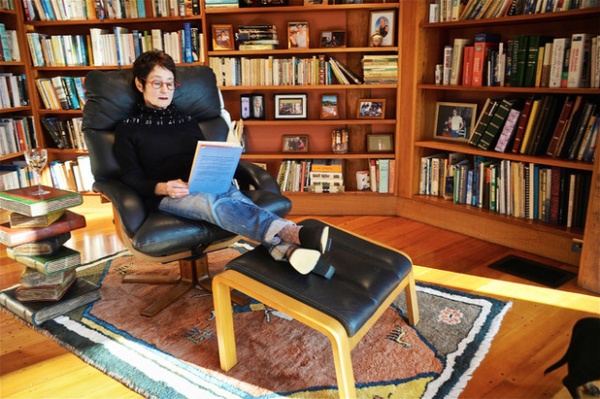 5. Book Nook With a View in New Zealand
Who reads here:
Francie Shagin
Occupation:
Retired
Location:
Blenheim, New Zealand
The book space:
"I wanted the book space to also be a reader space — a place where I could be among my books while enjoying them. One of the overall [goals] was to make the inside of the house and the outside come together as much as possible. Since three of the walls are lined with books and one is a window, the [goal] was absolutely realized!
"We also wanted to use as many natural materials as possible. The floor and shelves in here are native matai wood, sourced from the Parliament debating chamber when it was being refurbished, and the paint is environmentally friendly."
How many books:
About 1,000.
Personal touches:
"The one chair, with a table for one glass, makes it my own."
What she loves most:
Three sides of the room are books, and the fourth is a view of the Richmond mountains.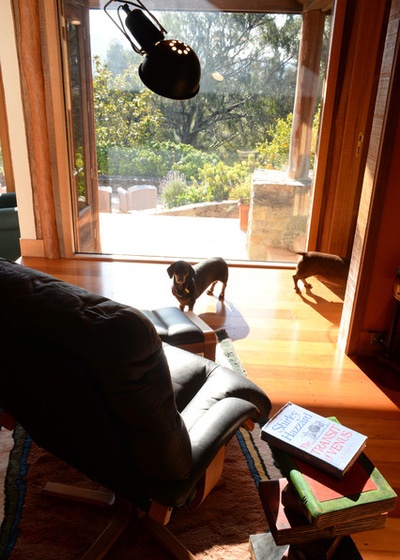 Managing the collection:
"I surreptitiously get rid of my husband's books on economics from his university days."
What's next:
"Other than add more books to it, I wouldn't change a thing."
What she's learned from having books in the house:
"You're never without friends."
When she knew she was hooked on reading:
While reading Little Women, by Louisa May Alcott.
Currently reading:
The Little Paris Bookshop, by Nina George.
Next on the list:
"The book I'm about to start is Strangers on a Train, a mystery written by Patricia Highsmith, who also wrote The Talented Mr. Ripley and The Two Faces of January, among other mysteries from the 1950s and 1960s. It's my whodunnit between other fiction.
"I'll also start on Let Me Be Frank With You, by Richard Ford. It's the fourth in his Frank Bascombe series, which will complete, for me, hours of swimming in his magnificent prose."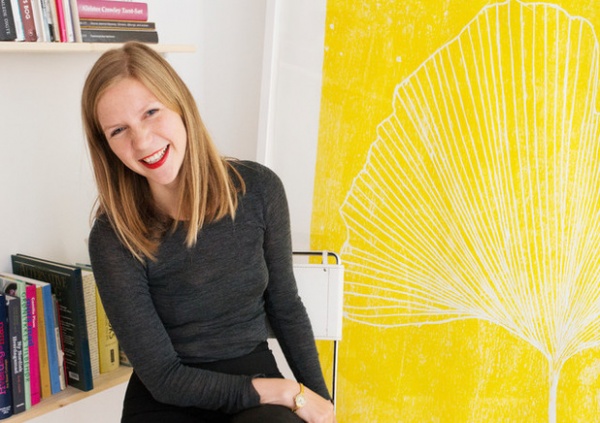 6. Sculptural Floating Bookshelves in DenmarkWho reads here:
Viktoria Wendel Skousen
Occupation:
Visual artist
Location:
Copenhagen, Denmark
The book space:
"The bookshelves came from Silvan, which is a kind of DIY bookcase shop. You can buy as many shelves as you need and choose which wood you want."
How many books?
About 450.
Personal touches:
"In the bookcase, I also display small artworks, cards, plants and stones given to me by friends and colleagues."
What she loves most:
"I love that I can rearrange it whenever I feel like it. It can be symmetrical or asymmetrical, dense or loose with lots of space between the shelves. It's like a floating sculpture."
Managing a growing collection:
"I simply buy more shelves when necessary, and sometimes sell books at a local flea market."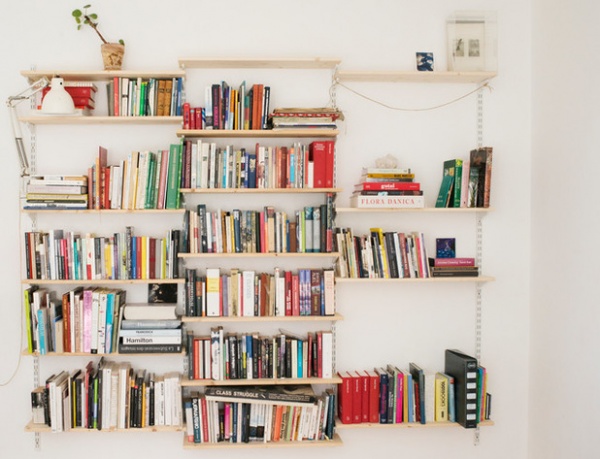 What's next:
"I'm an impulsive book shopper, so it's the books that make plans for me!"
What she's learned from having books in the house:
"When I lived in Vienna, I didn't have my books around me, and I started forgetting names and things I'd read. By looking at my books, I remember more easily what I've been reading, especially when it comes to art theory."
When she knew she was hooked on reading:
"When I spent all my pocket money on art books, such as Sophie Calle's L'Hôtel, in the antique book store."
Currently reading:
The Year of Magical Thinking, by Joan Didion, and Austerlitz, by W.G. Sebald.
Next on the list:
Simians, Cyborgs and Women: The Reinvention of Nature, by Donna Haraway.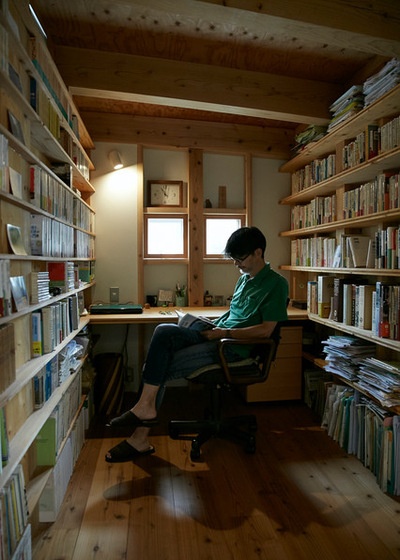 7. Cozy Reading Cave in Japan
Who reads here:
Makio Kuzumaki
Occupation:
High school teacher
Location:
Hino area of Tokyo, Japan
The book space:
A two-story-high, built-in bookcase in the living area, created in the spaces between structural cedar pillars, plus a study on the second floor.
How many books:
About
3,000.
Personal touches:
"I asked the architect, Takeshi Araki, to create a cave-like study for me."
What he loves most:
"In the study, which has two small windows and two walls covered with built-in bookcases, I feel a bit cooped up yet unexpectedly secure."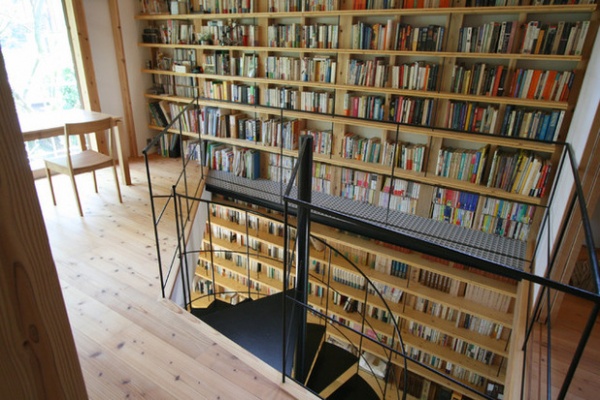 Managing a growing collection:
"The books are loosely sorted by the owners — my wife, my mother and me — in different parts of the huge bookcase. In our previous home, we had so many books, we couldn't tell which was where. So when we moved into this place, we thought, 'We have finally placed all the books in the bookcases!'
"However, over the few years since then, our bookcases have become almost full. We try not to buy a new book until we have no unread books on hand, but it's hard for us. The pace of our reading is slower than that of our book buying!"
What he's learned from having books in the house:
"With these huge bookcases, we can tell where a book is very easily. When I look at the title on a spine, I remember what the story was like and what I thought and felt when I read it."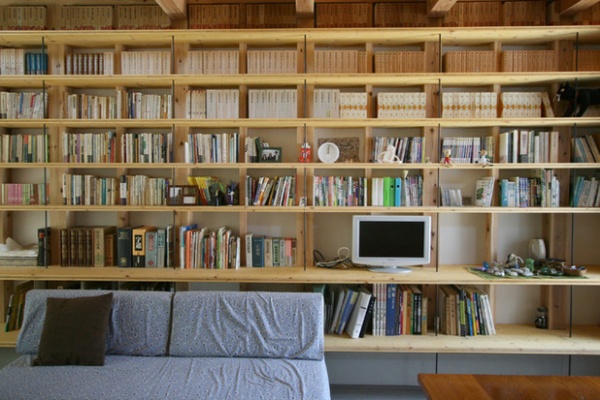 When he knew he was hooked on reading:
"I grew up in a family of book lovers, as did my wife, so it's natural for us to read and have many books."
Currently reading:
"Ikusaba nu Toudoumi, a nonfiction book by filmmaker Chie Mikami. As I teach a peace study course and take students on school trips to Okinawa, I've also read dozens of books on Okinawa's culture, society and history in recent years."
Next on the list:
"Aoi Hana, a novel by Yo Henmi. I'm looking forward to grappling with his experimental and apocalyptic world."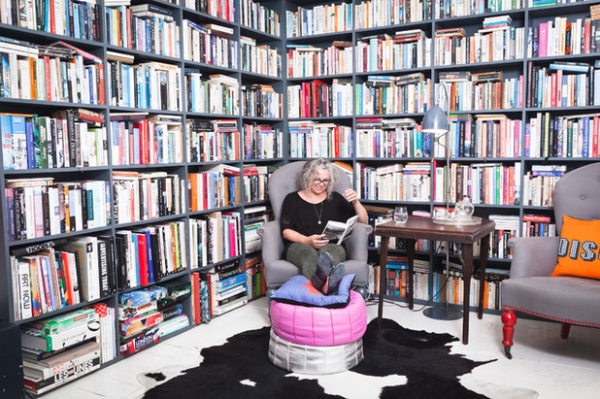 8. Blogger's Home Library in the U.K.
Who reads here:
Kate Watson-Smyth
Occupation:
Interiors and design journalist and blogger at Mad About the House
Location:
London, England
The book space:
A dedicated reading room with floor-to-ceiling bookshelves and a comfy chair.
How many books:
About 2,000.
What she loves most:
"That I have one! It's an immensely calming space and, as I work from home, if I get stressed or have too much on, I will often make a cup of coffee and just go and sit in there for 20 minutes — not even reading, just sitting."
Managing a growing collection:
"I'm not sure it is managed. It looks after itself. I can never throw a book away. When we moved in, the house needed complete renovating and the books went into storage for six months. As we were unpacking them afterwards, each one was like greeting an old friend. Even if I can't remember the story, I can usually remember where I read it, and that instantly takes me back to that time and place in my life.
"My husband was all for having a clear-out to make more space, but nothing of mine has been allowed to go. We've now built another wall of similar shelves in the loft conversion."
What's next:
"I like it just the way it is."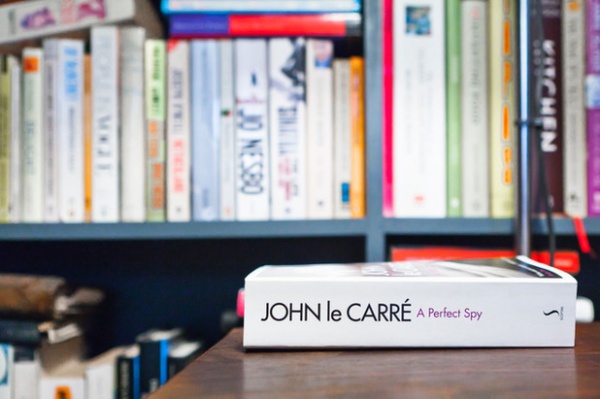 What she's learned from having books in the house:
"I
like the quote by Horace Mann: 'A house without books is like a room without windows.' I couldn't live in a house without books — it would feel naked, unfinished and wrong. It's important that you can just go and pick a book off a shelf and find something new in it. I love the familiarity of a well-read and loved book."
When she knew she was hooked on reading:
"I've always been hooked. I'm an only child, and it's the perfect entertainment for one; I've always read books every single day. I remember being 6 years old, sitting on my rocking horse in my playroom and being able to reach up to the bookshelves where my parents kept the books that didn't fit in the sitting room. I recall taking down Dickens' Oliver Twist — I expect because I'd seen the film and the title was familiar — and then being baffled as to why I could read the words but had no idea what the sentences meant."
Currently reading:
"I seem to segue between crime and history, so I've just finished several books on the Tudors (Philippa Gregory, Alison Weir and Josephine Tey), which were interspersed with some fairly dark Scandinavian thrillers by Jussi Adler-Olsen. I'm currently reading John le Carré's A Perfect Spy.
Next on the list:
I'll start Christobel Kent's Sandro Cellini series, which is set in Florence, where I'm going on vacation. I also have The Girl on the Train, by Paula Hawkins, lined up.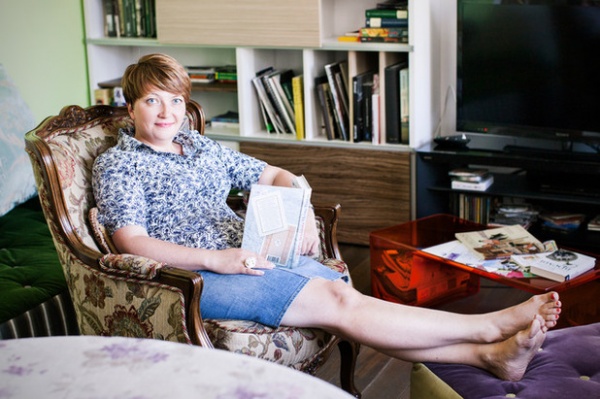 9. Geometric Bookcase in RussiaWho reads here:
Anna Evstigneeva
Occupation:
Public relations director of architectural firm Panacom
Location:
Moscow, Russia
The book space:
"It has bookshelves and a chair, which is the last piece of furniture I bought for my apartment. I already had a table, some chairs and a cozy sofa in the living room, but the armchair was missing; I needed it for some solitude and concentration. I knew it had to be an antique to maintain the old-new balance in my new home interior. This armchair is not big, but it feels quite spacious, and you always feel cozy sitting in it."
How many books:
"The library is quite vast, around 1,000 books, I guess, or a bit more. To be honest, I haven't counted them for a while. But the majority of the books are stored at my parents' apartment; I only have some of them here. Without at least some books, my home wouldn't have been complete. I also keep buying books. I feel books are your lifelong partners, like lovers or friends."
Personal touches:
"When I was working on the project for my apartment, having a set of bookshelves was crucial for me. I like the tactile feeling of touching paper and the variety of book designs. So it was very important for me to have open shelves for my books."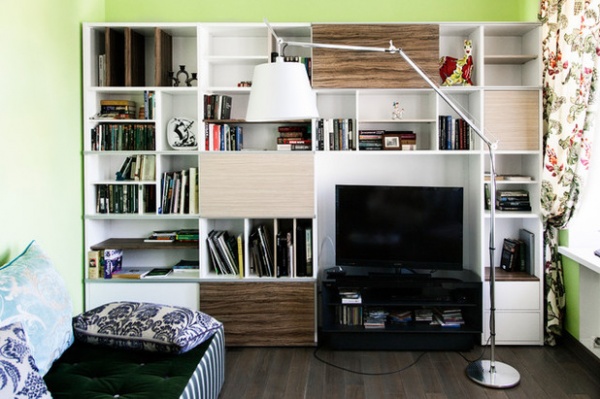 What she loves most:
"My bookshelves had to be a perfect background for my favorite book spines — that's why I chose white for the color. The different-sized sections are tailored to fit the sizes and sorts of books I have. To add some fun, there are some movable panels, decorated with natural wood veneers, which cover some sections while leaving others open, so I can change which books I have on show whenever I like."
Managing a growing collection:
The bookcase was built with room for growth, so there's still sufficient space.
What she's learned from having books in the house:
"Books live in my house, and they need to be taken care of like everyone else — for example, collecting up all of the ones lying around the house and putting them back in their places. And dusting the shelves regularly, of course.
When she knew she was hooked on reading:
"The first book I read all by myself, at the age of 6, was Dunno in Sun City. Since that moment, I can hardly imagine myself without reading."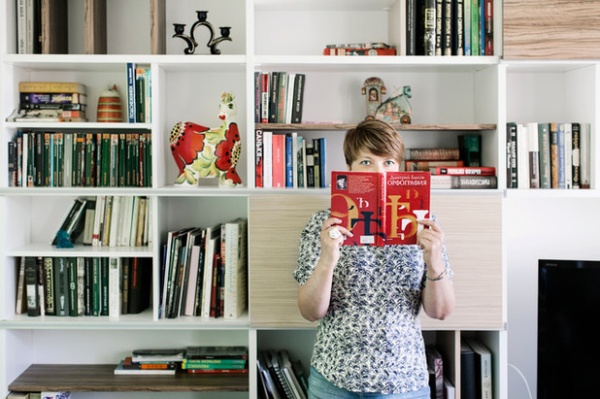 Currently reading:
Temps Glaciaires, by Fred Vargas, whose real name is Frédérique Audoin-Rouzeau — a female French medievalist who writes historical mysteries under this male pen name.
Next on the list:
"I want to read Dmitry Bykov's novel Orthography again. It's a tragicomic narration about the misadventures of Russian intellectuals at the beginning of the 20th century, for whom the understanding of the revolution came with the Russian language reform of 1918, when the special letter yat was excluded.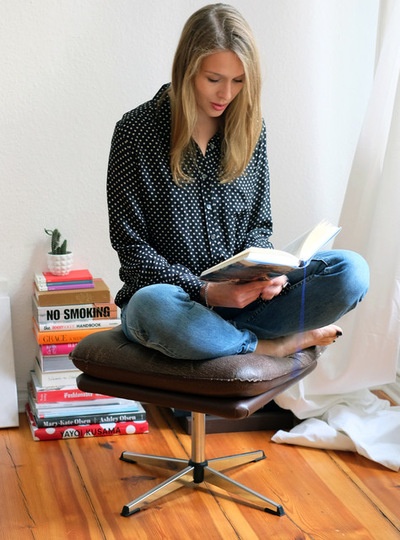 Photos by Marc Calmbach
10. Customized Reading Corner in Germany
Who reads here:
Katja Schweitzberger
Occupation:
Editor in chief for fashion and lifestyle blog LesMads
Location:
Berlin, Germany
The book space:
"Our customized bookshelf is from Moebel Horzon, a furniture company based in Berlin, founded by well-known writer Rafael Horzon, and fits pretty nicely in this corner of our apartment. As well as this, we have a few books on the floor, which looks cozy and can grow as we accumulate more titles. I love sitting there to read."
How many books:
"I'm so bad at evaluating how many we have, but I'd say at least a few hundred, maybe a thousand."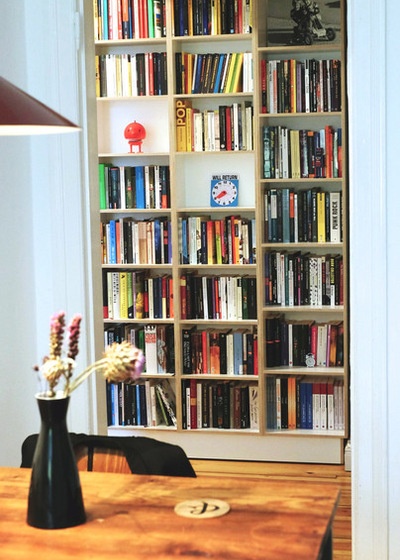 What she loves most:
The slightly chaotic pattern that results from the different colors and sizes of the book spines. And the fact that it's customized.
Managing a growing collection:
"I'm not sure I do; I just add more to the collection and put them on the floor. Fortunately, we have recently moved to a bigger apartment."
What's next:
"I have no particular plan, except that it has to grow with the books to come. Because there are already a few new ones on my book list, including The Monocle Guide to Cosy Homes and Mario Testino's In Your Face.
What she's learned from having books in the house:
"Surrounded by books, I never get bored."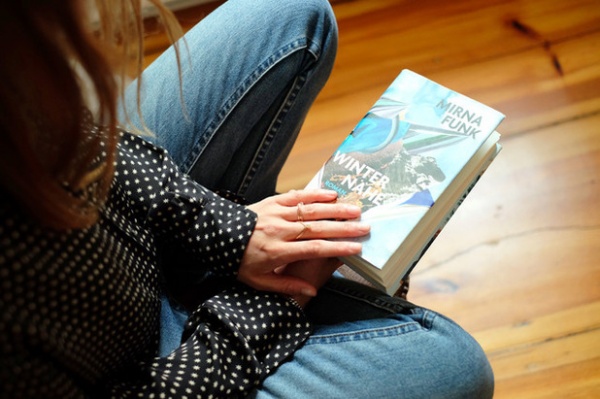 When she knew she was hooked on reading:
"I've always loved books. My mother always read a lot, and her enthusiasm infected me!"
Currently reading:
Winternähe, by Mirna Funk. It's the story of a young German Jew named Lola in Berlin and Tel Aviv. Stubborn and self-willed, contradictory and full of enthusiasm, she tries to find her identity and her own life.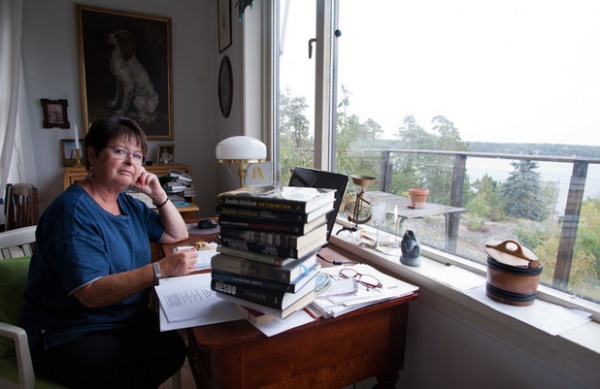 11. Haven With a View of the Baltic in SwedenWho reads here:
Gun Holmberg
Occupation:
Psychologist
Location:
Archipelago outside Stockholm, Sweden
The book space:
A library made with custom shelving about 115 feet (35 meters) wide, with a view overlooking the Baltic Sea.
How many books:
About
1,500.
Personal touches:
"This much-loved easy chair, which I inherited as an accompaniment to the bookshelves. In the summer, the room is filled with light and the Baltic Sea glitters outside. But it's equally good in winter when the snow whirls and the wind whistles. I either sit and read in my beloved chair or at the desk with a view."
What she loves most:
"The smell of books and being able to pick them up and touch them. As I have an active relationship with my books, they don't stand around dusty and forgotten, as I need them organized and easy to access. When I moved to this house 10 years ago, I had to get rid of 500 books and donated them to charity. Even now, I find myself looking for a specific one, and miss it like I would an old friend."
Managing a growing collection:
"I have high ceilings, so I've managed to build the Ikea shelves extra tall, and the bookcases extend to 35 meters [about 115 feet] in width. To reach the highest shelves, I bought a library ladder. Books are organized in alphabetical order, and I put a round, pink sticker on the ones I have yet to read, so they're easy to find."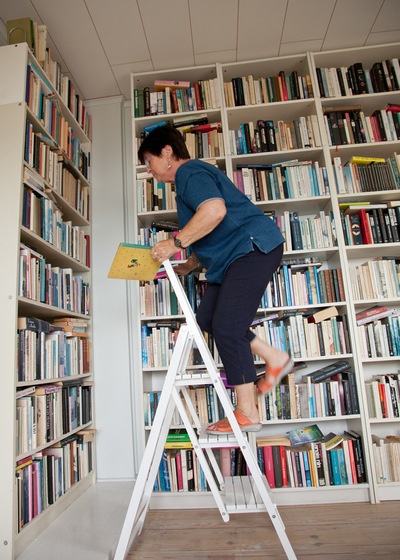 What's next:
"My collection is constantly growing — I can't stop myself from buying new books. I have many books stacked in the room and the rest of the house, waiting to be placed on the shelves."
What she's learned from having books in the house:
"They instantly transport me into new worlds. Each year I spend three weeks in the north of Sweden completely on my own, foraging for mushrooms by day and reading by night, for about seven or eight hours a day. This year I'm packing around 15 books as companions. I simply cannot live without them."
When she knew she was hooked on reading:
"I discovered Dostoevsky as a 15-year-old. Crime and Punishment remains my strongest literary experience. Although I have seen it as a stage play twice, the novel remains unsurpassed, even 50 years later."
Currently reading:
"Bring Up the Bodies, by Hilary Mantel. Wolf Hall by the same author was good on screen as a TV series, but the book version always wins."
Next on the list:
The Blackhouse, by Peter May.
Now you:
Tell us what's on your reading list and where you love to curl up with a book.
URL:
World of Design: 11 Book Lovers and Where They Like to Read
http://www.decor-ideas.org/cases-view-id-26957.html