Room of the Day: A Cool Poolside Cabana for Entertaining and Relaxing
http://www.decor-ideas.org 10/02/2015 03:13
Decor Ideas
After building an inground pool and upgrading the landscaping around their Dover, Massachusetts, home, Carl and Katie O'Connell didn't want to venture far from their new backyard oasis. So they enlisted designer-builder Ray Wiese to turn an existing dirt-floor storage area near the pool into a fun multipurpose cabana with a kitchenette, locker-style bathroom and flat-screen TV. Now they don't have to traipse through their home with wet feet to use the restroom, grab a cold drink or check the ballgame score.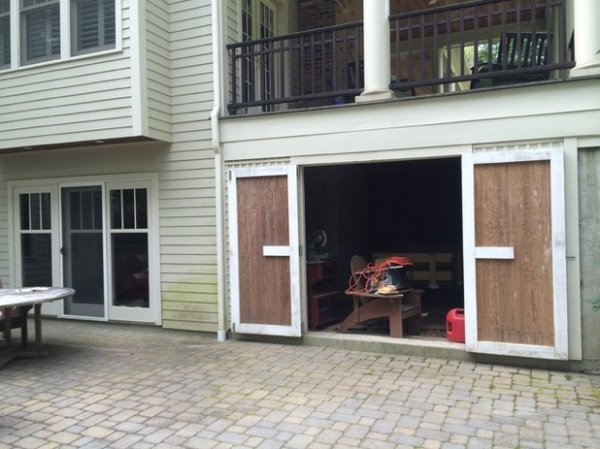 "After" photos by Dan Callahan Photography
Cabana at a GlanceWho lives here:
Carl and Katie O'Connell and their five kids
Location:
Dover, Massachusetts
Size:
About 300 square feet (27.8 square meters)
BEFORE:
The storage space, above, was dark and had a dirt floor. Above it was an open-air porch.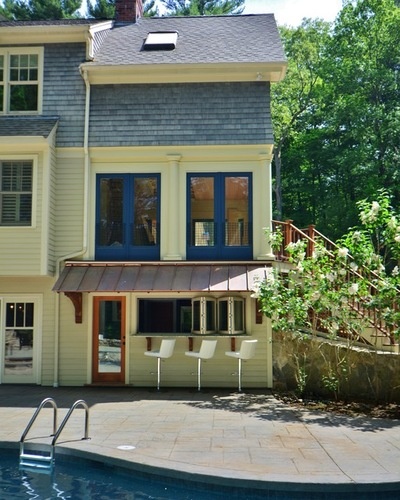 AFTER:
Here's the view from across the pool area. Before converting the storage space into a cabana, the O'Connells first enclosed and waterproofed the porch above it. A custom copper roof shades the bar area and its pass-through window, swivel stools and counter. "I wanted something textural, and I didn't want to use asphalt shingles, since it's so prominent," says Wiese, of The Wiese Company. "It's also reflective of New England and designates, 'This is the bar.'"
Copper roof: Harvey Building Products; corbels: Pro Wood Market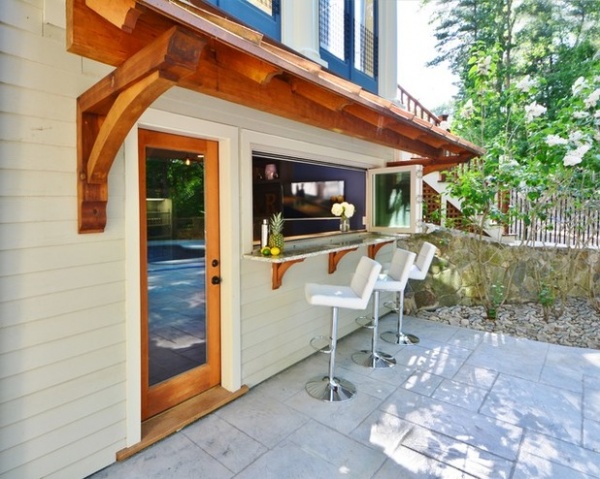 White leather and stainless steel stools encourage guests to hang out at the bar. The homeowners chose a playful blue and orange color scheme to distinguish the cabana from the rest of the house.
A stained-wood-framed glass door offers access to the cabana's kitchenette and the adjacent bathroom inside.
Bar stools: Wayfair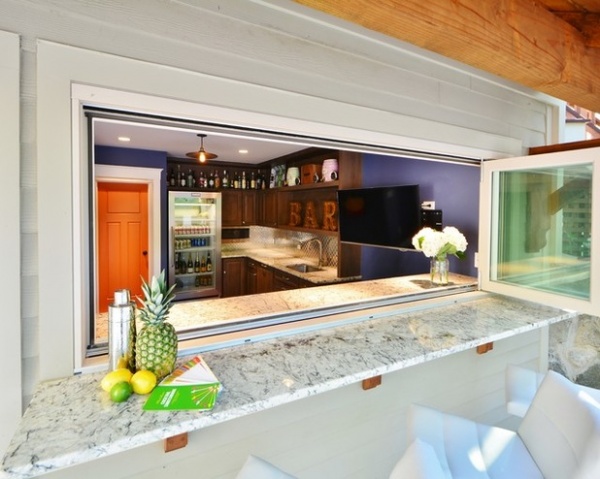 An ice blue granite counter with an eased edge gives guests a place to rest a drink or snack. A folding window above the bar opens up the cabana to the pool area. "In the summer they really want this indoor space to be outdoors, so when you're in the cabana to grab something, it doesn't feel like you're away from the pool," Wiese says.
Corbels that support the bar mimic the corbels used on the cabana's copper roof.
Folding window: Win-Dor Quality Windows & Doors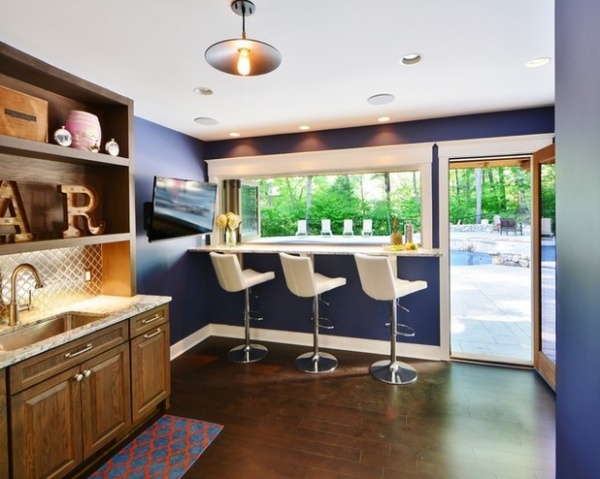 Bright blue walls with a lighter ceiling and trim for contrast reflect the fun nature of the cabana's kitchenette and vestibule. The durable prefinished laminate floor offers more water resistance than traditional wood and helps ground the space.
Bar stools inside give guests a way to enjoy the action by the pool, or to visit with guests sitting on the other side of the bar.
Wall paint for kitchenette and vestibule: Indi Go-Go CSP-565, Benjamin Moore; ceiling light fixture: Restoration Hardware; floor: Specialty Forest Products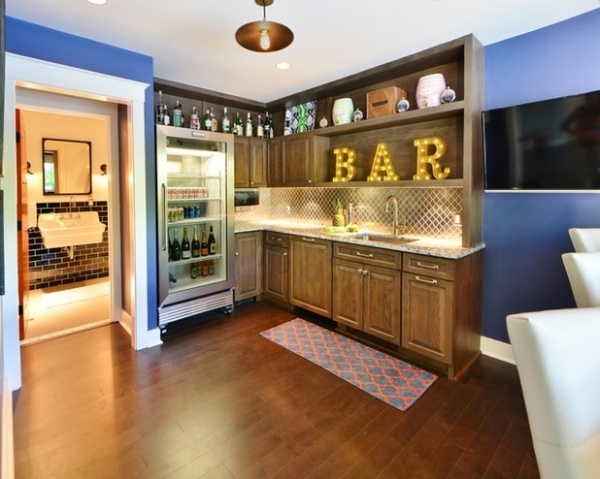 The kitchenette includes a glass refrigerator for beverages, a microwave, a paneled dishwasher and a paneled automatic ice maker. A stainless steel backsplash adds a graphic touch. Oak cabinets and open shelves offer a place for snacks, paper plates and other entertaining essentials.
Undercabinet lights and a decorative ceiling fixture illuminate the cabana at night, so the family and their guests can enjoy a drink or snack while watching sports or a movie on the TV.
Cabinetry: Showplace Wood Products; hardware: Schaub & Co.; glass-front commercial refrigerator: Frigidaire; paneled dishwasher: Bosch; paneled automatic ice maker: KitchenAid; microwave: Profile Spacemaker, GE; backsplash: Tiles Plus More; undercabinet lighting: Hafele America Co.; stainless steel sink: Elkay Sinks and Faucets; high-arc faucet: Hansgrohe USA; orange and blue area rug and "Bar" marquee sign: HomeGoods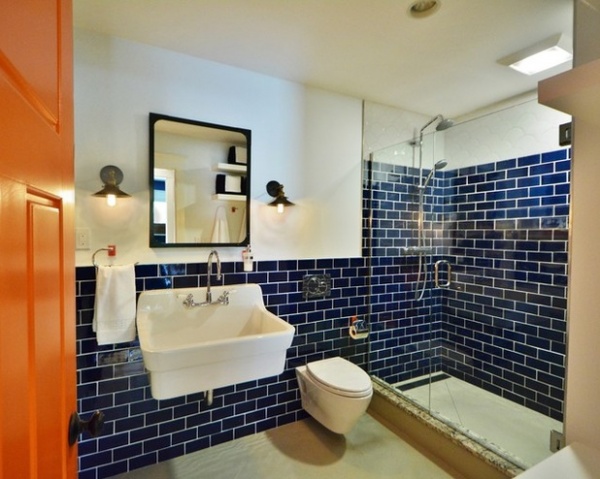 An easy-to-spot bright orange door leads to the attached cabana bathroom. Bold blue custom tiles give the bathroom a poolside feel and personality, with a glass-enclosed shower for guests who want to rinse off before or after a dip in the pool.
Stacked washer and dryer units sit behind the orange door. "The important thing to me was having a bathroom and laundry in there," Katie says. "It's so much more practical when you have kids and lots of guests over."
Meanwhile, the wall-mounted toilet makes cleaning the bathroom floor easier.
Bath sink and faucet: American Standard Brands; shower and bath wall tile: California Art Tile; flooring: Tile Showcase; mirror and light fixtures: Restoration Hardware; toilet: Toto; shower pipe: Grohe; washer and dryer: Electrolux; paint by Benjamin Moore: 14 Carrots CSP-1110 (door) and Palest Pistachio 2122-60 (walls)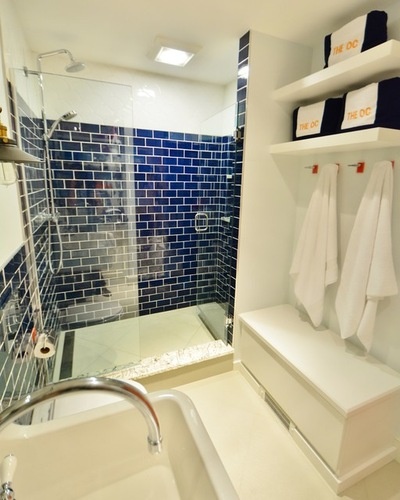 The locker-room style bathroom includes handy storage, with hooks on the wall for swimsuits and towels; shelves above for bins that hold towels, sunscreen and small pool toys; and a bench with a drawer that stores the kids' swimsuits.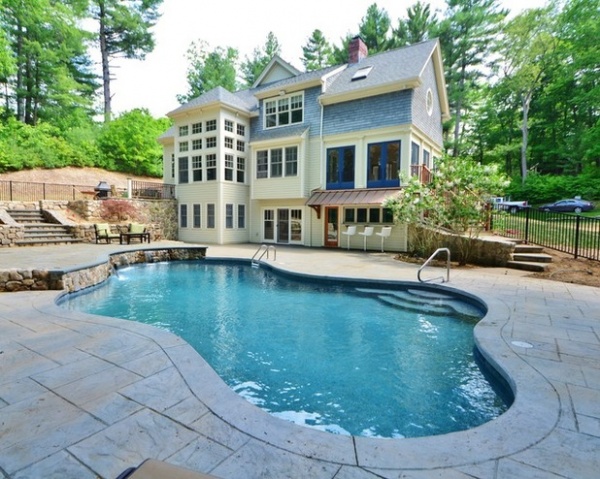 This wider view of the yard shows the new swimming pool with the cabana in the distance. "People want to come home and live more," Wiese says. "We seem to be doing more of these fun kind of spaces where people can stay and not feel trapped at home."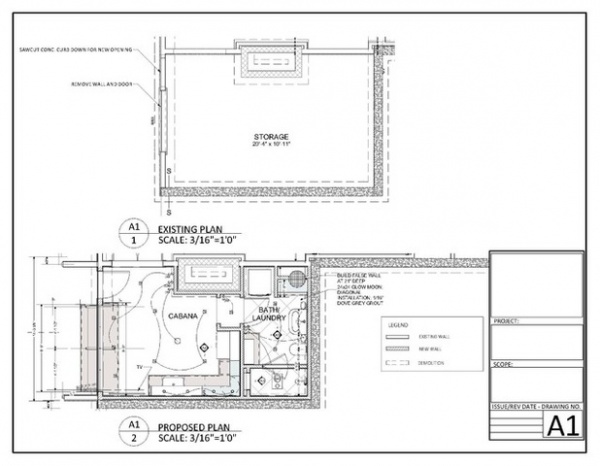 These "before" and "after" floor plans show how the existing storage space became the fun cabana. "It's a huge hit all summer," Katie says. "It stretches out the seasonality of our home and gives us that kind of flexibility we were missing."
See more Rooms of the Day
URL:
Room of the Day: A Cool Poolside Cabana for Entertaining and Relaxing
http://www.decor-ideas.org/cases-view-id-26955.html