Houzz Tour: A Mountain Retreat Goes Against the Grain
http://www.decor-ideas.org 10/02/2015 00:13
Decor Ideas
Toning down the orange-hued wood found on the ceiling, floors and walls in favor of a modern color palette was key to this ski lodge redesign. New gray washes for the wood, a surprising kitchen that mixes green and brass, and a range of eclectic pieces throughout the home have transformed the look of the mountain residence.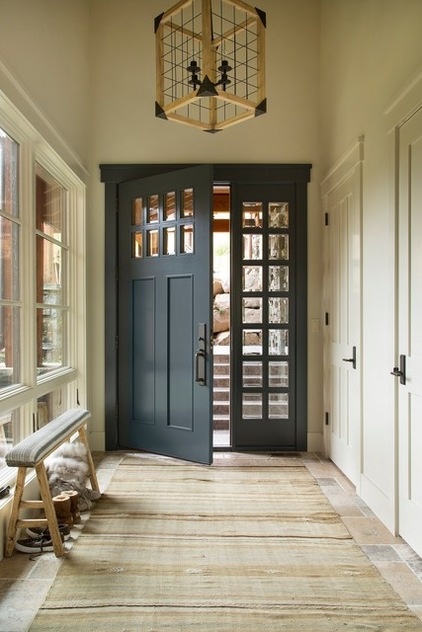 Houzz at a GlanceWho lives here:
This is a second home for a family of three.
Location:
Deer Valley, Utah
Size:
5,800 square feet (538.8 square meters); six bedrooms, six bathrooms
Design:
Massucco Warner Miller Interior Design
"The home doesn't have a mudroom or an ideal space for taking off winter gear, so we did the best we could without taking up too much room in the front hall," designer Melissa Warner Rothblum says.
A narrow upholstered bench with wood legs provides a spot to plop down and take off snowy boots upon entering the home. The original brick floors topped with an antique kilim rugs hold up well to the elements.
Ceiling light: Currey & Co.; bench: Barclay Butera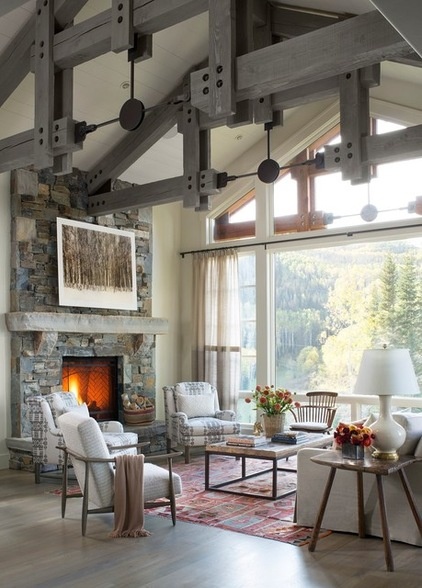 Contemporary gray hues on the wood floors and ceiling beams replaced what Rothblum describes as "an abundance of orange wood" in the living room. The original color of the ceiling beams can still be found on the exterior wood beams, seen outside the window.
Opting for neutral-toned upholstered furniture, the designer added a brightly colored Turkish kilim area rug to lower the visual focus in the 20-foot-tall space.
Rug: antique, Woven Accents; coffee table: Reclaimed French Floorboard, Restoration Hardware; art: Josef Hoflehner Photography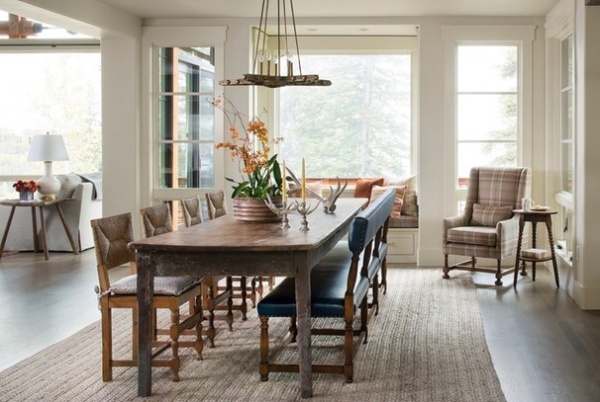 A 19th-century farm table that's 124 inches (315 centimeters) long provides an ideal spot for dinner parties with extended family. Rothblum says that with long dining tables, she often likes to mix up the seating. Here, she combined French side chairs on one side with a custom leather bench on the other. The brass chandelier in the shape of a star adds a contemporary note.
Rug: Stark; chandelier: Coup d'Etat; dining table: Rosemarie McCaffrey Antiques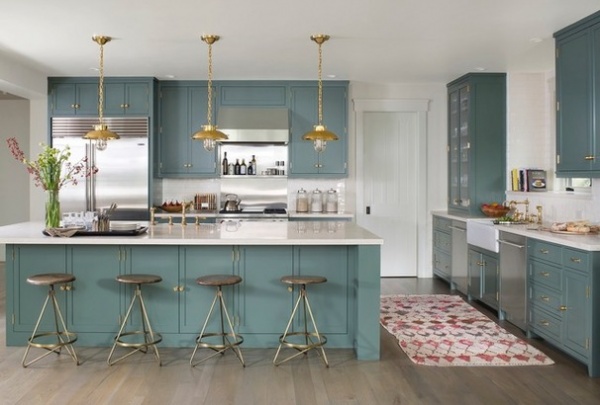 The homeowners wanted something different from an all-white or wood-heavy kitchen. The green painted cabinets with touches of brass on the hardware, pendants and counter stools create a standout space that's both classic and contemporary. The Moroccan wool rug adds a bit of softness and an additional accent color.
Stools: Wyndham, Arteriors; pendants: Lakeside, Urban Archaeology; cabinet paint: Green Smoke, Farrow & Ball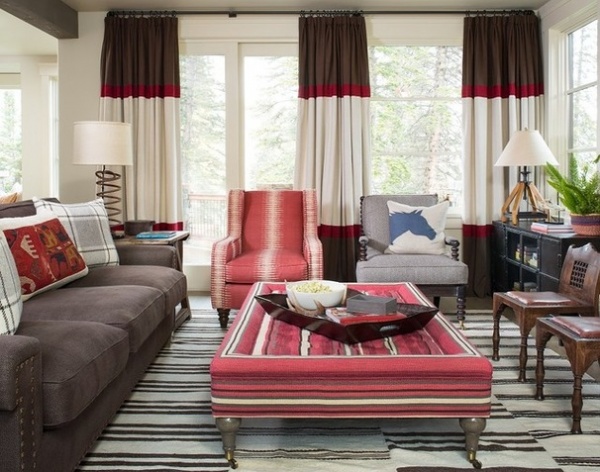 Rothblum calls the family room the coziest space in the house. An extra-deep sofa covered in chocolate linen and an upholstered ottoman that doubles as a coffee table draw family members to watch the television on the wall opposite the sofa or to just catch up on life. The designer combined three fabrics to create the floor-to-ceiling drapes. Two small wood chairs from Morocco designed for children add extra seating.
Rug: Woven Accents; gray spindle chairs: Hickory Chair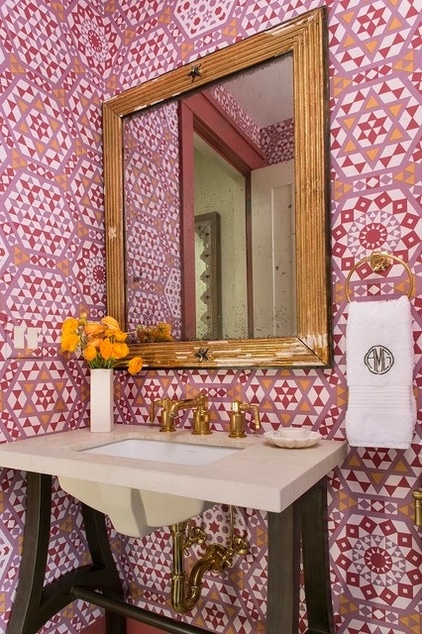 "I'm always in favor of bold and bright powder rooms, and thankfully the homeowners were completely onboard," Rothblum says. The festive Italian-made wallpapered room includes an antique gilded mirror and a custom sink with brass fixtures, a marble top and an ebony wood base.
Wallpaper: Idarica Gazzoni Wallpapers & Fabrics; towel ring: Waterworks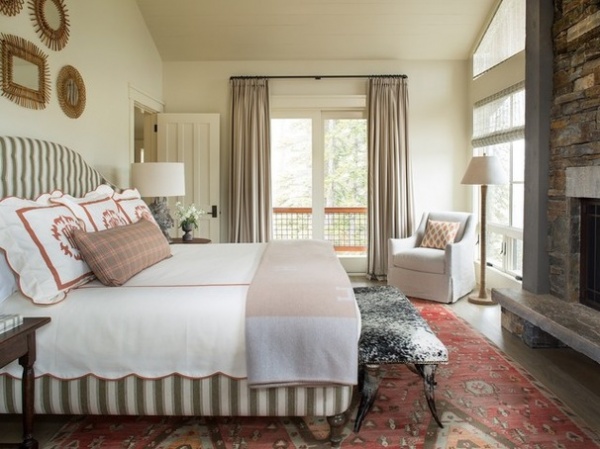 The master bedroom is a mix of styles. With a linen striped upholstered bed, a deep red antique Turkish rug and a black and white hide-covered bench, the patterns and materials are diverse. "Sometimes the more you mix up the patterns, the more the room tells a story and creates a unique voice," Rothblum says.
Rug: Woven Accents; mirrors above bed: Nathan Turner; chair: Jayson Home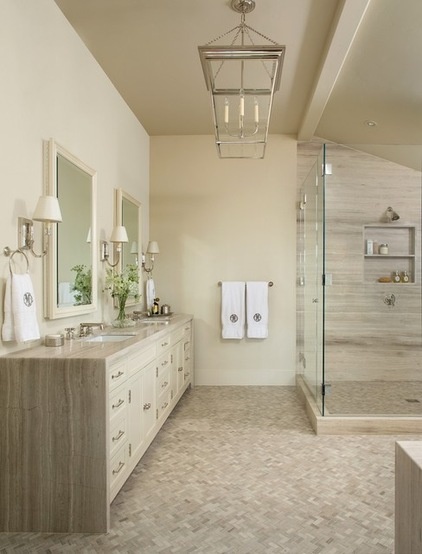 "I wanted the marble to do all the talking in the master bathroom," Rothblum says. The walls, ceiling, cabinets and mirrors are painted the same shade of off-white to avoid competing with the silvery cream marble on the countertops and shower surround.
Wall, ceiling, cabinet and mirror paint: Off White No. 3, Farrow & Ball; lantern and sconces: Circa Lighting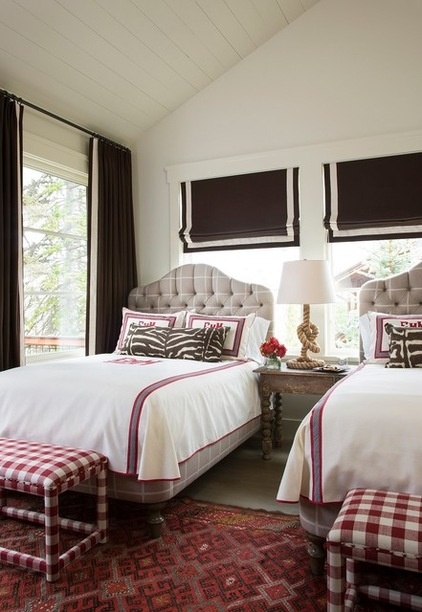 A coat of white paint covers the original cedar-planked walls in one of the guest bedrooms. "There was a lot of wood in this house. We really wanted to lighten the mood and modernize the feel," Rothblum says. A pair of full-size beds feature tufted headboards; at their feet are benches covered in a gingham print. The drapes and shades are in a bold chocolate linen with white tape.
Rug: Soumak, Nathan Turner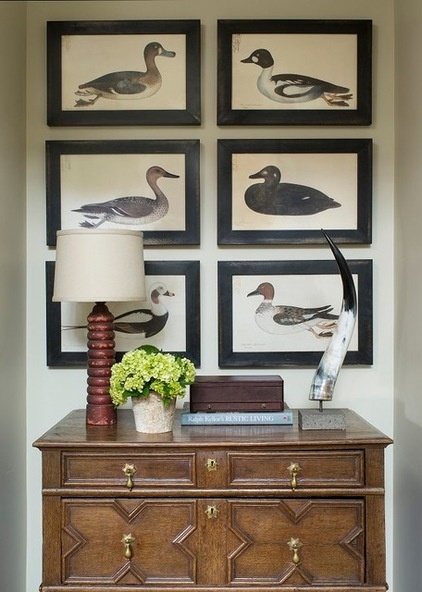 An empty hallway nook provided a great opportunity for Rothblum to create a pretty vignette. An antique clock-weight lamp and a petrified horn top a hand-carved oak chest. A set of vintage duck prints completes the scene. "It's always fun to take a little nook and decorate it to pieces," Rothblum says.
Chest and lamp: Nathan Turner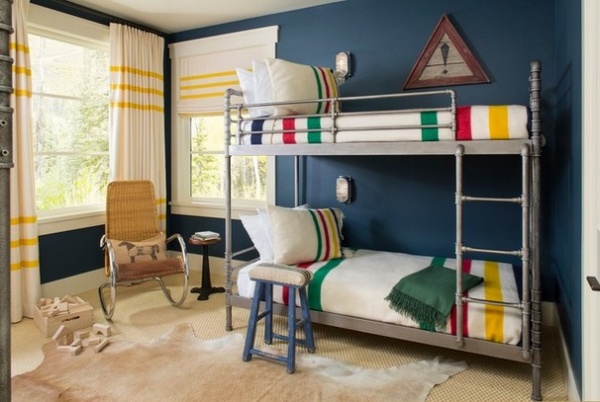 The children's bedroom includes two sets of bunk beds on opposite walls. The bunk bed frames mimic industrial steel pipes. Nautical light sconces, deep navy blue walls and a vintage midcentury rocking chair are some other highlights. "It's a fun and hip room for kids and provides them with their own little getaway spot," Rothblum says.
Bedding: Pendleton; bunk beds: industrial steel pipe, RH Baby & Child; wall paint: Hague Blue, Farrow & Ball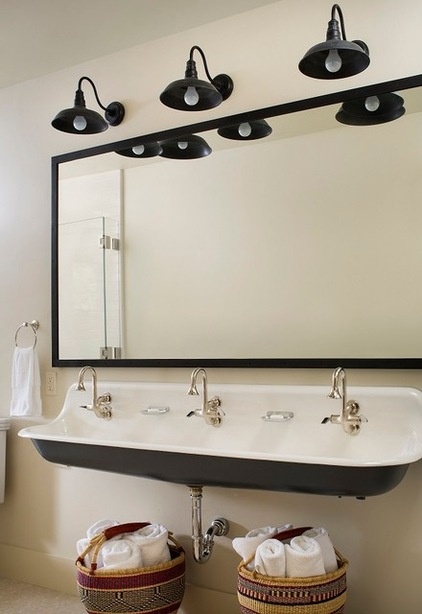 The children's bathroom features a trough sink with three faucets. "Kids like to get in and out of the bathroom and onto the slopes quick. This way three can brush their teeth at the same time," Rothblum says.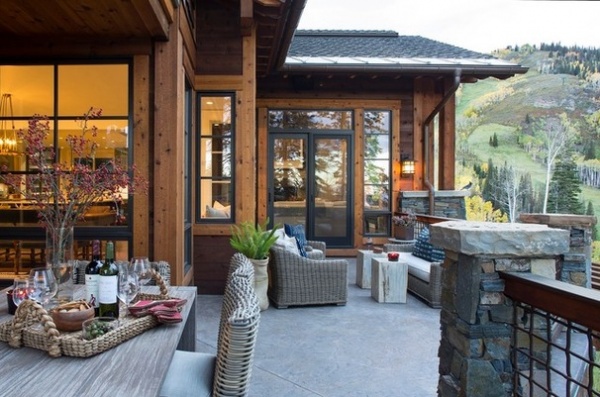 A large patio made of concrete and fieldstone provides breathtaking views of the surrounding mountains. A collection of wicker seating and a large teak dining table create a great space for alfresco dining in the warmer months.
Outdoor furniture: Restoration Hardware
Browse more homes by style:
Apartments | Barn Homes | Colorful Homes | Contemporary Homes | Eclectic Homes | Farmhouses | Floating Homes | Guesthouses | Lofts | Midcentury Homes | Modern Homes | Ranch Homes | Small Homes | Townhouses | Traditional Homes | Transitional Homes | Vacation Homes
URL:
Houzz Tour: A Mountain Retreat Goes Against the Grain
http://www.decor-ideas.org/cases-view-id-26952.html