Studio Tour: A Painter's View From on Top of the World
http://www.decor-ideas.org 10/01/2015 06:13
Decor Ideas
You might recognize Australian artist and Houzz photographer Tamara Armstrong's brightly lit studio from the recent Houzz feature celebrating 11 artists around the world. Here we take a closer look at the space, which sits in the rainforest of southern Queensland, south of Brisbane. It's filled with vibrant, large-scale artworks that seem clearly influenced by the bright color and light that are characteristic of this lush region.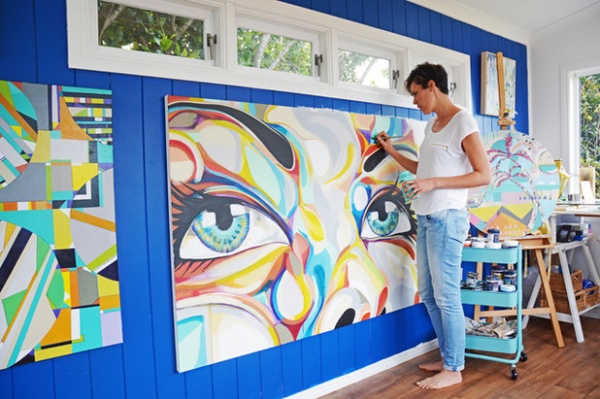 Studio at a GlanceWho lives here:
Tamara Armstrong
Age:
33
Occupation:
Visual artist, teacher and photographer
Location:
Tamborine Mountain, Queensland, Australia
Armstrong is one of those creative types who seemingly can turn a hand to anything. She can write, draw, photograph and, yes, she can paint. Her artworks are big and bold, and are produced in a light-filled studio beside the house in which she lives with her husband, Matt, and their daughter, Thea.
Armstrong paints for herself, for exhibitions and on commission for commercial jobs. She also does various kinds of commercial photography, and she likes to photograph things around her. "My personal style is candid lifestyle photography that relies on capturing natural light," she says.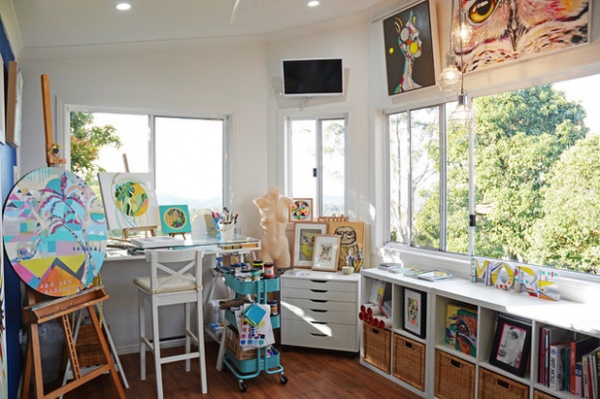 Armstrong moved to Tamborine Mountain in 2009 after stumbling across a little mountain cottage during an impromptu weekend drive with her husband. "We had previously been living in London and arrived home to Brisbane in search of someplace a little out of the way — we hoped for something more quiet than city life," Armstrong says.
The couple fell in love with the place before they stepped inside the house. "There was a real estate agent showing another couple through the home, and he told us to just wander around to the back garden while we were waiting," recalls Armstrong. "We took one look at the view, and both of us knew that this was where we wanted to live."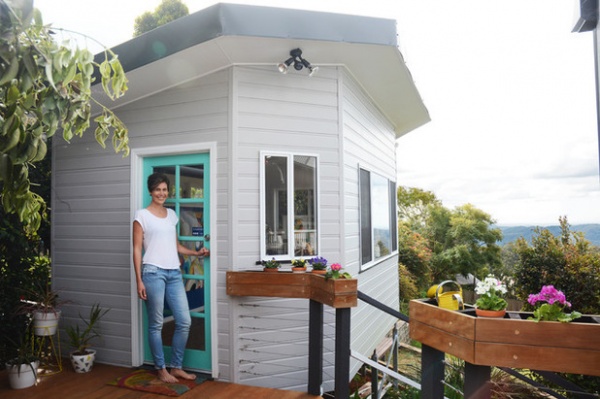 The studio is a new addition to the property. The construction was completed in 2014 two weeks after the birth of the couple's first child. The new mom and baby arrived home from the hospital to the sounds of drop saws, drills and nail guns. "It did wonders for our baby's sleeping!" she says ironically.
Armstrong's favorite feature of her studio is the French door at the entrance. "I found it at a [salvage] yard of building supplies and painted it in my favorite turquoise color of Dulux Magnetic Magic."
The front door to the couple's home is painted the same color. "I find it to be a really energetic and inviting hue, and it's also one I use in almost all of my paintings," Armstrong says.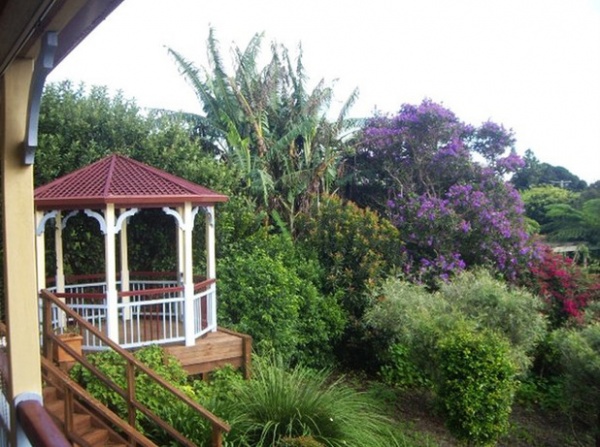 BEFORE:
The studio stands in the same spot that originally featured a garden gazebo, above. The gazebo was much smaller than the area the studio commands and used to stand on a small elevated deck. All traces of deck and gazebo are now gone; they were removed to make way for the studio.
A local draftsman designed the studio, which was built in two weeks by Armstrong's brother-in-law. It is located on the western side of the main house, which has a small deck that was built over what used to be a small gravel courtyard. This deck links the studio to the house.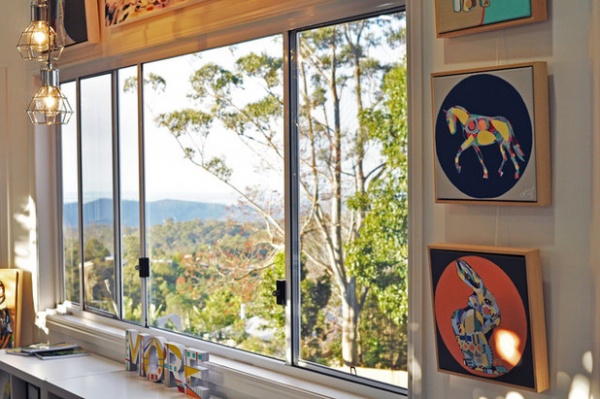 AFTER:
When asked what design features she wanted in the studio to best nurture her creativity, Armstrong is quick to respond: "I really wanted as much natural light as possible, and I also wanted the valley views towards Moreton Island to be visible."
To that end, she requested that the studio include as many windows as the structure could physically handle. "The views of the mountain ranges and valleys are not only inspiring for me, but they also just have a relaxing and calming effect," she says. "I feel like my creativity just flows with ease when I'm working in this space. The views are almost endless, and this definitely has a strong influence on my work and state of mind."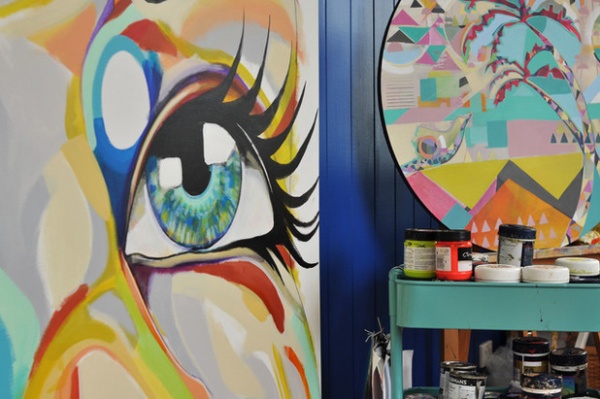 When she moved in, the artist endeavored to make the space her own "by first and foremost filling it head to toe with my artwork. That's one way to really put your stamp on any space," she says.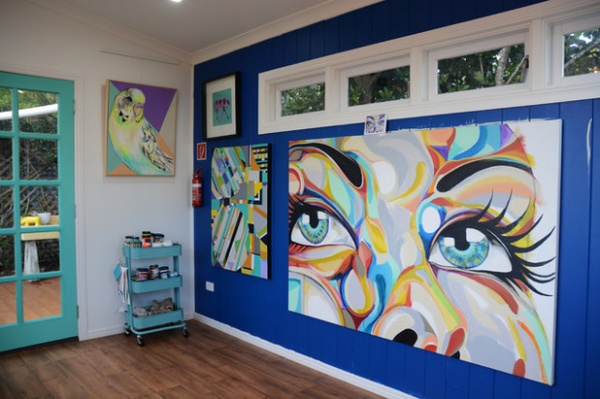 "Painting the front door aqua was also the bright, bold pop of color that my style of art has certainly become known for. And I've also accidentally covered the floor with splashes and speckles of paint." This she says was the reason her husband was eager to get her and her paintbrushes into the studio and out of a spare room in the house that was originally designated as her space to paint. "But, yep, I got too much paint on the walls and hardwood floorboards, so it was time to move out of the house," she says with a laugh.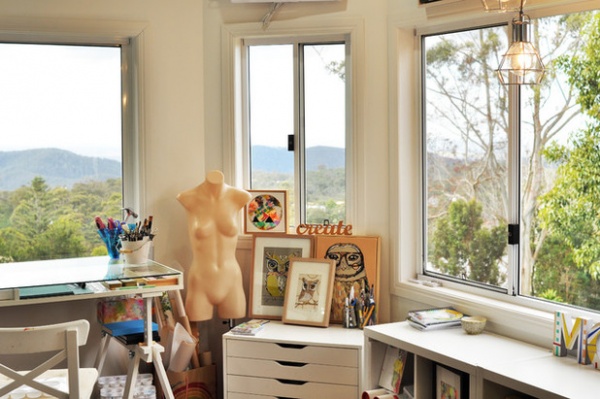 The view and natural light flow in through numerous windows, and this is often appreciated by visitors. Armstrong occasionally hosts small creative workshops here. "I like to open my studio to other creatives, willing to learn and be inspired by my little mountain studio," she says. "But no one else in my little family uses it. It's all mine — another reason that makes it so special to me."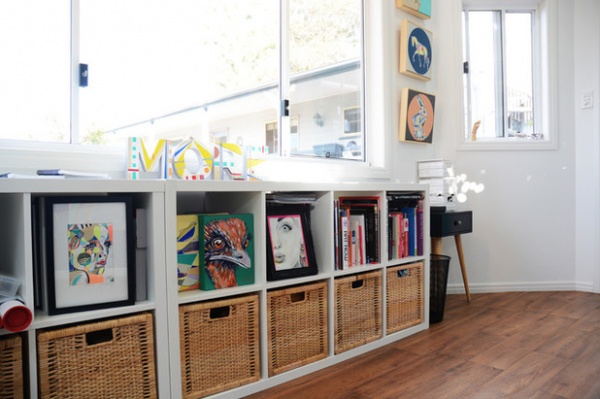 The only problem with the studio is that it is probably a tad small for her. "While my studio has the most breathtaking views, it isn't the largest space for housing all of my bits and pieces," Armstrong says. "I did take my time thinking about what kind of furniture to purchase for it, as I needed storage that was neat and orderly but not something that would take up too much floor space."
Because there are so many windows, the artist also needed one blank wall upon which she could hang larger canvases for painting and display. "I didn't want any furniture encroaching into that precious area, so I decided to go with the pigeonhole-style shelving, and this fits nicely below the east-facing window. The shelving unit doesn't block the view and is great for keeping all of my tools, materials and crafty clutter organized and out of sight," she says.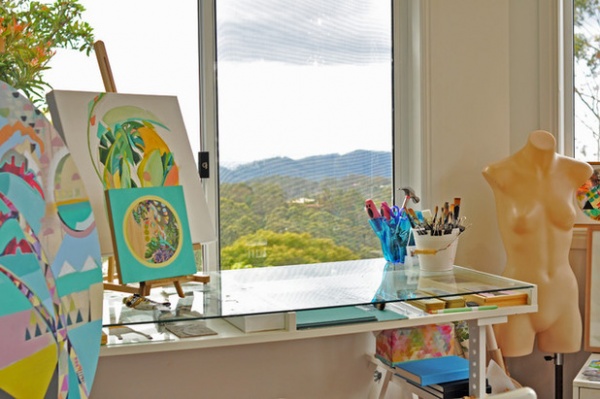 Armstrong moved her desk numerous times and finally settled it by a north-facing window. "This window takes in the best view, in my opinion. It's just sky, trees, mountain ranges and, beyond that, the ocean and Stradbroke and Moreton islands. The view is somewhat distracting, but I wouldn't change a thing. I'm certainly not complaining about it!"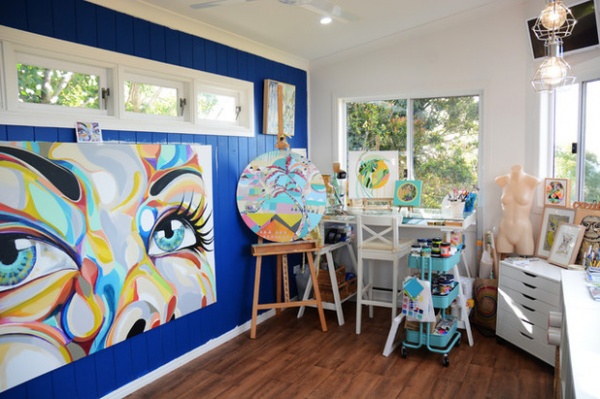 Asked if there is one item Armstrong could not live without in her studio, she nominates something practical: "My Ikea painting [cart]! It's so sturdy and handy with its caster wheels. Plus, I love the color. I only purchased it when the studio was built — before that I used to just drag my paints around in a cardboard box. The box had to be replaced regularly, as the sides would split from the growing collection of paint tubes and tubs."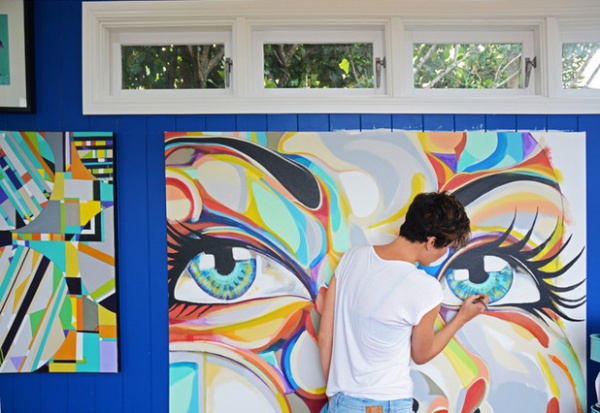 "There is so much that I love about this space!" Armstrong says. "I love that it is a designated art space just for me to come and get creative, to paint, to make a mess and be inspired. It's completely detached from our actual home, which also means little to no distractions, yet home is just a few steps away when I'm needed. It's without a doubt my ultimate happy place."
Tell us:
Do you have an artist's studio at home? If so, please share a picture and tell us about its best feature in the Comments.
More
World of Design: Artists and Artisans and Their Inspiring Studios
14 Homes Studios That Nurture Creativity and Art
URL:
Studio Tour: A Painter's View From on Top of the World
http://www.decor-ideas.org/cases-view-id-26949.html