My Houzz: New Features for a 1922 Craftsman Gem
http://www.decor-ideas.org 10/01/2015 02:13
Decor Ideas
Ten years can go by quickly when you're creating your family's forever home, as Lynn Raube, who works in material development in the footwear industry, and Jeff Behnke, founder of Altura Furniture, discovered. When they found their home in Portland, Oregon, it needed a lot of work. Previous unattractive remodeling projects had resulted in many aluminum windows, random custom built-ins and mismatched trim that had no design continuity. At first they were going to pass on buying the home, but what ultimately swayed them to purchase it was that it was on a rare oversized lot and in a great neighborhood.

"It had a lot of basics that many Craftsman houses lack: a large kitchen, three bedrooms upstairs, a walk-in attic, auxiliary rooms, a wraparound porch and an attached two-car garage," Behnke says. "It also had privacy from adjacent homes. Plus each of our daughters could have their own bedroom." So they moved in and started renovating.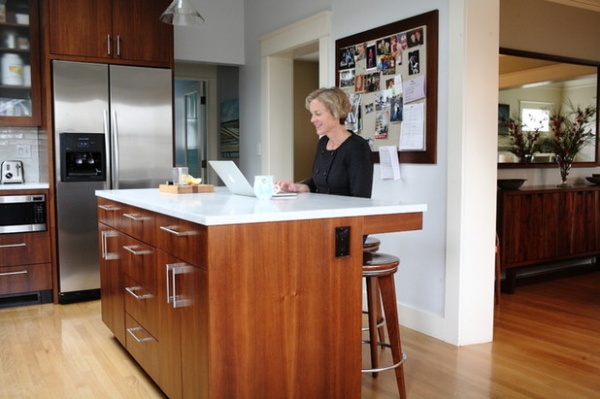 Houzz at a Glance
Who lives here:
Lynn Raube, Jeff Behnke and their daughters, Ella and Avery
Location:
Dolph Park neighborhood of Portland, Oregon
Size:
3,031
square feet (281.5 square meters); four bedrooms, three bathrooms and a half bath
Year built:
1912
The home's first remodel happened in 1922, 10 years after it was built, when the original owners moved the house to accommodate the neighborhood school, now a kindergarten through eighth grade, which is just across the street. At this time the then-owners added a screened-in porch to the back of the house, which now houses the newly remodeled kitchen.
The large kitchen island, where Raube is seated, is a family gathering spot throughout the day and also a perfect spot for guests to perch when the family entertains. The couple added skylights and recessed lighting. Now, Raube says, "the kitchen is where we spend most of our time, because it has the most natural light."
Top stool: Altura Furniture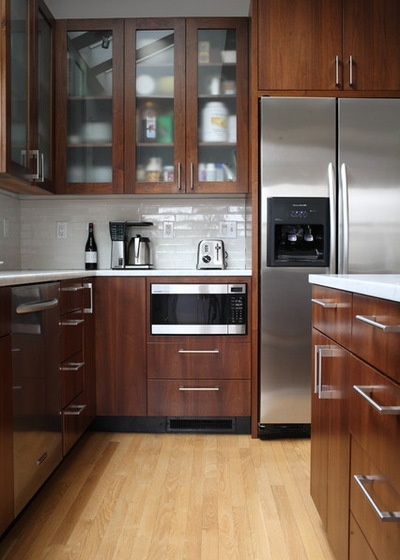 Throughout the 10 years of remodeling, the couple looked for clever ways to reduce costs. For the kitchen, Behnke bought premade melamine cabinets from Euro Assembly Systems Inc. and then fabricated side panels and doors out of walnut hardwood plywood with walnut veneer edges. Solid walnut frames surround the glass panels on the upper cabinet doors.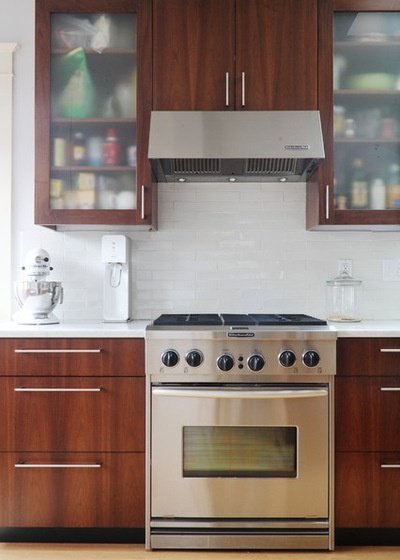 The couple did a lot of the initial remodeling work on their own. Behnke says, "As we took on bigger jobs, we hired more subcontractors and eventually contractors for specific projects."
Stainless steel kitchen appliances: KitchenAid; countertops: Carrara marble; backsplash tile: Heath Ceramics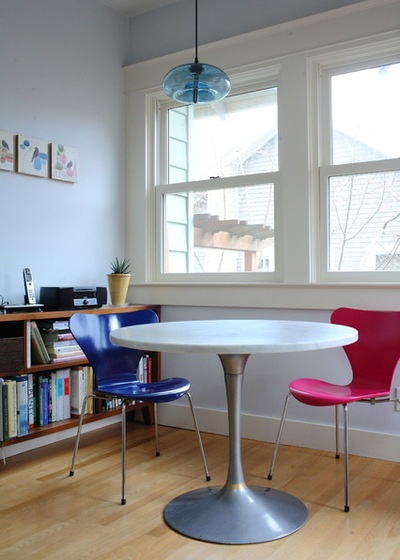 The homeowners closed off one opening in the dining room to create more wall space. Before they moved in, they skim-coated and painted many of the walls white and refinished the floors. They then slowly painted the interior walls room by room and visualized how they would renovate the kitchen, bathrooms, basement and garage.
Table: vintage base with Carrara marble top; chairs: Fritz Hansen Series 7; light: Niche; bookcase: custom, Altura Furniture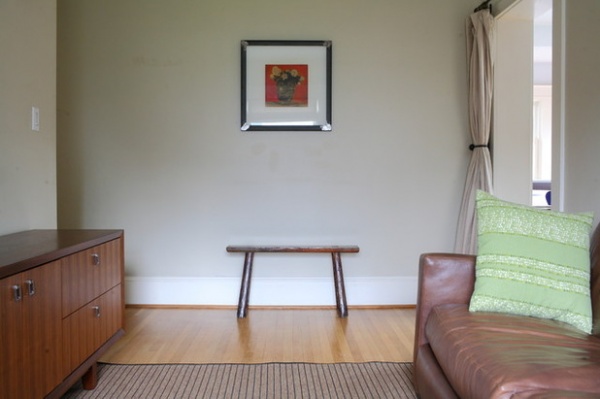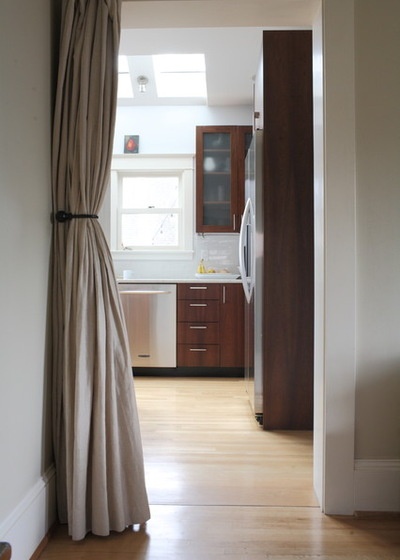 The TV room off the kitchen is where family movie nights happen. The kitchen, seen beyond the curtain, is handy for quick snacks. The room also opens up to the side yard.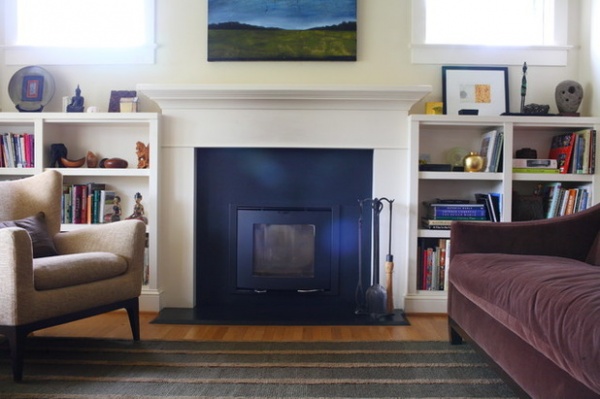 During the winter, the family members love reading next to a cozy fire in their living room. Behnke designed and made the living room built-ins, and fabricated and installed the architectural trim throughout the house.
Fireplace insert: DSA 4, Scan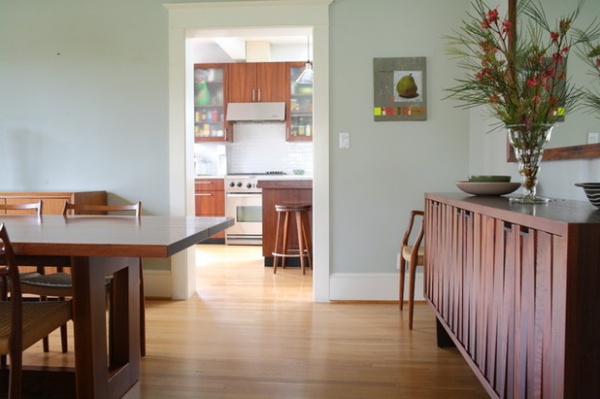 The dining room holds a live-edge walnut table. The large and inviting surface serves a multitude of uses, from being used for entertaining and holiday meals to being a handy spot for office work and school projects.
Duette table, Octave 84 sideboard and custom Arris mirror: Altura Furniture; Møller Model 62 armchair: Design Within Reach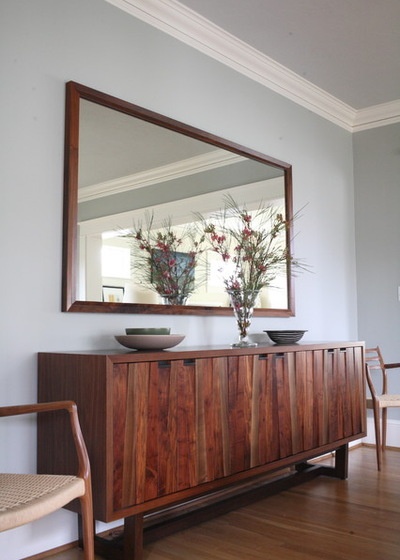 The sideboard and mirror are both from Behnke's furniture line.
Octave 84 sideboard and Claro Mirror: Altura Furniture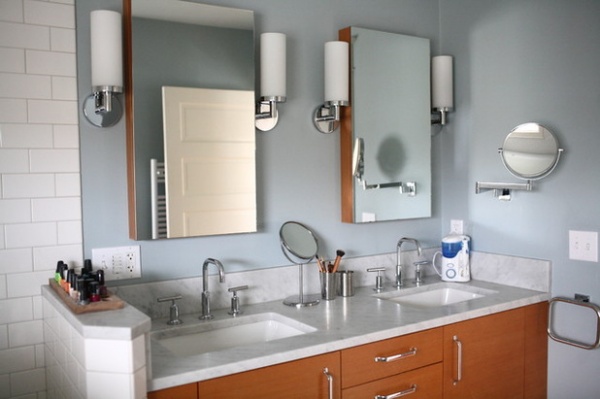 This upstairs bathroom, which is shared by the couple's two daughters, cost about $15,000 to redo, including labor and materials. Behnke made the cabinetry, including vertical-grain fir doors and drawers.
Kohler Purist fixtures and undermount sinks were used in all the home's bathroom remodels for a clean aesthetic.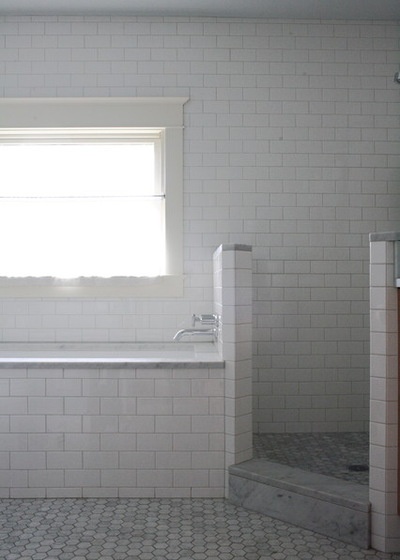 The bathroom was originally slated to have a glass door on the shower, but the couple liked how it looked open and decided to keep it that way.
Subway tile and Carrara hexagonal floor tile: Daltile; faucet: Purist, Kohler; Carrara stone tub surround and shower knee-wall caps by Milan Stoneworks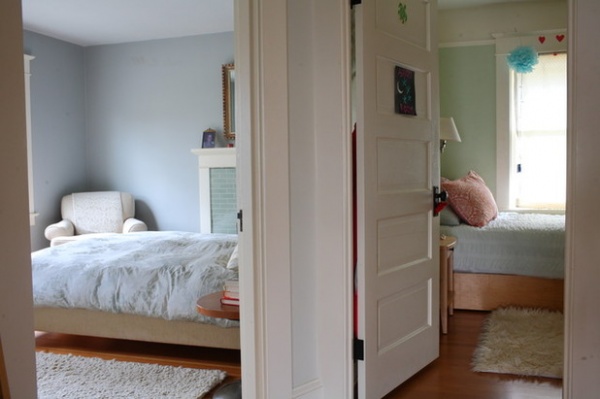 The view from the top of the stairwell offers peeks into the master bedroom and one of the daughters' bedrooms.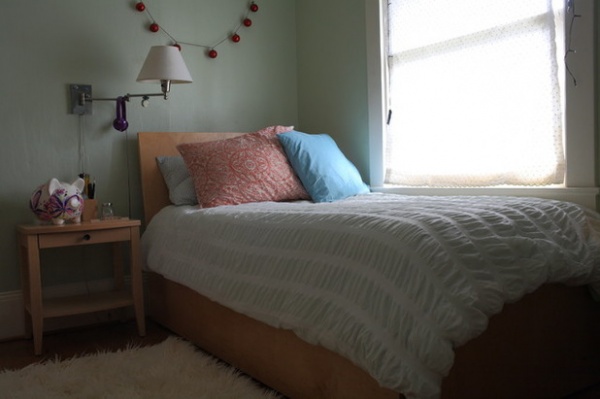 Behnke designed and made the maple wood trundle bed and nightstand for Avery's bedroom, then Avery decorated the ever-changing room.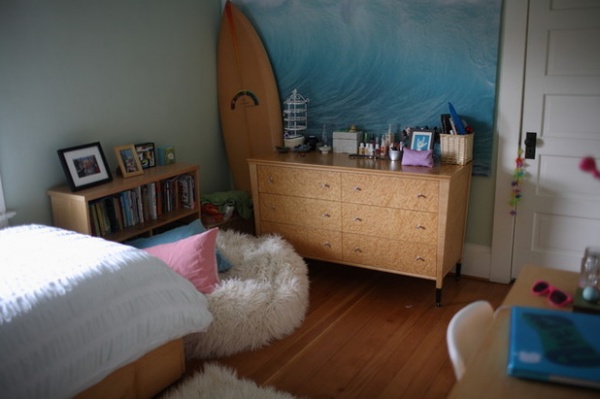 Her favorite place to visit is the beach, so there's a definite coastal feel. The 1980s surfboard once belonged to her uncle.
Astragal dresser: Altura Furniture; ocean wave print: Ikea; beanbag: PBteen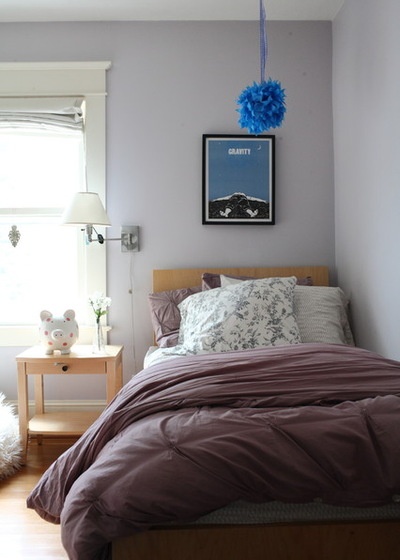 Behnke also designed and made the maple wood trundle bed and nightstand in Ella's room to match her younger sister's furniture. Ella created the blue tissue paper pompom from a kit.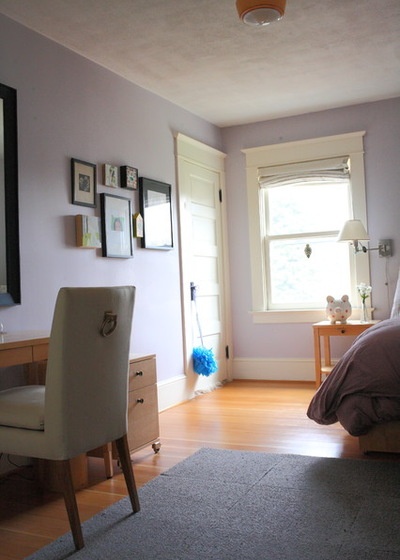 Behke made the maple desk that sits in the room as a Christmas gift. It's Ella's favorite place to do her homework.
Rug: Flor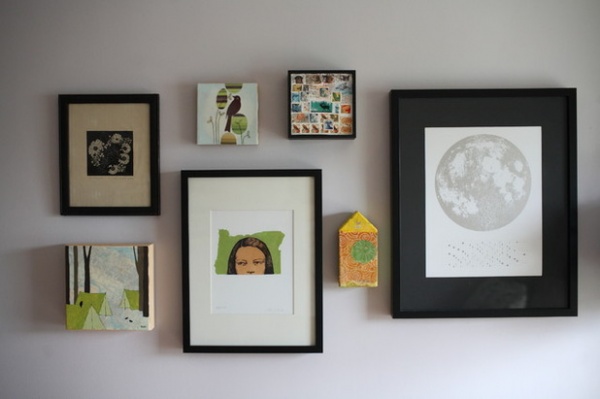 This gallery wall in Ella's room is a collection of works by local artists, including Amy Ruppel, Amy Stoner, Rachel Ann Austin and Lark Press.
Raube, a lover of the arts, likes to support local artists and craftspeople.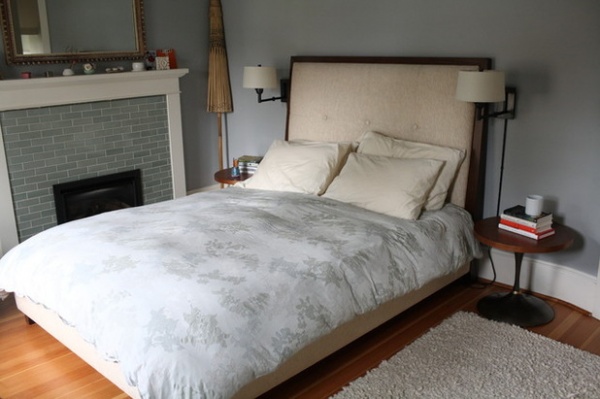 The handmade ceramic tiles used in the master bedroom fireplace surround are from Heath Ceramics.
Vista bed: Altura Furniture; vintage night table base with new walnut top: Jeff Behke; wall sconces: Restoration Hardware; rug: West Elm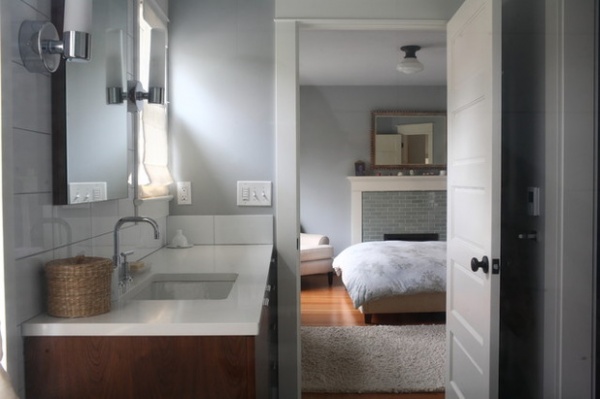 The master bathroom and dressing room were the last interior project to be completed. The couple worked with Zilka Construction and designer Cynthia Mosby. The bathroom occupies what was originally a bonus room with its own entrance off the second-floor hallway. The project cost around $25,000 including labor and materials.
Walnut vanity: custom-built by Behnke; faucet: Purist, Kohler; wall sconces: George Kovacs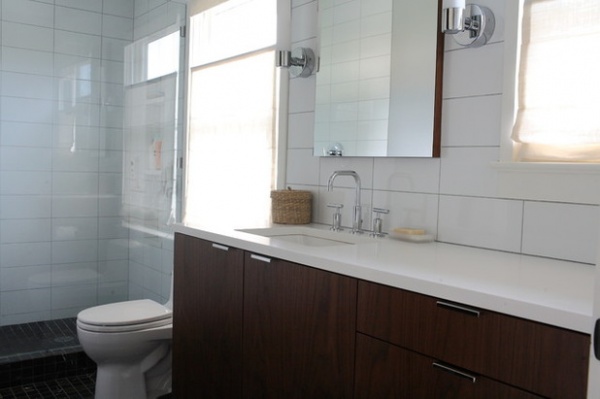 The entire room has a contemporary feel. "We love modern and clean design, which contrasts well with our older Craftsman-style home and makes the overall design more eclectic," Behnke says.
Window coverings: Hartmann & Forbes; windows: Marvin; toilet: Toto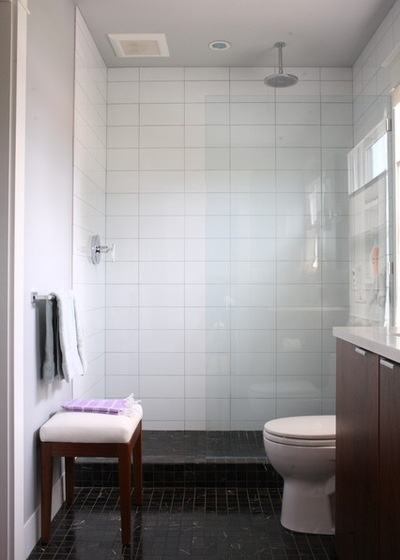 A bonus in the master bath is the heated floor. "We love walking on the heated floor with bare feet," Behnke says.
Showerhead: Purist, Kohler; flooring: 2-inch-by-2-inch black marble tile with electric radiant heat; towel bar: Restoration Hardware; Comrade stool: Altura Furniture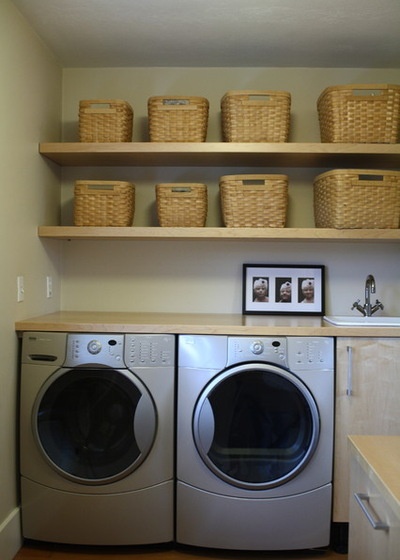 Once a screened-in porch, the second-floor sewing and laundry room got an upgrade and a face-lift when the appliances were moved from the basement.
Behnke added custom maple wood countertops and built the vanity, floating shelves and sewing cabinetry.
Washer and dryer: Kenmore, Sears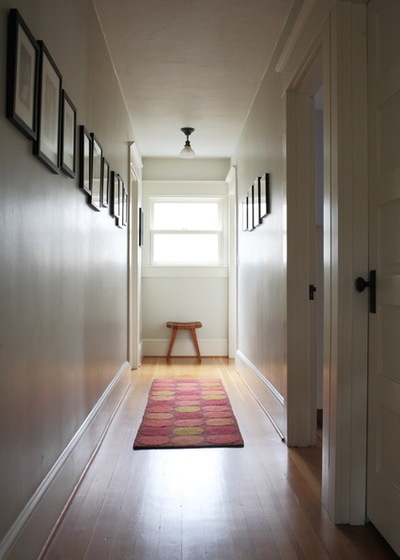 Looking down the hall, you see one bedroom and the laundry room to the right. To the left is the daughters' shared bathroom.
The second-floor hallway is lined with black and white photos of the girls as infants as well as wedding photographs of the couple and each set of their parents.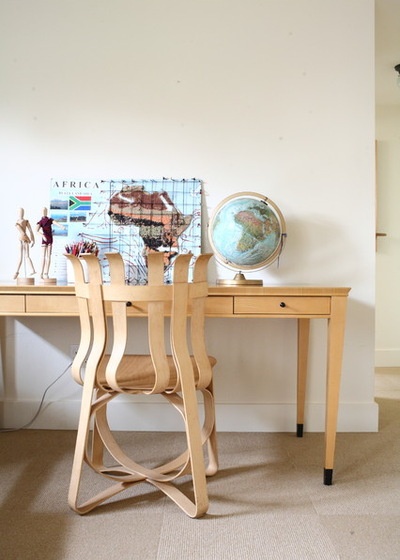 The now-finished basement includes a guest space with a private bathroom, a great room and an office space. The couple worked with Tom Quinn Construction to revamp their space. It cost about $35,000, with the cabinetry and flooring done by Behnke to save on costs.
Astragal writing desk: Altura Furniture; Hat Trick chair: Frank Gehry, Knoll; rug: Flor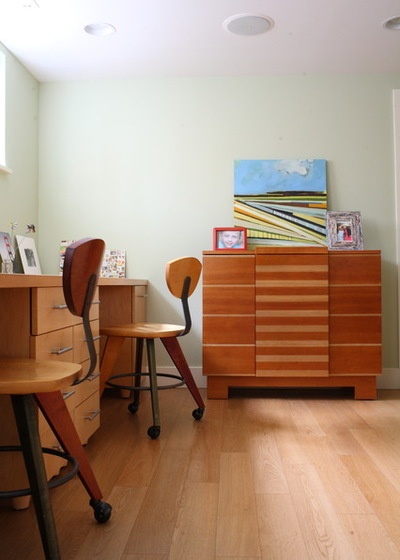 The basement office that Raube and Behnke share has beautiful views of the side yard. The open space has lots of natural light and easy accessibility to the outside and the main house.
Windows: Ultimate, Marvin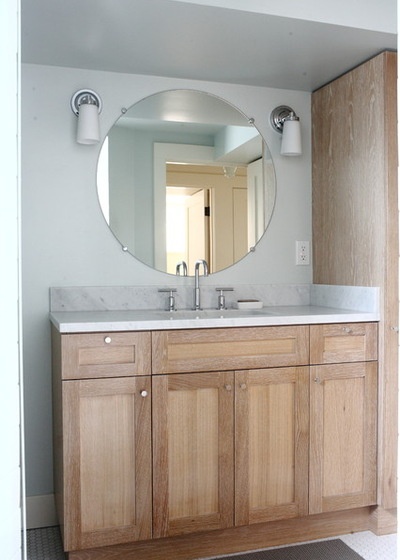 The basement guest bathroom includes Behnke's cabinet work.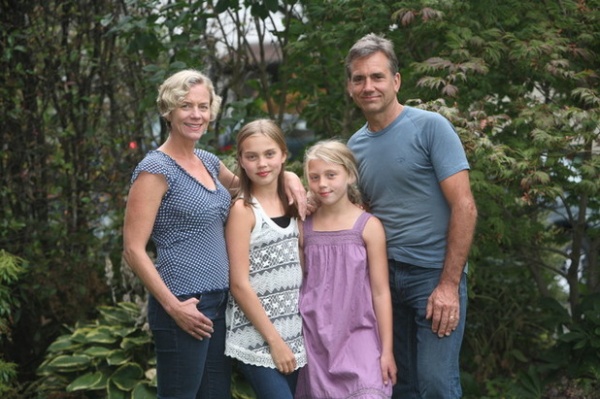 The family (from left: Lynn Raube, Ella, Avery and Jeff Behnke) like to entertain and have created spaces indoors and out that are flexible and conducive for gathering with family and friends.
They now have a private backyard off the kitchen and a new garage. The side yard, visible from the street, is where the kids can go to hang out or play on the grass.
My Houzz is a series in which we visit and photograph creative, personality-filled homes and the people who inhabit them. Share your home with us and see more projects.
Browse more homes by style:
Apartments | Barn Homes | Colorful Homes | Contemporary Homes | Eclectic Homes | Farmhouses | Floating Homes | Guesthouses | Lofts | Midcentury Homes | Modern Homes | Ranch Homes | Small Homes |Townhouses | Traditional Homes | Transitional Homes | Vacation Homes
URL:
My Houzz: New Features for a 1922 Craftsman Gem
http://www.decor-ideas.org/cases-view-id-26947.html