Room of the Day: Beachside on Martha's Vineyard
http://www.decor-ideas.org 09/29/2015 20:13
Decor Ideas
Interior designer Vani Sayeed gave this 1920s beachside charmer a complete makeover. Taking center stage in the home is the great room, which has French doors that open directly to a sandy beach on Martha's Vineyard. The room features gray-washed white oak walls, a locally sourced river rock fireplace and comfortably chic decor.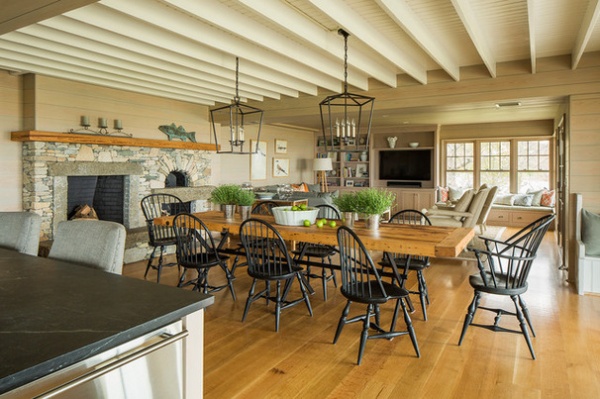 Great Room at a GlanceWho lives here:
A vacation home for a young family with two children
Location:
Martha's Vineyard, Massachusetts
Size:
About 700 square feet (65 square meters)
Design:
Vani Sayeed Studios
" 'As little upkeep as possible' was one of the homeowners' main requests," Sayeed says. "The last thing they want to do on vacation is spend time cleaning." Therefore, there's no rug under the dining table to get dirty, no glass on the lantern pendants to clean and no coasters required on the recycled barn wood dining table. The large fireplace made from locally sourced river rock adds timeless character to the space, while the black Windsor chairs are a modern take on a traditional design.
Chairs: 60 Nobscot; lantern pendants: Darlena, Circa Lighting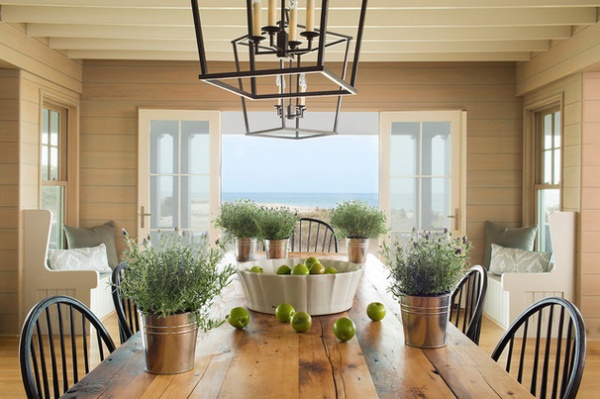 At this vacation property for an extended family, it's common for young children to be running back and forth from the house to the ocean through the French doors, which open to a stunning beachfront. "We added as many windows as we could so the adults could always keep an eye on the kids playing in the water," Sayeed says.
The built-in benches on both sides of the doors are original to the home. "Just about everything else in the room is new, but it would have been a crime to remove those benches," Sayeed says.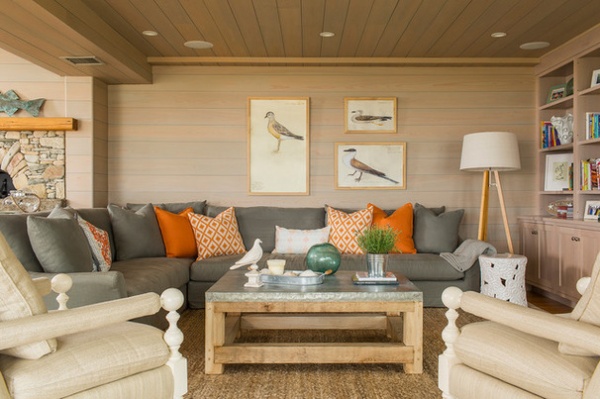 The gray-washed white oak paneling covers both the walls and ceiling in the great room's seating area. "By adding the paneling to the ceiling, it lowers the eyes and creates a more intimate space for the family to gather and interact," Sayeed says. The bird prints above the sofa bring a homey touch to the family hangout.
Sofa: Belgian linen, Verellen; chairs: Bradstreet, CR Laine; art over sofa: Williams-Sonoma; coffee table: Artefact Furnishings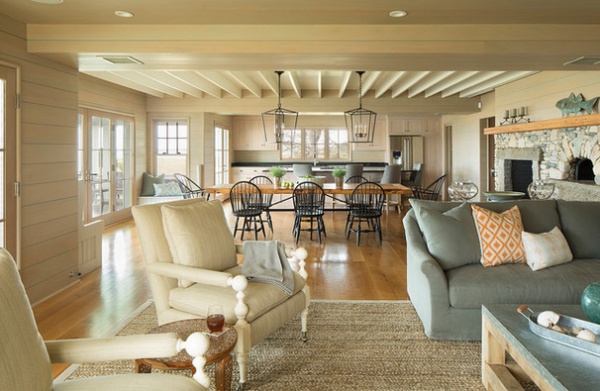 Keeping with the easy-to-clean theme, the galvanized-steel-topped coffee table requires no maintenance, the jute rug hides tramped-in sand and the two armchairs are covered in durable outdoor fabric. Sayeed picked up the bone-inlay side table during her last trip to India. "It's always nice to add at least one exotic piece to any space," she says.
Rug: Stark
See more Rooms of the Day
URL:
Room of the Day: Beachside on Martha's Vineyard
http://www.decor-ideas.org/cases-view-id-26938.html