Kitchen of the Week: Earthy Textures and Ocean Hues
http://www.decor-ideas.org 09/18/2015 17:13
Decor Ideas
With a look inspired by the nearby Pacific Ocean, this newly remodeled Newport Beach kitchen makes a splash with bold and unusual materials. "The homeowners weren't interested in any cookie-cutter design choices," interior designer Erica Bryen says. "They wanted an original kitchen with its own personality."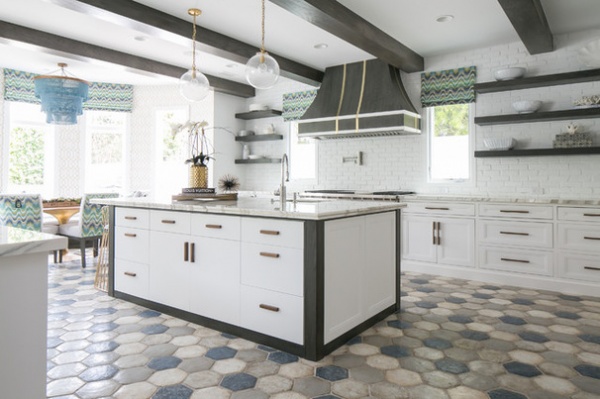 Kitchen at a GlanceWho lives here:
A family of five
Location:
Newport Beach, California
Size:
450 square feet (41.8 square meters)
Designer:
Erica Bryen Design
Bryen selected the custom colors for the hexagonal floor tiles to relate to the hues of the nearby Pacific setting: The blue represents the water, and the cream tones are reminiscent of the sandy beaches.
Floor tile: custom, Coastal Tile & Stone; pendant lights: Visual Comfort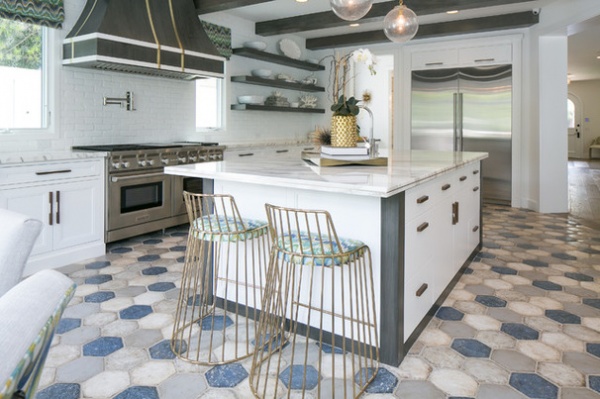 To give the kitchen a more open feel, Bryen put most of the storage in base cabinets. Pots, pans and small appliances get stashed under the marble-topped island.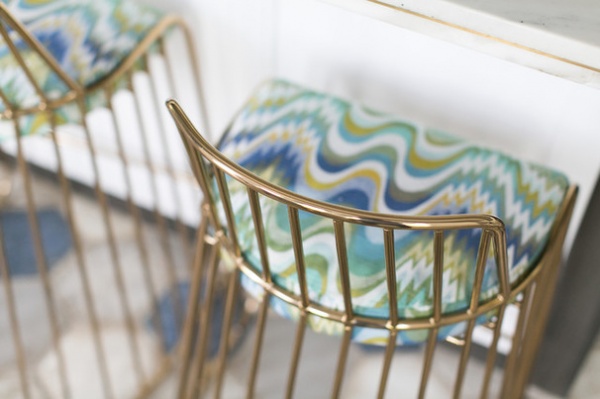 An overhang at the end of the island offers room for two brass bar stools. They add a retro feel that makes it difficult to peg the space to one time period, Bryen says.
Stools: Phase Design with Kravet fabric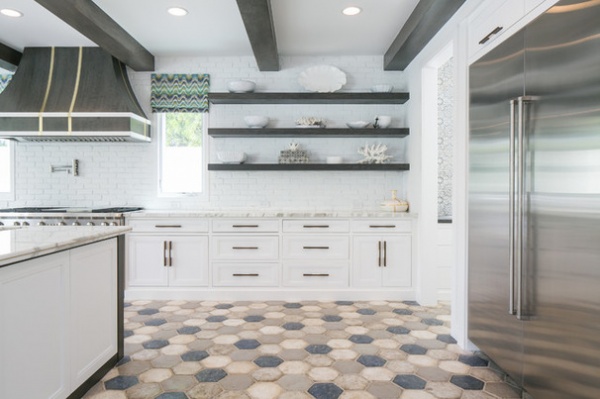 The same gray stain covers the quarter-sawn white oak open shelves, ceiling beams, island trim and range hood. "This repeating detail adds a consistency to the space even with all the other materials and fabric selections," builder Jason Gonterman says.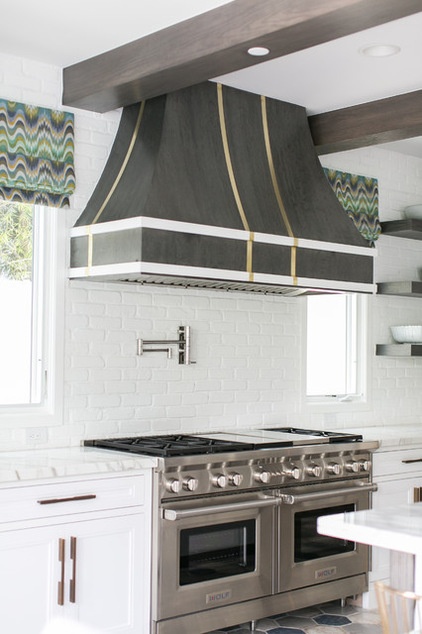 The backsplash material has the look of subway tile, but it's white painted reclaimed brick, which has more texture and heft. "The bricks add an old-world charm and character to the space that couldn't have been achieved by typical tile," Gonterman says.
A Venetian plaster treatment and strips of brass on the custom hood complement the warm metal tones of the hardware, wire counter stools and brass strip that wraps around the edge of the island's marble top.
Browse a collection of stylish wood range hoods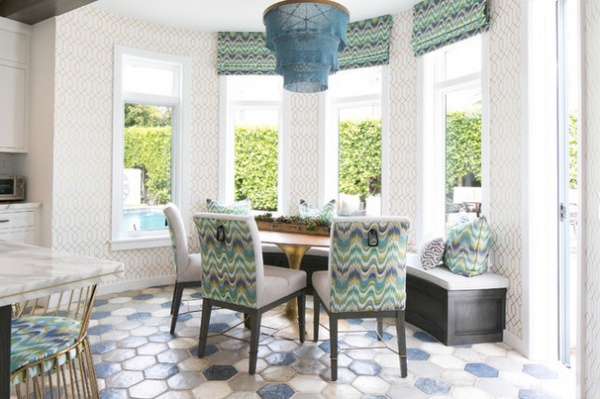 The same retro-inspired fabric from Kravet covers the counter stool seats, dining chair backs and pillows, and is used for the window treatments. "I love this fabric. It brings a sense of fun, color and drama to the space," Bryen says.
Stained quarter-sawn white oak makes up the base of the custom banquette. White linen upholstery and an assortment of throw pillows complete the scene.
Chandelier: Made Goods; fabric for stools, chairs, pillows and window treatments: Kravet; table: Organic Modernism; banquette fabric: Jane Churchill for Cowtan & Tout; wallpaper: Thibaut
Builder: Jason Gonterman, Gonterman Construction
Browse more Kitchens of the Week
URL:
Kitchen of the Week: Earthy Textures and Ocean Hues
http://www.decor-ideas.org/cases-view-id-26880.html