Room of the Day: Homespun Nursery With Color and Handmade Touches
http://www.decor-ideas.org 09/14/2015 11:13
Decor Ideas
When Todd Garrett and Abbey Cwiek-Garrett began designing their daughter's nursery this year, they didn't intend to impart a specific theme to the space. Instead, with its mix of purchased and inherited pieces, the room reflects the couple's love of family, their Washington state roots and a Scandinavian design influence and heritage. "If I had to give the room design a name, I'd call it 'Maps and Angles,' " says Abbey, an interior designer. "But really, it's a collection of things that make us happy."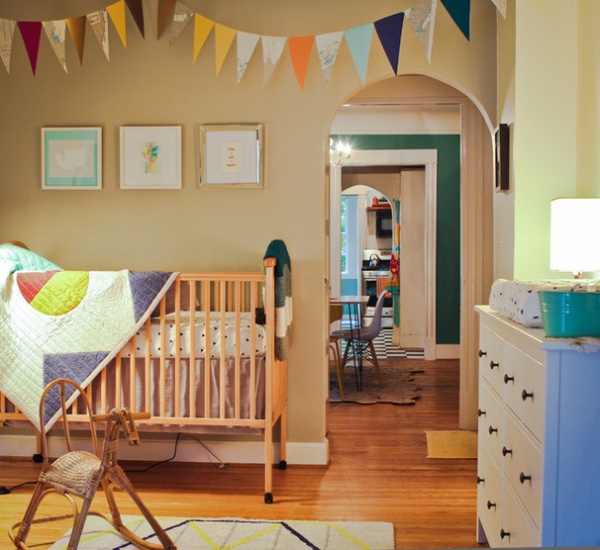 Nursery at a GlanceWho lives here
: Todd Garrett and Abbey Cwiek-Garrett; their cat, Mimi; and their soon-to-be introduced daughter
Location:
Seattle
Size:
140 square feet (13 square meters)
At the heart of the nursery are several pieces that reflect family history. Todd received the rocking horse from his maternal grandparents when he was a toddler and his parents had the seat recaned for the new baby. The maple crib also came from Todd's parents' home, where it was recently used by his young nieces.
Polygon baby quilt: Land of Nod; fitted crib sheet and changing pad cover: Land of Nod; wall paint: Alabaster SW 7008, Sherwin-Williams; accent wall paint: Requisite Grey SW 7023, Sherwin-Williams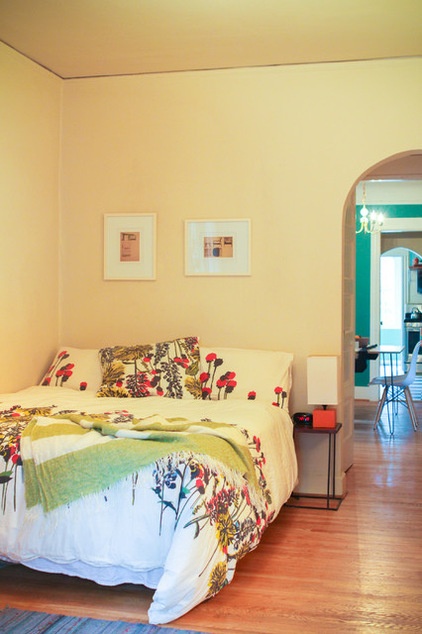 The couple converted their former guest bedroom into the baby's nursery over several months. "It was definitely a process," Abbey says.
The small orange lamp, a wedding gift, now sits on the nursery's dresser, and the framed furniture drawings from the Danish Museum of Art and Design in Copenhagen now hang above the baby's bookcase.
Lamp and side table: Area 51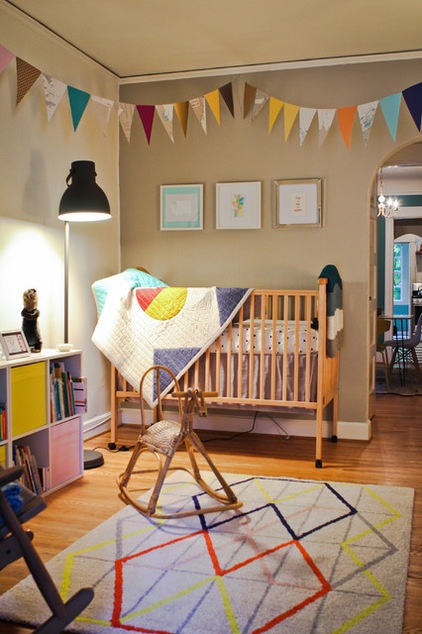 The nursery's initial palette was predominantly white and wood, but Abbey's pleased with how it looks now. "The room turned out much more colorful than I had envisioned."
Abbey had originally picked out a sisal-like rug in muted tones but ended up buying this one instead. "Once I laid it in the room, it all came together, and it's much softer for the baby."
PS 2014 area rug: Ikea; floor lamp: Hektar, Ikea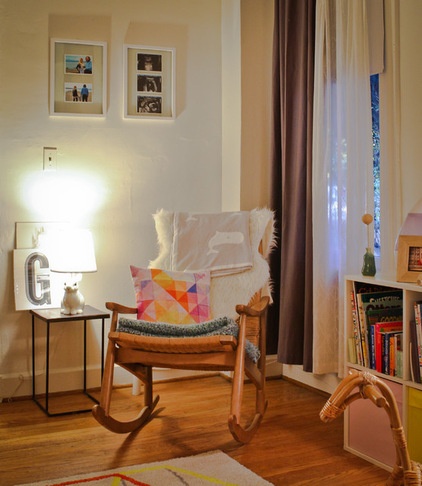 The Hans Wegner-inspired rope rocking chair was a craiglist find that led to an entertaining encounter for Todd, an architect-turned-brewer at Hilliard's Beer. "When I met the owner at a local parking lot to purchase the chair, she was so excited to introduce me to her husband — a big fan of the brewery — that she immediately invited me over to their house just down the street," he recalls with a laugh.
One of Abbey's favorite pieces is the cheerful rabbit lamp from Land of Nod. "I love that he's all white except his eyes and nose," she says.
Pillow: Mingled, CB2; whale blanket: Nordstrom; side table: West Elm; Abracadabra Lamp: Land of Nod; drapery: West Elm
Embroidered handkerchiefs that belonged to Abbey's grandmother decorate the top of the dresser, which will double as a changing table.
Some of the most cherished gifts for the baby are homemade. The color-block knitted blanket folded on the crib was made by a friend in Brooklyn, and a friend in North Carolina sent a blanket his 95-year-old grandmother made for the new baby. "Both gifts were really unexpected and very thoughtful," Abbey says.
Hemnes dresesr: Ikea; basket: Charming Hamper in Aqua Herringbone: Land of Nod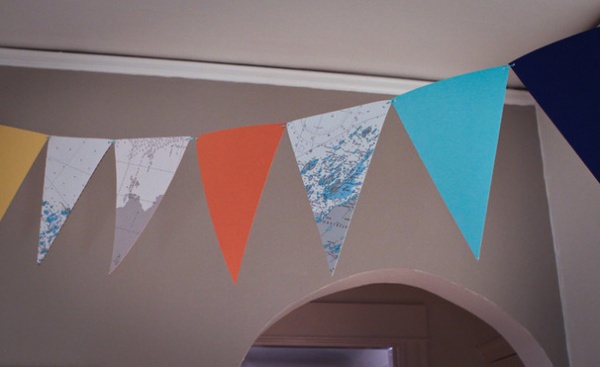 Abbey and a friend made the flag banners from Norwegian charting maps the couple received as a gift several years before. "They're quite large, so I hadn't framed them yet, but the colors — gray, white and sea blue with purple line work — were so perfect that I decided to use one for the baby's room," she says. "I backed them with cardstock so they wouldn't be too flimsy."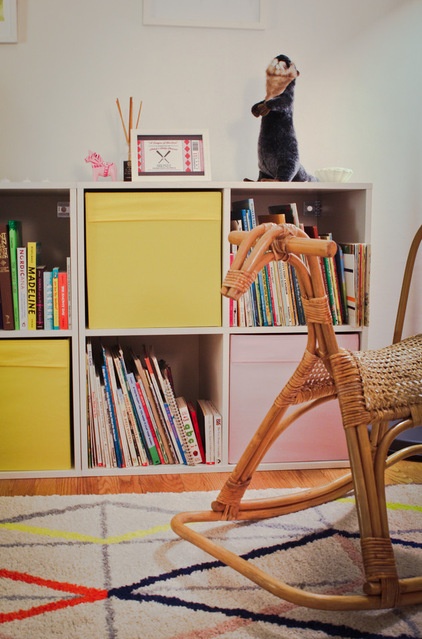 Abbey's father recently gave the baby her first stuffed otter. "I couldn't believe I hadn't received anything otter-related yet," says Abbey, whose obsession with the marine mammal is well known among family and friends. "I'm so glad it came from my dad. Otters are our thing."
The bookshelf is already full of children's classics, many of them hand-me-downs from Todd's mother, a former kindergarten teacher. Abbey's aunt, a buyer for Orca Books in Olympia, Washington, also handpicked a delightful collection of Scandinavian books for the little one and her parents.
Kallax shelving: Ikea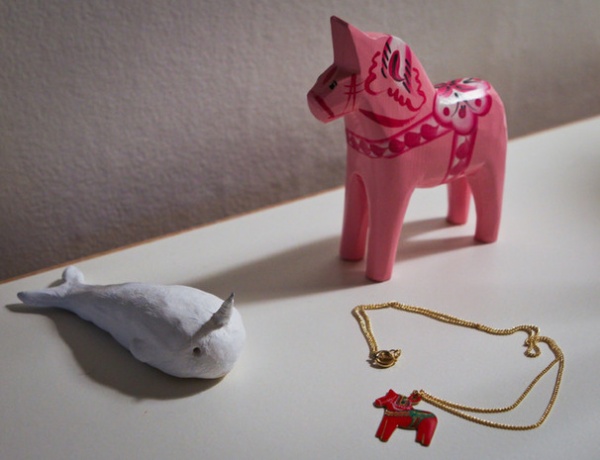 The baby, whose Swedish heritage stems from the province of Dalarna, where the Dala horse originates, has her own handpainted pink version of the traditional handicraft. (A matching red one sits in her parents' living room.) Her first necklace, given to her by her great-aunt, is from the Swedish American Museum in Chicago.
Abbey's sister Hannah Cwiek, an artist, crafted the whimsical narwhal sculptures for Abbey's baby shower.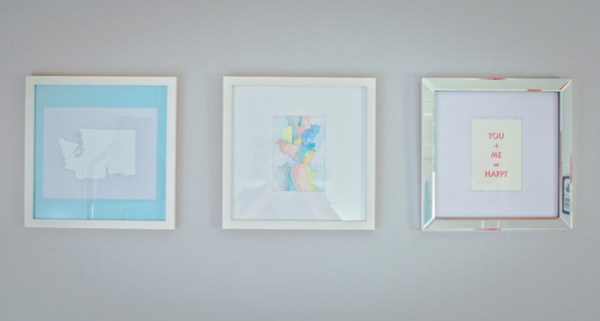 A watercolor of a Seattle neighborhood map painted by Abbey hangs above the crib in between other gifted prints from friends.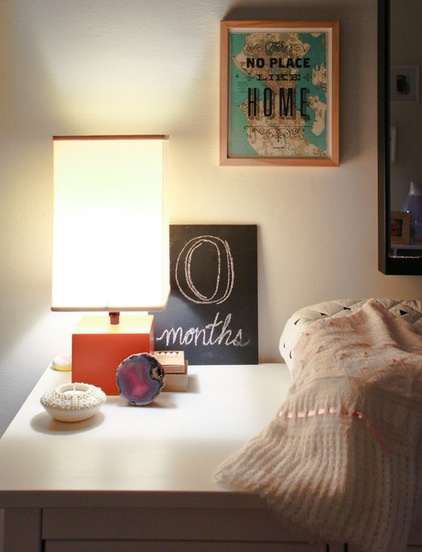 A delicate baby blanket once used by Todd's younger sister, Megan Garrett, as well as his three nieces warms the changing table. A chalkboard table marker from the couple's wedding has been repurposed for monthly baby updates.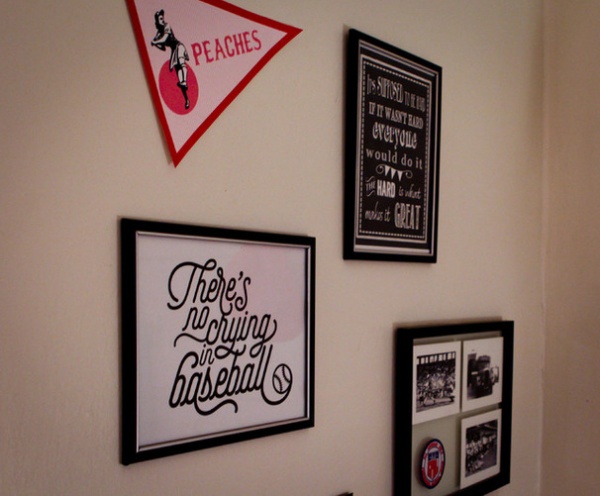 Abbey played softball growing up and her family and former teammates threw her a "League of Their Own" baby shower in her hometown of Spokane. Graphics and decorations created for the shower are now artwork in the baby's room.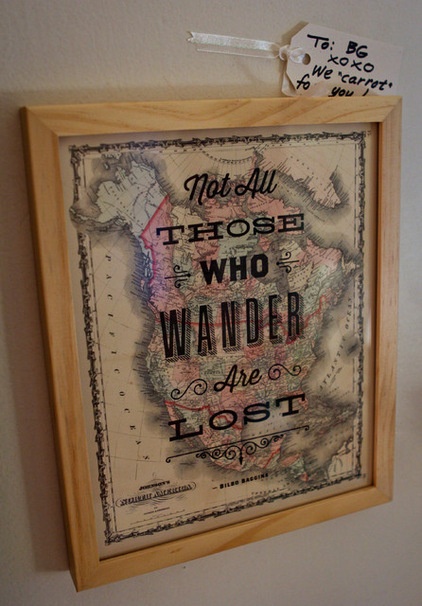 A sweet note from Todd's mother is tucked behind a graphic print Abbey found at a local vintage store. "We want our daughter to cherish where she comes from, but also encourage her to see the world and explore outside of her comfort zone," she says.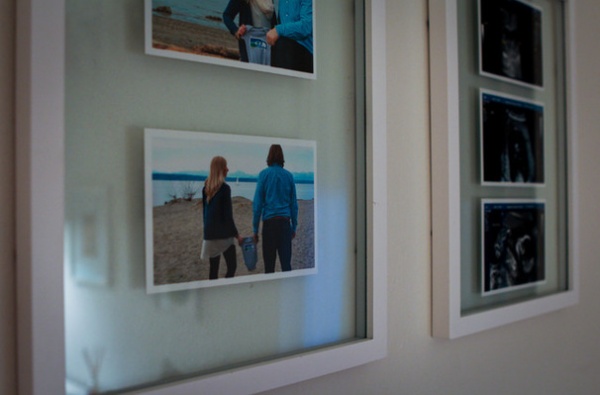 Both Todd and Abbey are avid Seattle Seahawks fans, and they announced their baby's arrival with a tiny "12th man" onesie, which can be seen in this photo.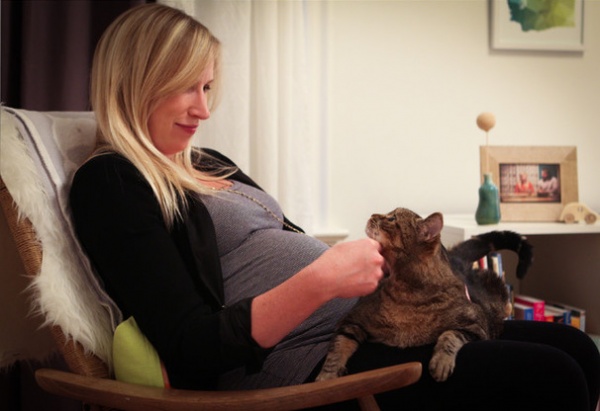 Cat Mimi has recently been extra cuddly with Abbey. "Up until this week she's been sleeping under the crib," Abbey says, "but I think she knows she'll have to share the room and our attention pretty soon."
Browse more nursery decorating ideas
URL:
Room of the Day: Homespun Nursery With Color and Handmade Touches
http://www.decor-ideas.org/cases-view-id-26852.html