Details Bring 15 Patios to Life
http://www.decor-ideas.org 09/13/2015 19:13
Decor Ideas
It's easy to overlook the patio. Sure, a patio is convenient when you need a place to wipe your feet or leave your shoes before heading inside from the backyard, but it's also an opportunity to enhance your indoor and outdoor living experiences by tying them together. A well-designed patio smooths the transition from home to landscape, adding valuable living space in the process.

These 15 patios from around the country reveal that while there is no one way to design a patio, resilient materials, comfortable gathering spaces and details that reflect the specific needs of the homeowner and climate will create a lasting and useful patio. Take a detail or two from some to help you create your perfect patio.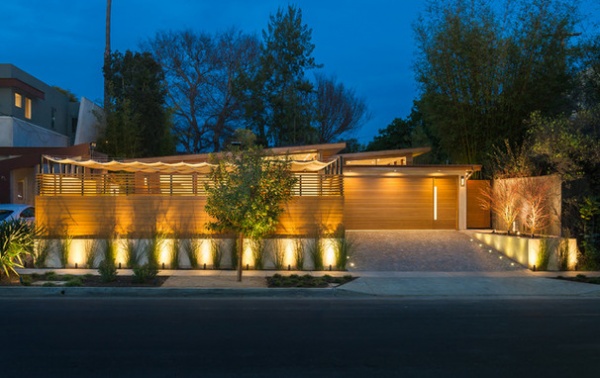 1. Relaxation on a Busy StreetLocation:
Front yard of a home in Los Angeles
Size:
558-square-foot (51.8-square-meter) patio
As part of an overall home remodel, architect Kurt Krueger transformed a midcentury ranch house's previously underused front yard into a private outdoor sanctuary. Retractable shade covers, Douglas fir fencing and a custom water feature enclose the exposed space, masking the sound of passing traffic and creating an intimate gathering space steps from the front door.
See this patio's details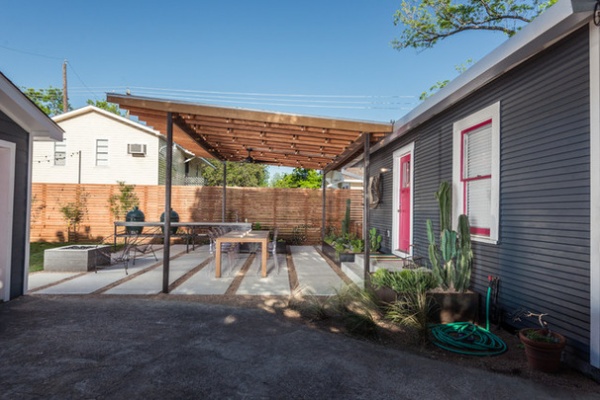 2. Cooling Off in TexasLocation:
Backyard of a Houston bungalow

Size:
650-square-foot (60.4-square-meter) patio area, part of a 1,150-square-foot (106.8-square-meter) backyard
Not only does this covered patio by Brett Zamore offer respite from the oppressive heat of summers in Texas, but it also adds valuable living space to a 1,300-square-foot bungalow. An extensive outdoor kitchen and designer furniture make for a comfortable dining experience. A ceiling fan, string lights and a fire pit mean this patio is open day and night.
See this patio's details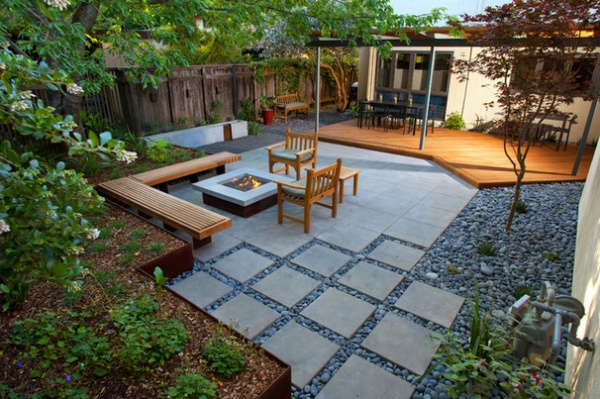 3. Sophisticated and Functional in CaliforniaLocation:
Backyard in Davis, California
Size:
180-square-foot (16.7-square-meter) deck and 324-square-foot (30.1-square-meter) patio in a 750-square-foot (69.7-square-meter) backyard
Designer and contractor Chris Corbett used a focused material palette and thoughtful details to create an elegant, edited patio. One-of-a-kind details elevate concrete, steel and rock in this budget-friendly and drought-tolerant California patio.
See this patio's details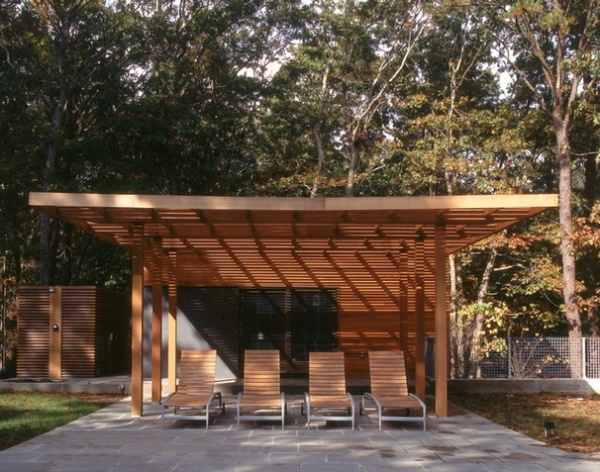 4. Shadow Play in the HamptonsLocation:
Next to a pool house in Southampton, New York
Size:
400-square-foot (37.2-square-meter) patio in a 1,600-square-foot (148.6-square-meter) pool area
Western red cedar and bluestone mix in this covered patio area between a pool and pool house in the Hamptons. The architects at Resolution: 4 Architecture created shadow play with the slat spacing of the pergola roof, wood siding and patio furniture. The shadows move along throughout the day, signaling the shift in day and time of year.
See this patio's details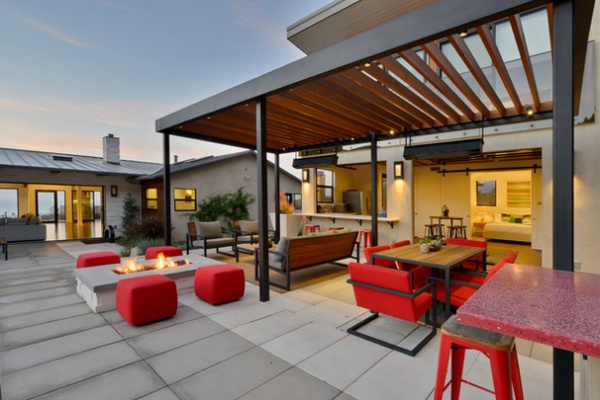 5. Outdoor Entertaining Near the BeachLocation:
Backyard of a house in San Diego
Size:
200-square-foot (18.6-square-meter) paved area under the pergola, plus an extended patio area
Roll-up garage doors, a kitchen pass-through and concrete flooring indoors and out make the transition from inside the pool house to the patio as smooth as the waves rolling onto the beach just down the hill from this home in San Diego's La Jolla neighborhood. Multiple seating areas, colorful patio furniture and amenities that keep the party going from day into night make this party patio one you surely wouldn't want to leave.
See this patio's details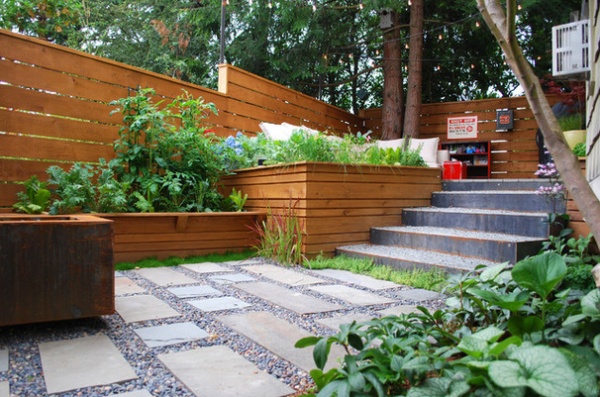 6. Outdoor Living for a Seattle TownhouseLocation:
Backyard of a townhouse in Seattle
Size:
Overall yard is 36 feet (11 meters) long and 15 feet (4.6 meters) wide; deck space is 17 by 15 feet (5.2 by 4.6 meters); patio is 19 by 15 feet (5.8 by 4.6 meters)
A traditional townhouse in Seattle got a dose of industrial design with this new patio and backyard by landscape architect Mark S. Garff. Built-in planter boxes, horizontal board slats and an angled patio stretch the yard's 540 square feet (50.1 square meters), while a mix of cedar and steel balances the budget and the industrial aesthetic the homeowners were after.
See this patio's details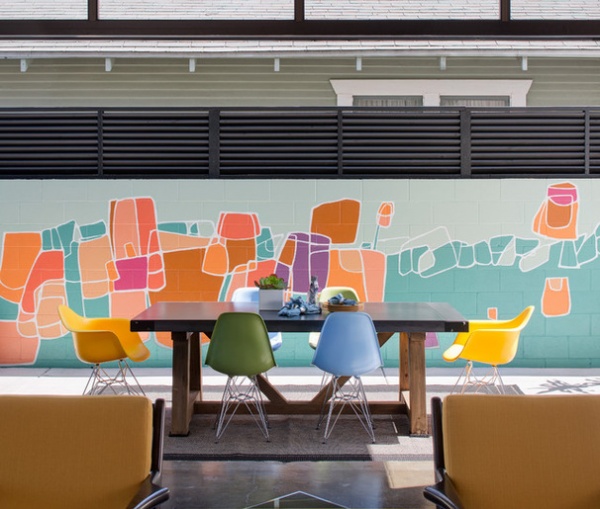 7. Color and a View Open Up a Narrow SpotLocation:
Side yard of a house in San Diego
Size:
30 feet (9.1 meters) long and 11 feet (3.4 meters) wide
Eleven feet is all architect Christian Rice needed to create this new outdoor dining space off the living room of a newly remodeled home in San Diego's Hillcrest neighborhood. A previously unused setback next to the house received a new concrete slab, a dining room with outdoor furniture and a colorful custom mural by artist Nate Schnell, along with a new roll-up door, to extend this contemporary industrial home's living space all the way to the property line.
See this patio's details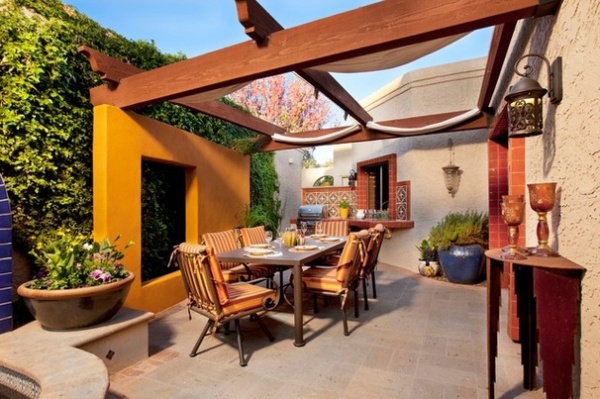 8. An Exotic Spot for Breakfast in PhoenixLocation:
Right off a kitchen and breakfast nook in Phoenix
Size:
500-square-foot (46.4-square-meter) patio
Robin Stockton and Morgan Holt of Earth Art Landscape utilized bold color and channeled details from the grand bazaars of India to create a warm, exotic destination right off the kitchen in this Phoenix home. Retractable shade covers, a tiled water feature and heat-tolerant tiles and stone create a cooling environment that can withstand the desert Southwest's harsh temperatures.
See this patio's details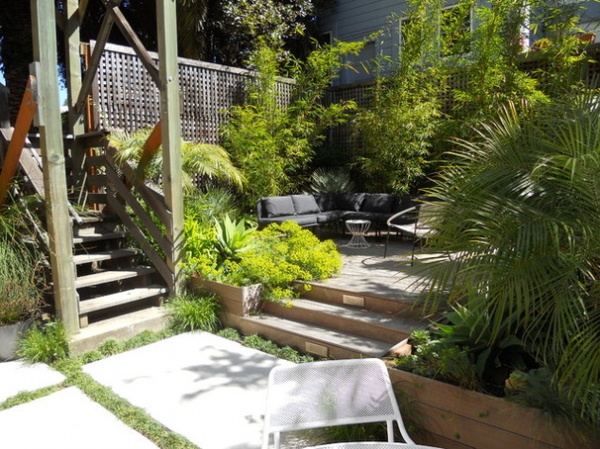 9. Lush Garden Grows in Place of Cracked ConcreteLocation:
Urban yard in San Francisco
Size:
Overall backyard is 25 by 60 feet (7.6 by 18.3 meters); deck is 20 by 15 feet (6.1 by 4.6 meters)
A cracked concrete parking lot found new life as a lush enclosed patio and deck space in San Francisco's Mission neighborhood. Landscape designer Beth Mullins layered plenty of evergreen foliage in containers for a true garden effect and poured large concrete pavers for the family's young daughter. A new ipe deck at the far end of the yard added height and saved some cost on the demo of the old concrete patio.
See this patio's details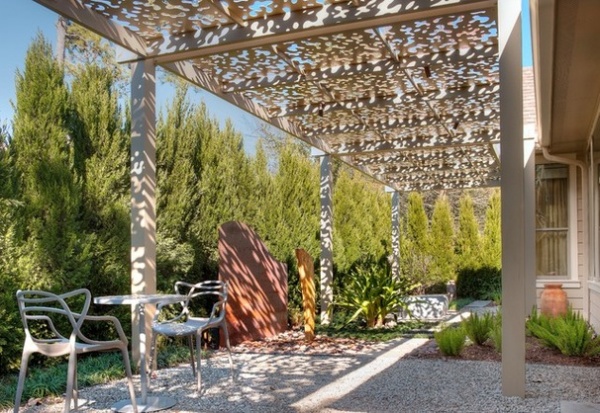 10. A Modern Arbor in TexasLocation:
The narrow backyard of a home in The Woodlands, Texas
Size:
Two small patios are each 144 square feet (12 by 12 feet), or 13.3 square meters (3.6 by 3.6 meters); the overall outdoor space the pergola covers is 405 square feet (45 by 9 feet), or 37.6 square meters (13.7 by 2.7 meters)
Michael Constantino and Jeff Halper of Exterior Worlds Landscaping & Design provided this homeowner with what many Texans can't get enough of: shade. And they did so with artistry, not only with a water-jet-cut aluminum patio cover but also through the tidy row of Spartan junipers. A custom Cor-Ten sculpture and disappearing fountain contribute to the patio's cooling effect, with extensive lighting transforming the area into a nighttime masterpiece. Gravel paving creates a permeable base that also adds a nice meditative quality through the crunching underfoot.
See this patio's details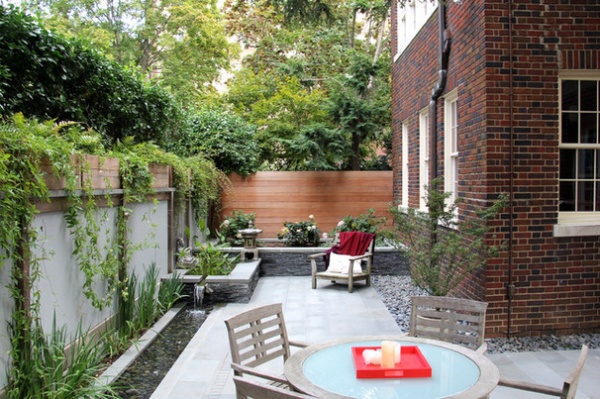 11. Zen-Inspired Design Makes Room for the DogLocation:
Backyard in Washington, D.C.
Size:
860 square feet (79.9 square meters)
Travels abroad inspired this patio's aesthetic, but it's the homeowner's big black Lab that determined many of its features. Landscape architect Jennifer Horn provided plenty of open paving to give the dog space to run around, while thoughtful details, like raised planter boxes and a rill that runs the patio's length, protect the plants from trampling and nibbling.
See this patio's details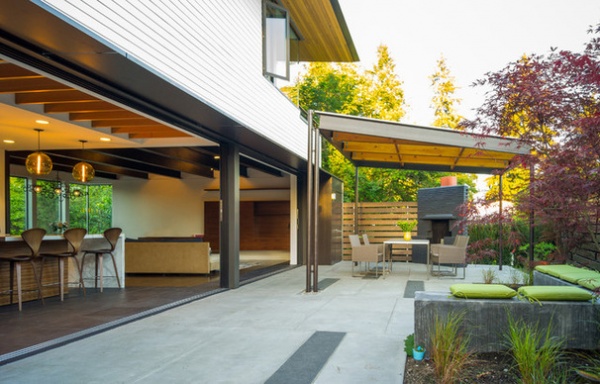 12. Covered Dining Area Extends Outdoor Living in SeattleLocation:
Connects to a Seattle home's kitchen and great room
Size:
168-square-foot (15.6-square-meter) paved area under the pergola, plus an extended patio area; backyard is 100 feet (30.5 meters) long and an average of 17 feet (5.2 meters) wide
Precast concrete pavers extend the length of this house in Seattle. A modern pergola angles away from the home, complementing the materials and architecture while retaining a slick and unobtrusive appearance. The rain drain that's integrated into the pergola and directs water away from the house and into a subdrainage system beneath the patio's gravel base is one of the many genius details featured in this design. Built-in concrete benches frame the patio and pick up the horizontal paving pattern that also ties in with the fencing.
See this patio's details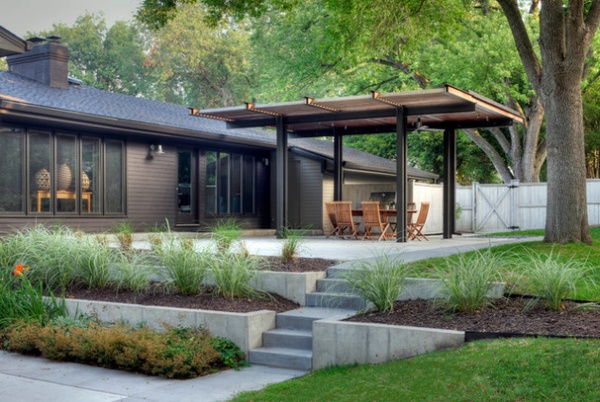 13. Keeping Cool in the PlainsLocation:
Omaha, Nebraska
Size:
1,270-square-foot (118-square-meter) patio, part of a 7,500-square-foot (696.8-square-meter) backyard
Architect Steven Ginn designed this concrete patio and steel and ipe pergola to withstand the varied weather conditions that Nebraska experiences throughout the year, from the freeze-thaw cycles (an average of 60 annually) to the hot, humid summer weather. Varied patterns in the ipe patio cover give visitors a range of shade amounts, depending on what they're looking for.
See this patio's details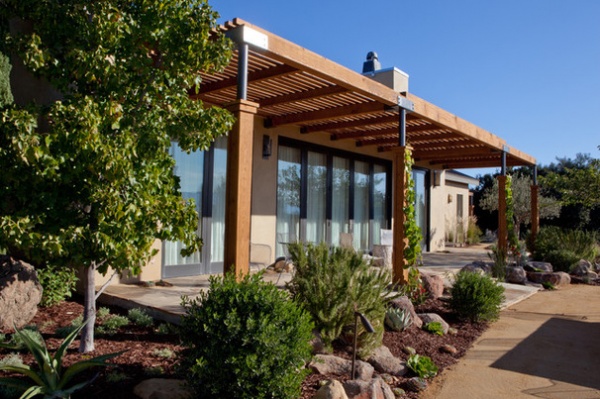 14. Wine Country Patio Opens Up to the View
Location:
Back patio of a house in the Santa Ynez Valley, near Santa Barbara, California
Size:
40 feet (12.1 meters) long and 12 feet (3.6 meters) wide
This contemporary but rustic patio in one of California's most famous wine-growing regions features materials and details that will withstand bright sun and freezing nights. A slatted pergola shades the flagstone patio and living room while opening up the view to the vineyards beyond.
See this patio's details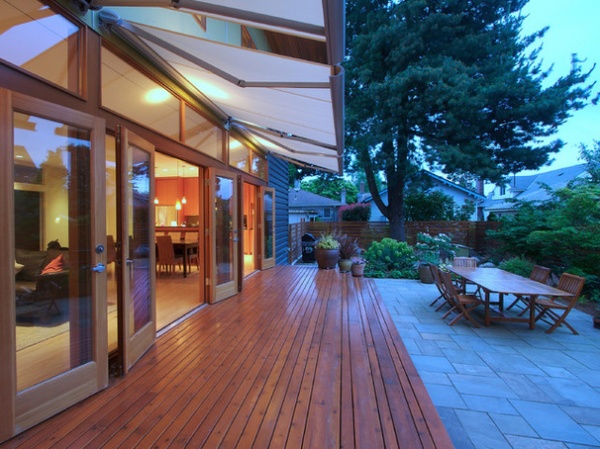 15.
Patio for a Shared Property in SeattleLocation:
Backyard of a home in Seattle
Size:
461-square-foot (42.8-square-meter) patio; 297-square-foot (27.6-square-meter) deck and steps
A wall of glass doors from the home's great room opens to a long deck of tight knot cedar with steps down to a bluestone patio. Architect and homeowner Rick Mohler extended dining, living and entertaining outside on this corner lot in Seattle. Foliage plants and retractable awnings shade the house and landscape in summer; the deciduous foliage drops and the awnings are pulled up to keep the garden warm in winter.
See this patio's details
Tell us:
Have you recently built a patio, or do you plan to? Upload your photos and show us in the Comments.
Browse more patio designs on Houzz
URL:
Details Bring 15 Patios to Life
http://www.decor-ideas.org/cases-view-id-26850.html