Houzz Tour: Coffee and World Travel Inspire a Bachelor Pad
http://www.decor-ideas.org 09/09/2015 22:13
Decor Ideas
Sometimes homeowners can be very specific about what they want their home to look like, offering their designers suggestions on colors, materials and furniture. But what designer Peti Lau had to work with when decorating this New York City one-bedroom apartment was a bit vaguer. She knew that the homeowner — a bachelor from Bangalore, India, who works in finance — loves to travel, drink coffee and collect vintage things.

Lau took this knowledge and ran with it. She pulled together the homeowner's tchotchkes and rugs gathered from trips to Africa, Morocco and India to give the space a sense of travel; added a bistro-style coffee bar in the kitchen to appeal to his caffeine affection; and incorporated things like old rotary telephones to play up his love of vintage objects.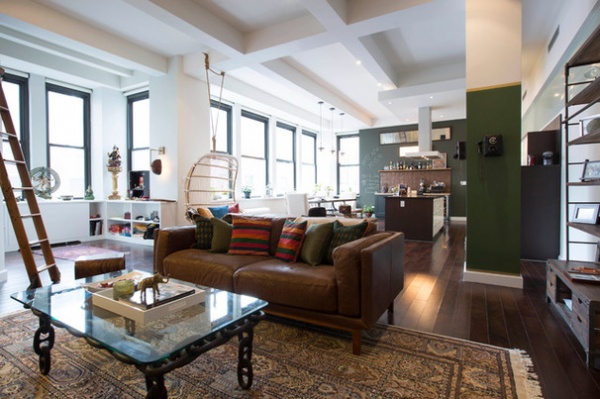 Houzz at a GlanceWho lives here:
A bachelor in the finance industry
Location:
New York City
Size:
1,800 square feet (167.2 square meters); 1 bedroom, 1 bathroom
A big task for Lau was adding warmth to the high-ceilinged, open-layout space and figuring out how to delineate various zones while still having them feel connected. Incorporating the homeowner's rugs bought in India helped solved both dilemmas.
Lau bought the vintage coffee table at an antiques store frequented by set designers in the city. "It's got that rustic black-and-metal look that I like to use for men," she says. "It kept things airy and light but still has that feeling of masculinity. It's old-world but not necessarily a kitschy piece."
Vintage Nautical Link table with custom glass top: Olde Good Things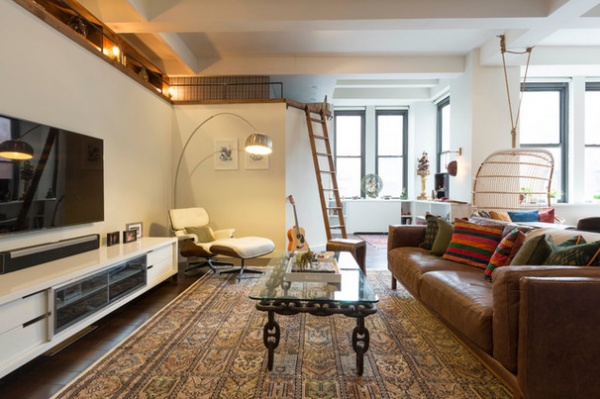 Lau transformed a narrow loft space into a gentlemanly reading lounge and library accessed by a rolling ladder. She used old pipes for the rails and upholstered one of the walls in plaid fabric. The homeowner likes to crawl up there to read and take naps on the weekends.
The homeowner already had the white Eames lounge chair and broken-in brown leather sofa.
Lamp: Arco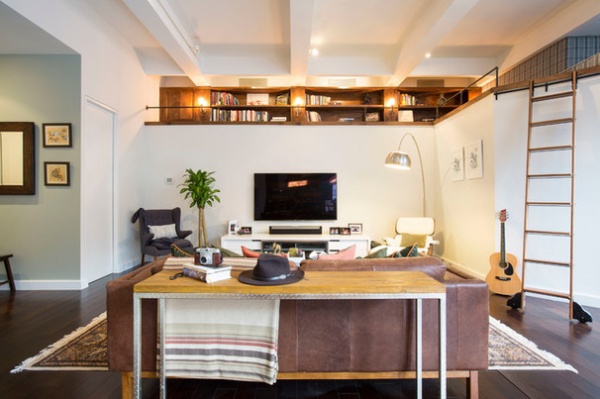 The library portion of the loft has custom-made bookshelves made of poplar with a walnut stain. Lau wanted the bookcases to line up with the ceiling beams, so she designed three sets of shelves for the spaces between the three beams and a small storage cabinet on the far left.
Another one of Lau's big tasks was putting to use many of the homeowner's knickknacks from various trips, such as the hat and camera seen here, which he used during an African safari. "A lot of stuff is very personal things he's brought back from travels," Lau says. "Before, there was no place for them."
Console table: Worlds Away; TV credenza: AllModern; blue chair: West Elm; ladder: Putnam; sconces on library wall: industrial light sconce: Shades of Light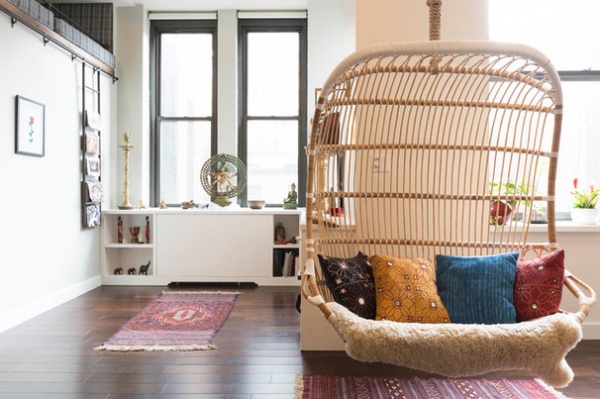 Lau turned an alcove into a meditation and yoga space with a custom radiator cover to display many of the homeowner's statues of Hindu deities and other items.
She hung a ladder that the homeowner already had to create a magazine rack.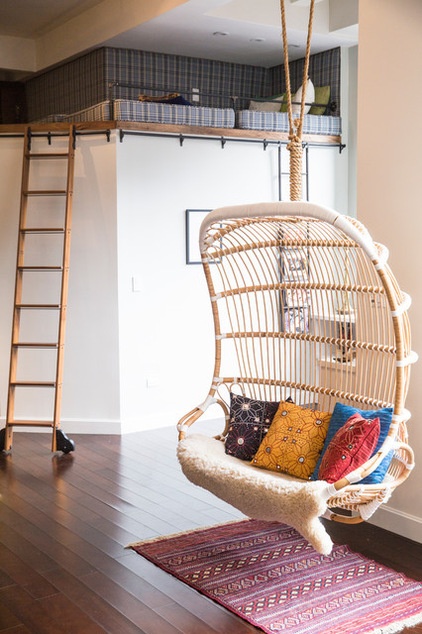 In this photo, you can see the cushioned reading loft.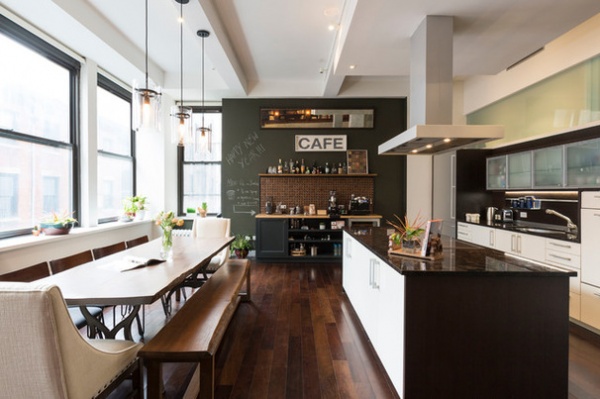 A wood slab table with an industrial base and an open-backed slab bench bring in warmer elements. Small-scale pendants keep the views out the big, wide windows clear. The kitchen was existing and already in good shape, so Lau didn't have to do much to it.
Bleeker Street mini pendants: Sonneman; chairs: West Elm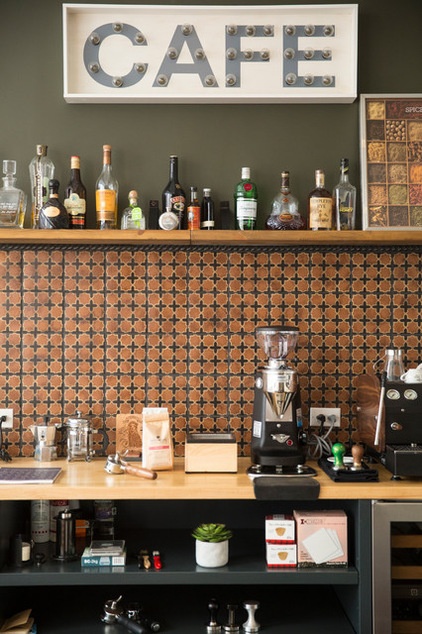 As a response to the homeowner's love of coffee, and to expand the kitchen a bit, Lau created a bistro-style coffee bar. "It helped make the space more rustic," she says.
A shelf from West Elm displays alcohol and spices above a backsplash made of Moroccan-inspired tiles.
"Cafe" marquee sign: Dot & Bo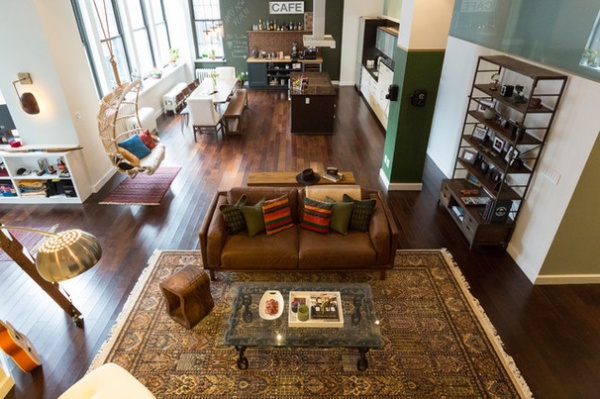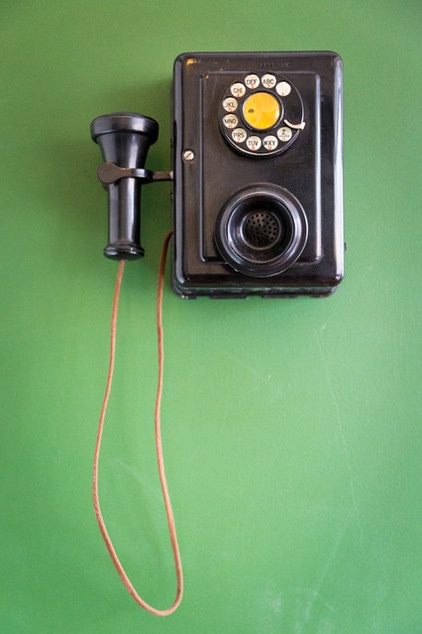 A vintage rotary phone on a post painted emerald green was rewired to serve as the intercom system for when guests call up to the apartment from below.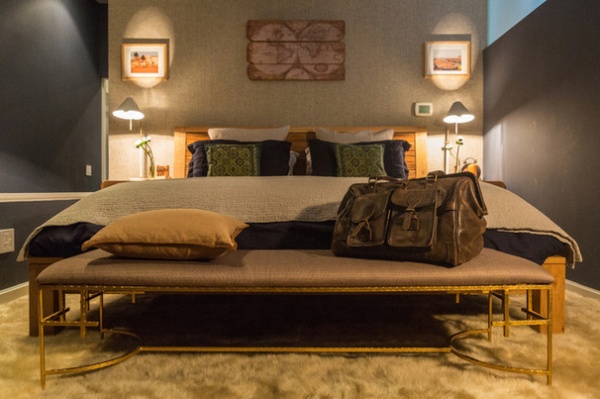 Instead of trying to brighten the windowless bedroom, Lau decided to play up its moodiness by painting it dark blue and adding a grass cloth wallcovering in a chevron pattern. "All the other spaces are very bright and open," Lau says. "We wanted the bedroom dark and cozy."
Wallcovering: Chevron Chic grass cloth, Phillip Jeffries; Dante leather bedside table, Made Goods; lamps: West Elm (discontinued); rug: sheepskin in taupe, Auskin; gold leaf and linen bench: Worlds Away
Browse more homes by style:
Small Homes | Apartments | Barn Homes | Colorful Homes | Contemporary Homes | Eclectic Homes | Farmhouses | Floating Homes | Guesthouses | Lofts | Midcentury Homes | Modern Homes | Ranch Homes | Townhouses | Traditional Homes | Transitional Homes | Vacation Homes
URL:
Houzz Tour: Coffee and World Travel Inspire a Bachelor Pad
http://www.decor-ideas.org/cases-view-id-26826.html