Bring the Surf Inside With Big Beach Photos
http://www.decor-ideas.org 08/01/2015 17:13
Decor Ideas
From design magazines to bloggers' homes, oversize and artsy photographs of beach scenes have been popping up everywhere lately. These shots tend to feature a view of the beach from a distance, which allows the focus to be on the colors of the sand and sea and the abstracted forms of beachgoers and bright umbrellas. Here are 10 reasons to try this colorful, laid-back and undeniably optimistic trend in your own space.

So Your Style Is: Coastal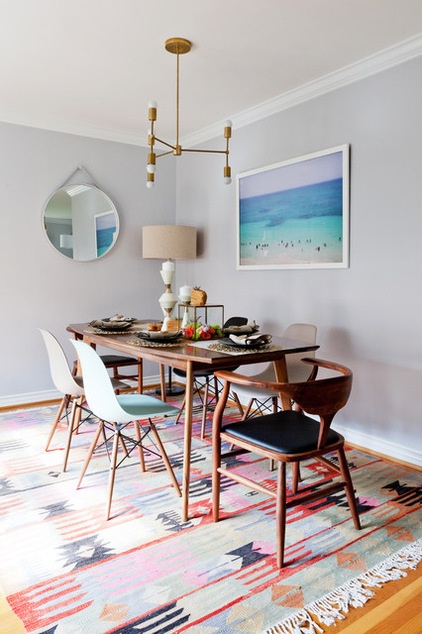 1. A big beach photo is a mood booster.
There's no denying that gazing at a beach scene lifts the spirits. A bright print by photographer Max Wanger brings a happy, laid-back mood to this dining space, whose soft gray walls and warm-toned kilim-style rug complete the picture.
Art: Max Wanger photography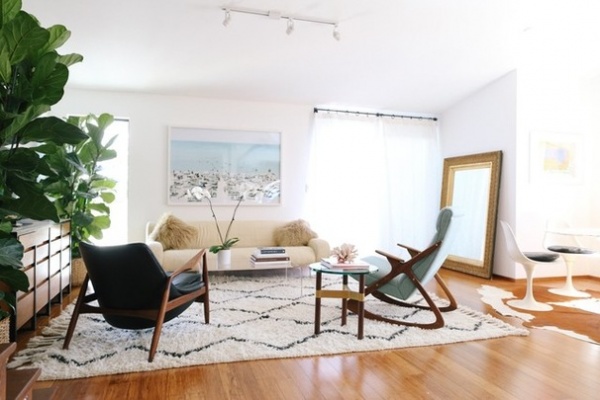 2. It works well with midcentury style.
If you love decorating with midcentury modern furniture, an oversize beach or surfing photo can complement the aesthetic while updating it for modern times.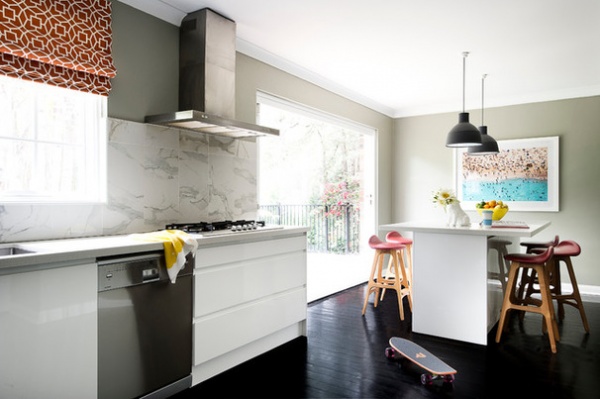 3. It adds color to neutral spaces.
The bold turquoise waters and colorful dots of people on the shore make beach photography stand out beautifully against a neutral wall, making it a highlight of an all-neutral space. Here, a vibrant beach photograph brings a splash of color to a sophisticated putty gray and black kitchen.
Art: Aquabumps Beach Photograohy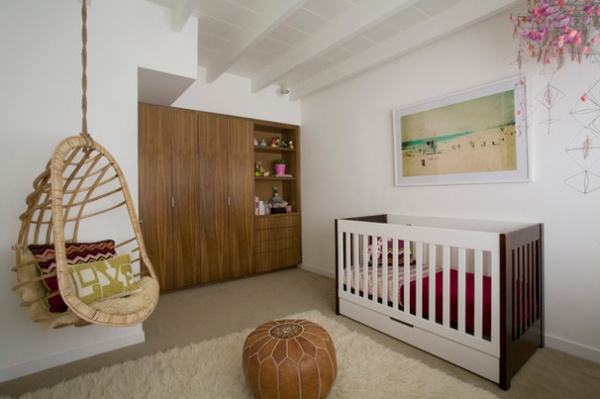 4. It's hip and unexpected in the nursery.
Bring boho flair to the nursery with a framed beach photo in a simple white or wood frame. The vintage look of the artwork seen here works especially well with the hanging chair, groovy pillows and fluffy flokati rug.
Art: Etsy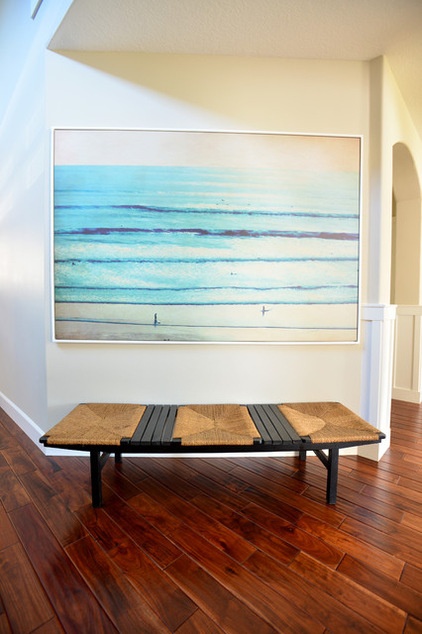 5. It can transform an empty hall into a gallery.
Hung above a sculptural bench, a big beach photo opens up a hallway, creating a memorable decorating "moment" worth a pause. In a long hall, consider hanging a series of beach photos, framed identically and well lit.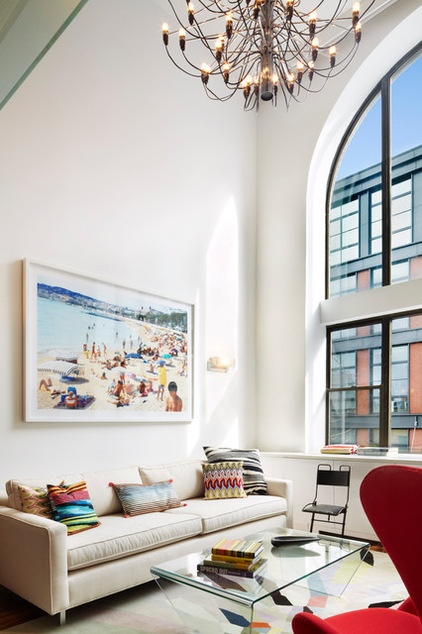 6. It can create a focal point on a lofty wall.
Loft-height ceilings call for art with super-sized proportions. But choosing artwork on such a scale is challenging: How do you know you won't get tired of it? A beach photograph has a few points going for it, including the versatility of sky-sea-and-sand colors (which go with just about everything) and the popular appeal of the subject, which means it should be easy to get the other members of your household on board.
Art: Clic Gallery, New York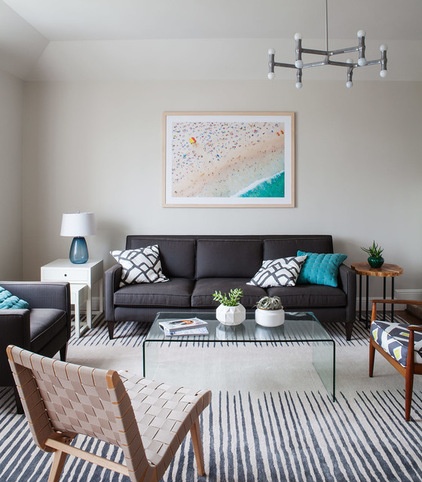 7. It can help an urban space connect with nature.
Getting tired of your high-rise condo or fourth-floor walk up? A great big framed beach photo brings a bit of the coast to you. There's no need to go overboard with beachy decor — the contrast of one big element (like the art shown here) within a sleek, chic apartment is part of the appeal.
Art: Gray Malin photography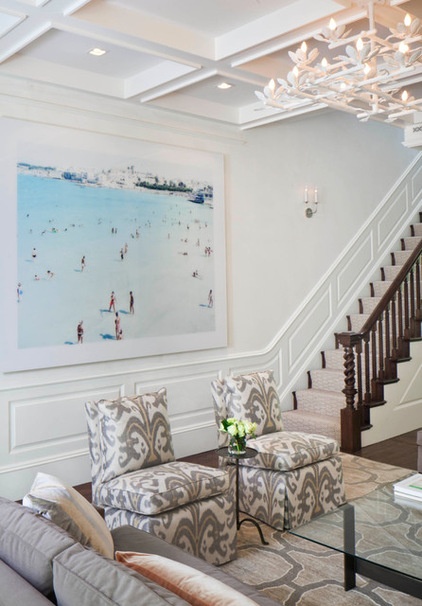 8. It can help loosen up a formal room.
A large beach photo has an elegant, spare look that works surprisingly well in formal surroundings. Paired with traditional architecture, it creates a pleasing contrast between the old and new.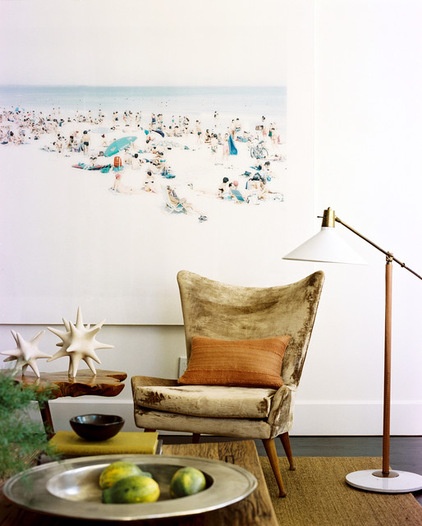 9. It extends sight lines in a small space.
An extra large beach photo (especially one without a frame, as shown here) creates a scene that draws the eye through to an imaginary distant spot. Hung in a small space, it has an effect similar to that of a large mirror.
Art: Massimo Vitali photography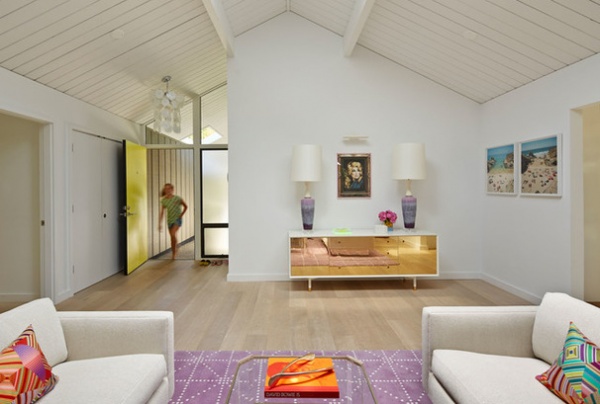 10. It works well in multiples too.
If you like the look of a big beach photo but want to rein in the budget a bit, consider hanging two works by the same photographer (and preferably from the same series of photos) side by side. Choosing a pair of medium-size photos can cut framing costs, since you can skip more expensive custom framing and get something ready-made instead.
Art: Christian Chaize
Tell us:
Have you spotted the big beach photo trend? Would you try it at home?
More
Coast Into Chic Beach Style
10 Small-Space Tips From Beach Cottages
URL:
Bring the Surf Inside With Big Beach Photos
http://www.decor-ideas.org/cases-view-id-26609.html