15 Reasons to Get Addicted to Kantha Quilts
http://www.decor-ideas.org 04/18/2015 05:13
Decor Ideas
Kantha quilts originate from Southern Asia and are made from old saris, layered on top of each other and stitched together. They have beautiful and unexpected colors, intricate patterns and an abundance of embroidered running stitches. It's easy to find yourself addicted to kantha quilts. If you've managed to collect a few over the years, congratulations on your wise investment. Here are 15 places to incorporate them into your decor. The tips here can work for other kinds of quilts as well.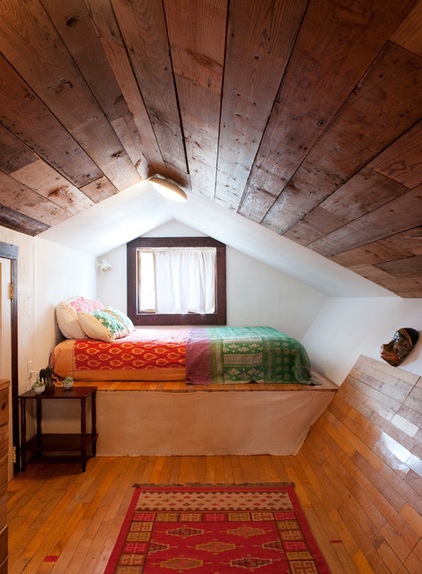 1. This vibrant and exotic sleep space.
By far my favorite thing to do with kantha quilts is to layer them on top of one other as bedding, as their lightweight nature makes them perfect for the job. Just like layering your clothes, this technique adds physical warmth, but also a casual elegance that seems like you haven't tried too hard. Take this bedroom, for instance; the mixture of colorful embroidery draws the eye to the focal point of the room, the sleep space, but also the precious light coming from the window.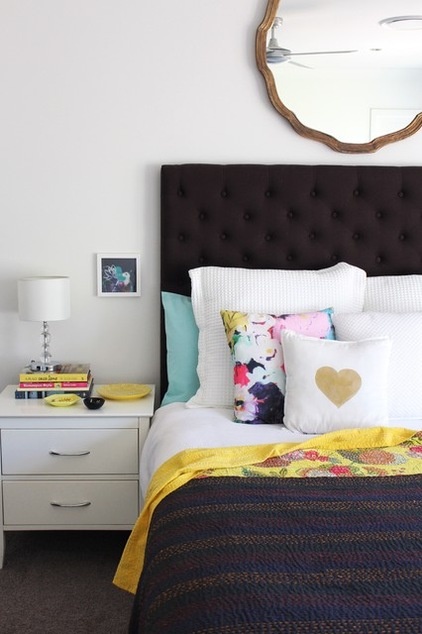 2. This understated and elegant sleep space.
Most kantha quilts are double sided, so they're great for introducing an instant mixing and matching of patterns to add interest to a neutral bedroom scheme. To create this look, use a crisp white bedcover and layer your kantha quilts over the top (turn down the top of your blankets for a peek at the pattern underneath). Make sure you stagger them, so that one quilt sits higher than the other — this way both quilts are on display. Find accessories like books, plates or cushions that echo some of the colors in the quilt to tie the look together; in this case, there are pink and yellow accessories.
Kantha quilt: eBay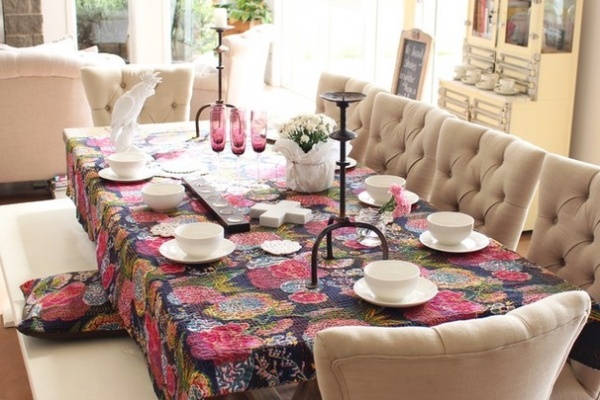 3. This table setting.
Why didn't I think of this sooner? Kantha quilts make stunning tablecloths! There is no need for fancy cutlery or crockery here, because all eyes will be focused on the beautiful table cover. I'll also let you in on a little secret: This floral pattern is the ultimate disguise for spills and drips at dinnertime.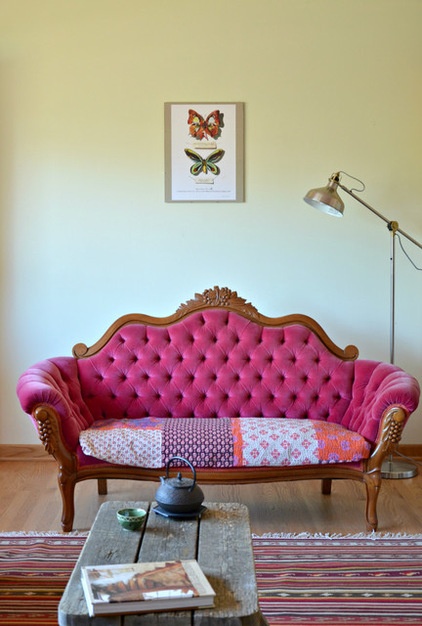 4. This upholstered chaise.
Like a knight in shining armor, this handsome kantha fabric has been draped across the seating area of this stunning pink velvet antique sofa.
Tip:
If you're eager to try some DIY upholstering, I recommend using proper upholstery thread, not regular sewing cotton, and make sure you use good-quality foam, too. This will ensure that your hard work will stand the test of time.
If you're not comfortable with reupholstering your precious furniture, find a professional in your area on Houzz to do it for you.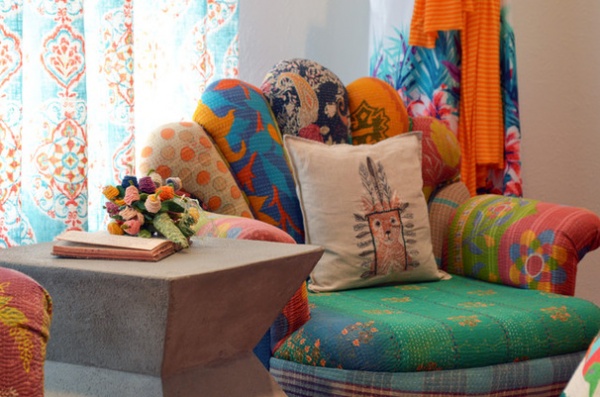 5. This showstopping scalloped chair.
The colors and patterns found in these blankets are so versatile that whatever the combination, they seem to work together. Here, a cheery scalloped chair has been upholstered in a kaleidoscope of kantha fabric made from vintage saris.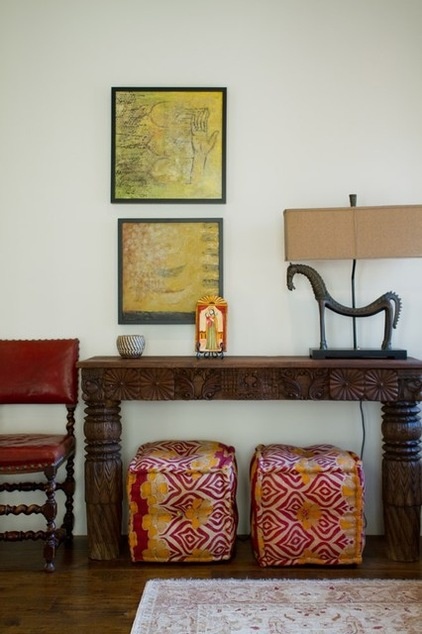 6. These colorful ottomans.
Resting your feet has never been so stylish with ottomans and footstools covered in heavenly kantha fabric. They are such a statement piece even when not in use. Plus, they're practical — you'll thank yourself for these handy seats when you're fumbling around with your shoelaces. If you aren't feeling brave enough to slice up your quilts, hire a professional to upholster the seats for you.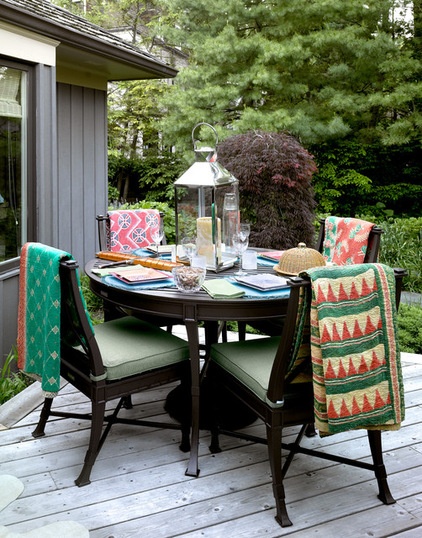 7. These winter warmers.
Looking for a lap blanket or something to take the edge off the cold when dining outdoors? Lightweight and well sized, kantha blankets are perfect for popping on your lap. Draped over the back of chairs, they can be accessed with ease.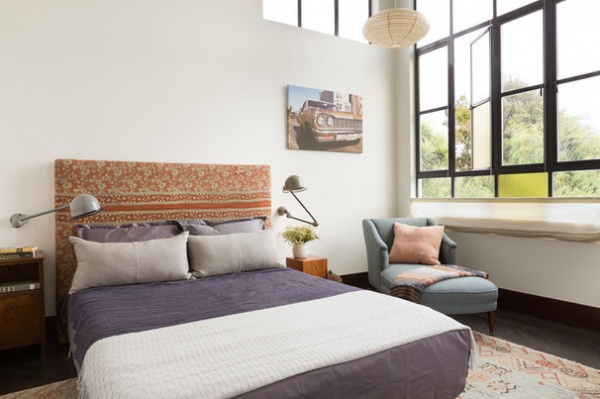 8. This headboard.
Attaching a beautiful kantha quilt to a headboard is a creative way to preserve and display a precious blanket. As most kantha quilts are double sided, I would recommend a semipermanent method of attachment — such as safety pins or Velcro — so that you have the option to flip the quilt and show off the reverse side.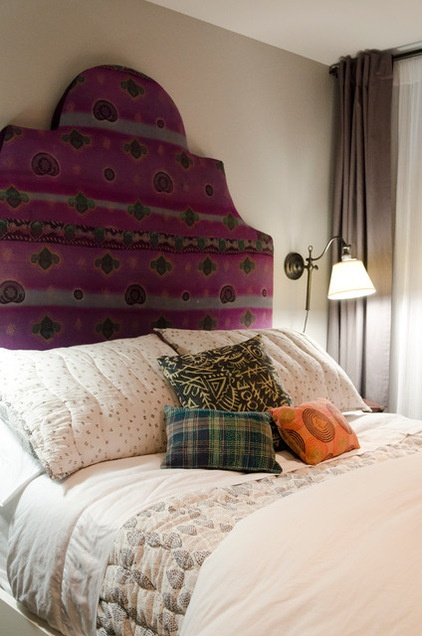 9. And this headboard.
An intricately shaped headboard calls for a more permanent attachment of the quilt, so it remains firmly in place. This would make a great project for a kantha quilt with damage on one side. What a nice way to preserve retired, worn blankets.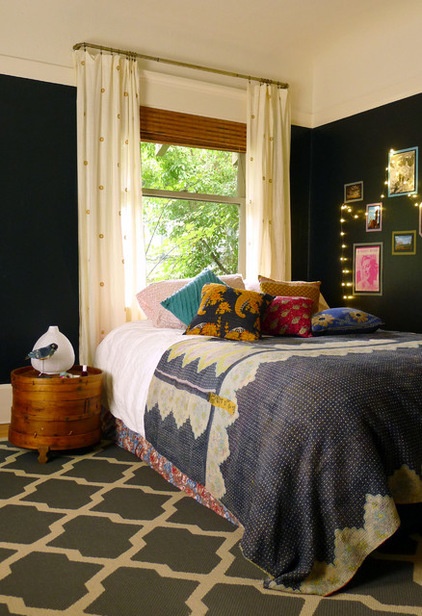 10. These cushions.
When shopping for kantha quilts, it is sometimes hard to choose which one or two that you should buy. Keep in mind that they can be made into pillows, which means you can take advantage of all the colors and patterns available.
Tip:
If you decide to make the pillows yourself, try using plastic snaps instead of zippers, as they are much easier to attach. I also recommend using a variety of kantha fabrics, so your pillows aren't too matchy- matchy. There is beauty in mixing, especially when it comes to kanthas.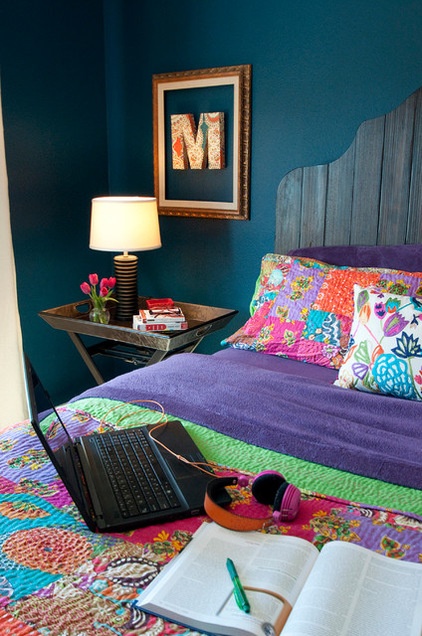 11. These DIY pillowcases.
Let's take the pillow love one step further and use kantha for pillowcases. While store-bought kantha pillowcases are not as readily available as pillows, I love this idea for old kantha blankets that are torn or damaged but still have lots of good fabric left.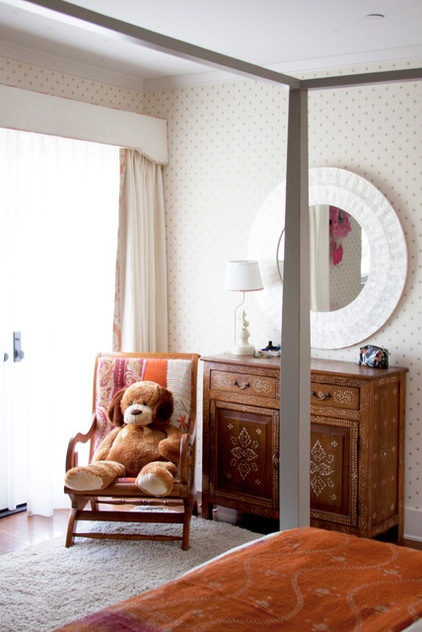 12. This boho-chic kids' chair.
If you are looking for a more permanent way to make over a chair, you may like to consider using a kantha blanket. It's amazing how versatile kantha is for different decorating styles. It seems to complement almost any setting by adding just a touch of color and pattern — not so much that it overtakes other elements in a room.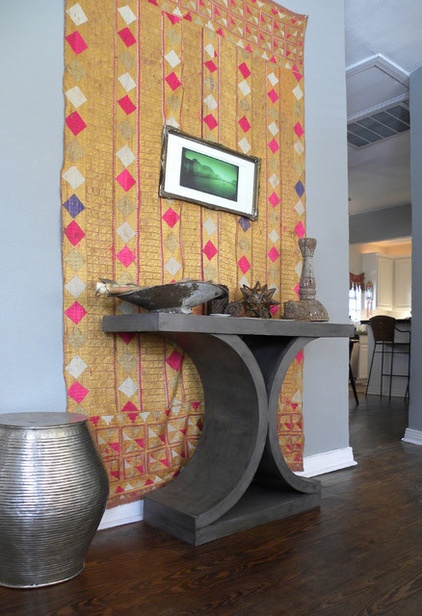 13. This wall hanging.
Each kantha quilt is like an original piece of art and deserves to be treated as such. Hang your kanthas on the wall and they will be adored by all. And the bonus of a kantha wall hanging is that you can turn it over to reveal the pattern on the reverse side whenever you're ready for a change.
To hang your kantha quilt, fold over the top edge about an inch and stitch it into place (either by hand or machine). This will create a channel where you can insert a curtain rod or something similar. You can attach rope or ribbon to this rod to hang it on the wall or simply position the rod between two hooks or brackets on the wall.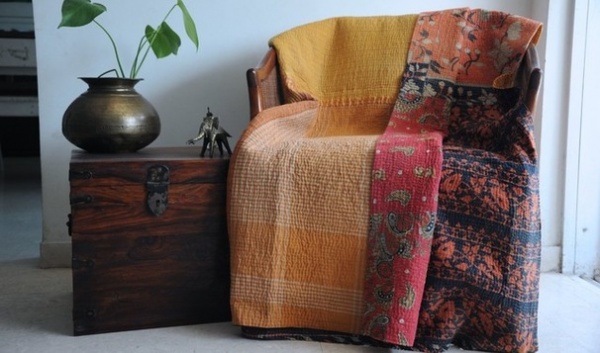 14. This throw.
Are you still unsure of what to do with your kantha quilts? When in doubt, throw one just about anywhere in your home. It's hard to go wrong with such a beautiful and versatile quilt!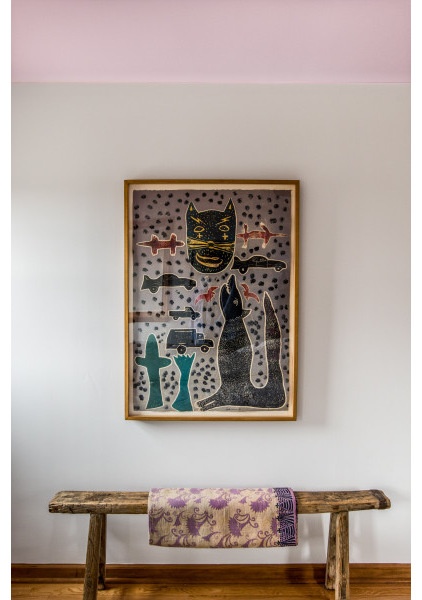 15. This hallway bench.
Over the back of a chair, on a bench, as a table runner or even as a picnic blanket … there are so many options for using your kantha quilts. I don't know about you, but I think I'm ready to add a few more to my collection.
More:
Celebrating the Great American Quilt
See Winning Modern Quilts on Display at QuiltCon 2015
URL:
15 Reasons to Get Addicted to Kantha Quilts
http://www.decor-ideas.org/cases-view-id-25943.html