Livable Luxury at the 2015 Pasadena Showcase House of Design
http://www.decor-ideas.org 04/14/2015 23:13
Decor Ideas
Contemporary and traditional furnishings mix well in a Tudor mansion crossed with a California Craftsman, the site of the 2015 Pasadena Showcase House of Design, which opens Sunday, April 19 and runs through May 17. Eighteen design teams have decorated the showhouse interiors in a comfortably luxurious style — with some glam and not a lot of glitz.

The estate's 9,400-square-foot main house features original Arts and Crafts elements, such as original tile, cast-plaster ceilings, wood built-ins and mahogany beams. A 2,600-square-foot carriage house that once housed the chauffeur and coachman now serves as a space for some (very lucky) guests. Additional design teams worked on the sprawling grounds, which include a swimming pool, a wisteria arbor, a koi pond, an outdoor kitchen with a wood-fired pizza oven, and gardens planted with California natives.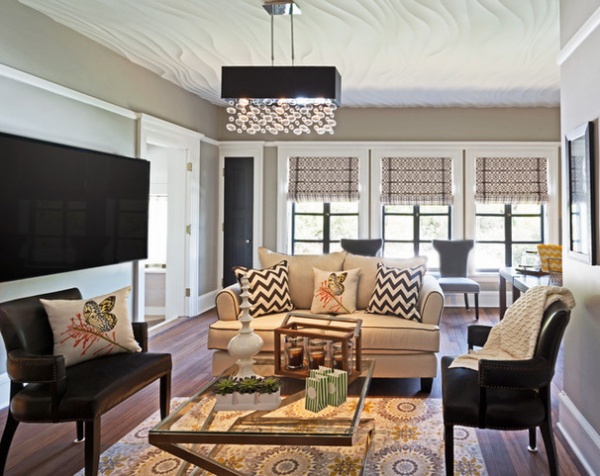 2015 Pasadena Showcase House of DesignLocation:
Pasadena, California
Open:
April 19 through May 17; 9 a.m. to 3:30 p.m. Saturdays, Sundays and Tuesdays; 9 a.m. to 6:30 p.m. Wednesdays, Thursdays; 9 a.m. to 7 p.m. Fridays
Cost:
$35 to $45. Proceeds from the home and garden tour, now in its 51st year, benefit music enrichment programs in Southern California. More info
Family Room, Main HouseDesign team:
Surfaces USA
A three-dimensional ceiling was the starting point for this sunny space on the second floor, says designer Stephanie Laney. Medium-density fiberboard was cut and installed on the ceiling, like a wall panel, to create a surface that would have a sense of movement and shadow. With comfortable seating and a 60-inch wall-mounted TV, the room is intended to be a gathering space for watching movies, studying and relaxing. It takes advantage of abundant light through a wall of windows.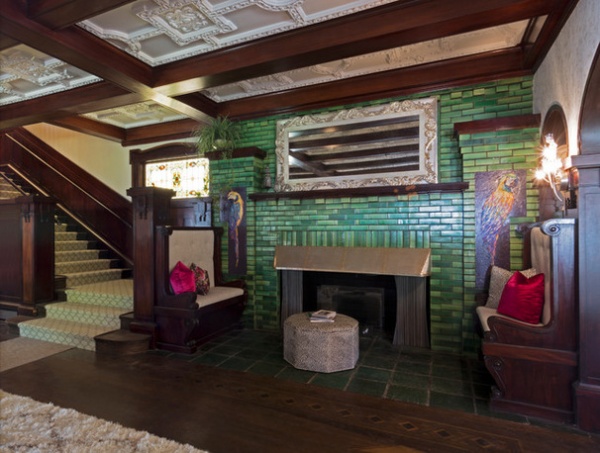 Entry, Main HouseDesign team:
Pacific Hospitality Design
The home's Arts and Crafts heritage is evident in the expansive foyer. Original elements include the green Grueby tiles surrounding the fireplace, ornate cast-plaster ceiling, mahogany beams and stained glass window on the adjacent landing. For decorating the space, designer Ana Maria Martinez-Stumpo took inspiration from Mexican painter Frida Kahlo. Martinez-Stumpo commissioned artist Shannon Grisson to paint parrots — seen in Kahlo's self-portraits — on the wood panels that flank the fireplace. A table with metal tree-branch legs (not shown) references another Kahlo painting. The glass flower sconces, cheetah-patterned ottoman and fuchsia pillows also are drawn from elements in Kahlo's work.
For above the fireplace, Martinez-Stumpo's studio designed and fabricated a framed antique mirror with a gold-leaf and silver finish.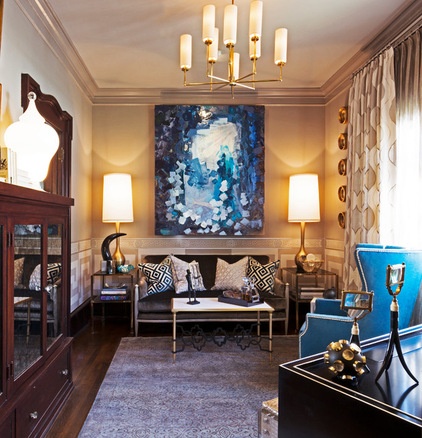 Library, Main HouseDesign team:
Jennifer Bevan Interiors
Splashes of peacock blue stand out from textural neutrals in this formal room anchored by an eye-popping work of art over the sofa, called "Blue Rain," by Bryan Ricci. Designer Casey Mason mixed art deco, midcentury and traditional pieces for a transitional look.
Fabric: Kravet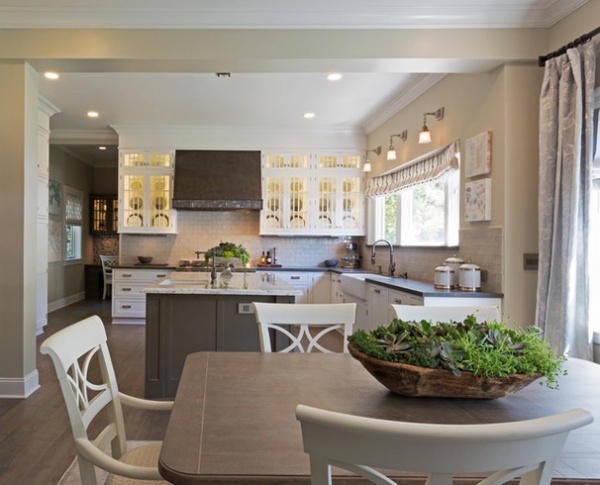 Kitchen, Main HouseDesign team:
Ederra Design Studio
The clean, white California kitchen has a touch of Craftsman in the motif of the backsplash tiles and the trim on the range hood. "Although the kitchen is brand new, we wanted people to walk in and feel like it fits with the house and will retain a classic look for many years to come," says designer Samantha Williams. Apron-front sinks, a honed limestone counter and an island topped with statuary Grigio marble from Walker Zanger keep things classic. Of-the-moment touches include a built-in refrigerator with a black interior (tucked into white cabinets on the left), and a wall-mounted home automation device that controls the lighting, music and Roman shades.
Refrigerator: Obsidian, Jenn-Air; Shaws Sinks: Rohl; home automation: Sound Decision; tile: Walker Zanger; shades: fabric from Beacon Hill, fabricated by Castec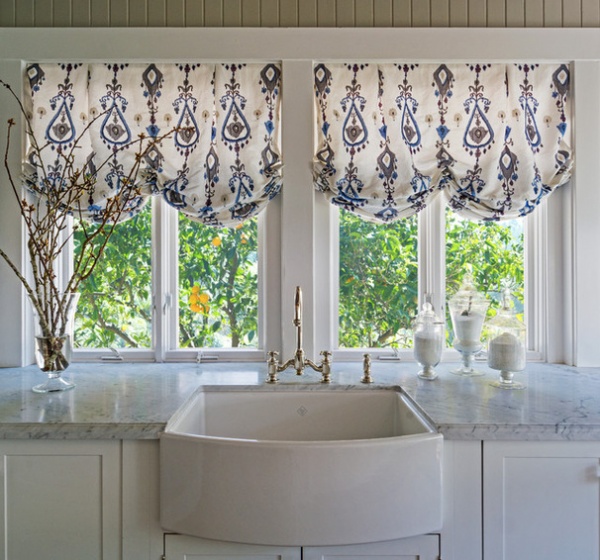 Laundry Room, Main HouseDesign team:
Ederra Design Studio
A curved apron-front sink anchors the compact, sunny laundry room that doubles as a mudroom and connects the kitchen to the home's exterior. White cabinets that conceal a washer and dryer flank the sink.
Shaws Sinks: Rohl; shade: fabric from Robert Allen, fabricated by Castec; washer, dryer: Bosch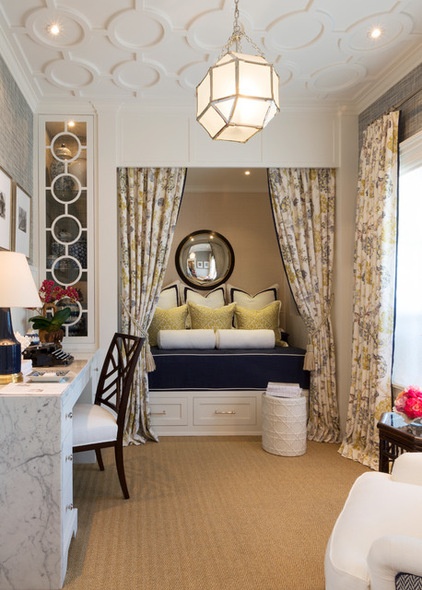 Writer's Room, Main HouseDesign team:
Robert Frank Design
Sea grass flooring and crisp white, navy blue and citrine colors evoke a seaside setting in this small room "inspired by Ernest Hemingway in Cuba," says designer Robert Frank. An 11- by 10-foot alcove holds a twin daybed with storage drawers, allowing the room to serve as a guest room, writing room or reading retreat. Statuary marble tops the writing desk. Circular design elements are evident in the cabinet cover and the ceiling's hand-applied hardwood molding in a link pattern.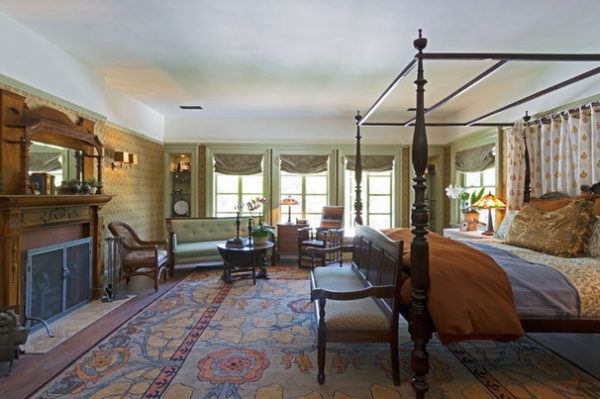 Master Bedroom Suite, Main HouseDesign team:
Saxony Design Build
"Our inspiration is the architecture," says designer Joshua Cain. That led to a complete remodel of the dated master suite, taking it back to its Craftsman roots, but with a modern flair. Jeff Godbold oversaw the construction, which included removal of the original bathroom, allowing access to the terrace and the addition of his-and-her walk-in closets. Everything in the suite is new, including an antique fireplace mantel and moldings. The king-size bed is a replica of a full-size bed from the turn of the last century.
Fabrics: Robert Allen; rug: Craftsman collection, Tufenkian Artisan Carpets; bed: antique replica British Colonial Shell Bed, Susanne Hollis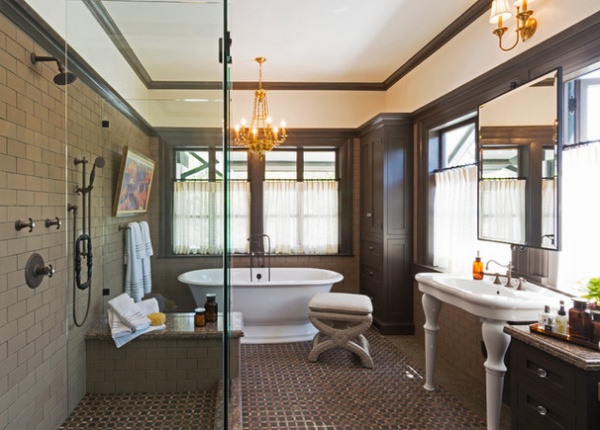 Master Bathroom, Main HouseDesign team:
Saxony Design Build
Originally a sleeping porch and then a sunroom, the master suite's bath is intended to be "a new take on an old charming feel," says designer Joshua Cain. Updated Craftsman elements have been carried over from the bedroom, with tiles made in California, including a combination of slate and marble for the floor. The bathtub is made from finely ground volcanic limestone mixed with resin, for durability and warmth.
Tile: Jeffrey Court (floor from Chapter 6, Nob Hill collection; walls from Chapter 5, Elegant Tones collection); tub: Elwick, Victoria + Albert; sinks: historic reproduction, Parisian Straight Leg Console Lavatory, St. Thomas Creations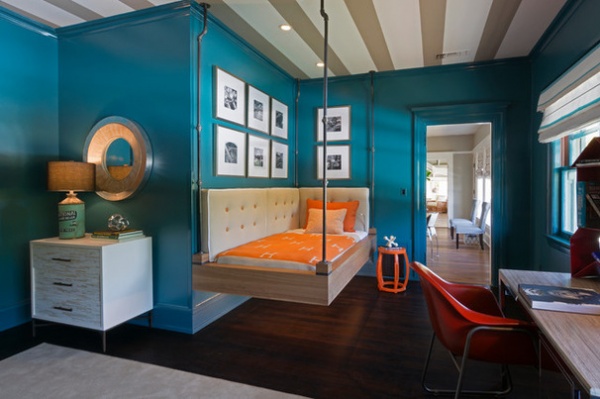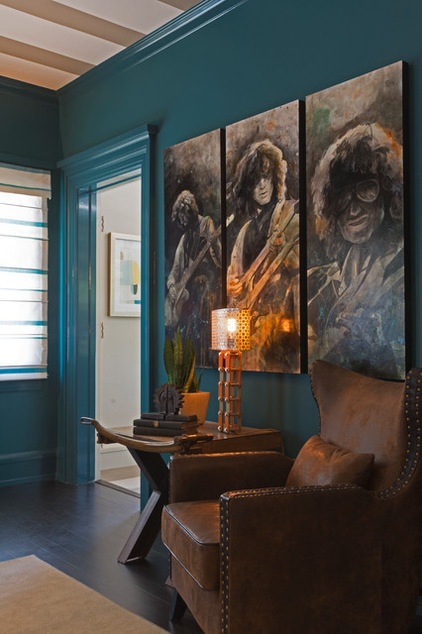 Boy's Suite, Main HouseDesign team:
Concept Builders (this photo and previous)
Bold teal walls and pops of red and orange complement the industrial-chic look inspired by rocker Jimmy Page, says designer Nancy Del Santo. The focal point of the room, created for a 14-year-old boy, is the bed, designed by Del Santo and built by Don Boline, which is suspended from the ceiling by pipes. A soft headboard is made of removable pillows for tossing on the floor. An artist in San Clemente, California, who repurposes items into furniture provided the 1950s artist's paper-cutter-turned-table and the truss lamp atop it.
Lamp, side table: Reclamation; bed blanket: Hermès; bedding: Simplified Bedding; art: The Plexi Gallery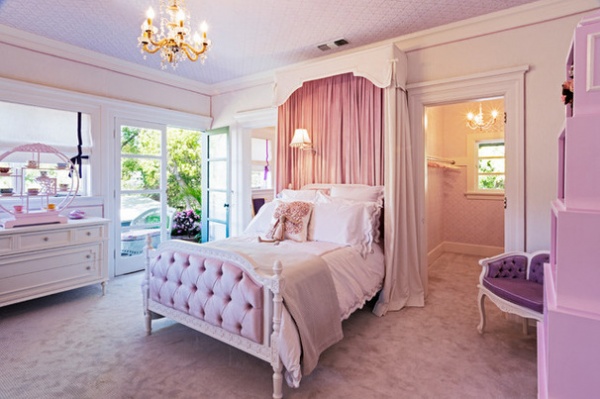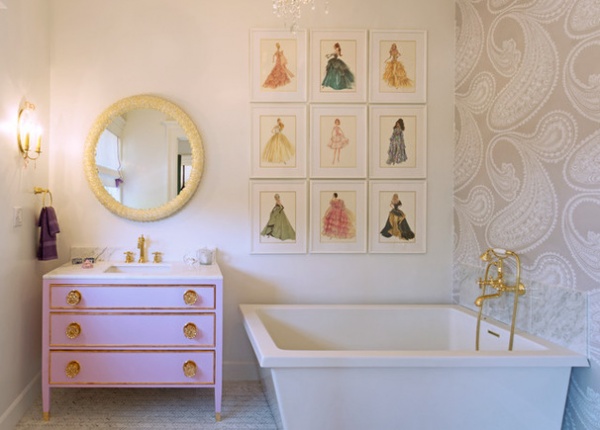 Girl's Suite, Main HouseDesign team:
AFK Fine Furniture for Children (this photo and previous)
This pink and lilac jewel box of a bed and bath is "meant for a 9-year-old girl who loves to read," says designer Gail Sedigh, who also wanted to create a room that would "take her into college." Sedigh owns a shop in Beverly Hills and a furniture manufacturing facility in Rancho Santa Margarita, California. Lilac draperies behind the AFK-manufactured Josephine bed with button tufting add a touch of glamour without bling. The en suite bath is decorated with framed limited-edition Barbie Couture Series prints drawn by longtime Mattel designer Robert Best.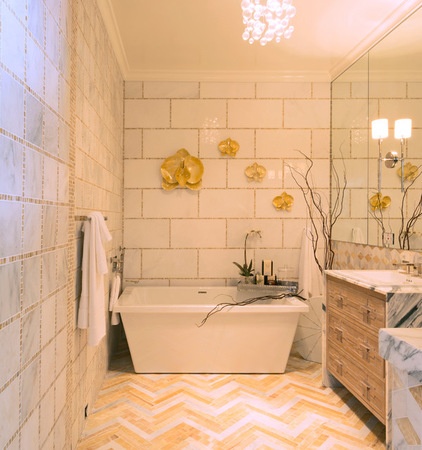 Bathroom, Main HouseDesign team:
Surfaces USA
All is light and gold in this small bathroom next to the family room. Ceramic orchids add a three-dimensional look to the wall of brushed Honey onyx and polished Calacatta marble, which also graces the floor. Brushed Calacatta Gold marble tops the vanity. A bubbly glass chandelier mimics a similar one in the adjacent family room.
All tile and stone: Surfaces USA; accessories, lighting, furniture: Poised by Stephanie Laney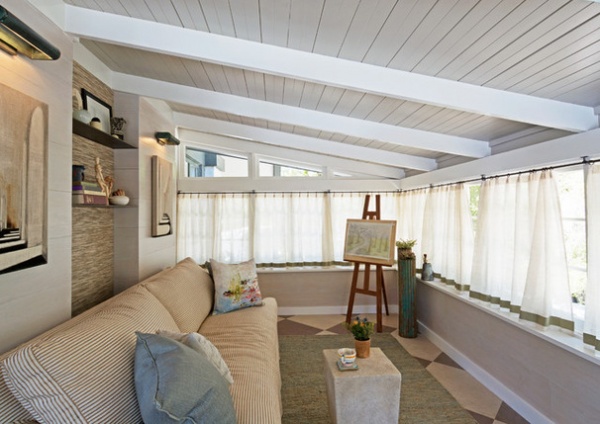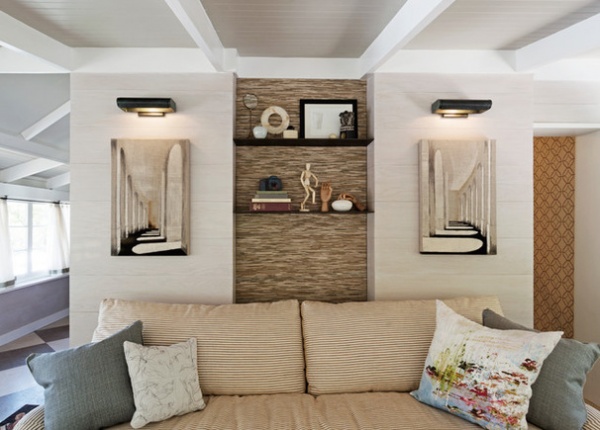 Artist's Retreat, Main HouseDesign team:
Dana Triano Designs (this photo and previous)
Originally a sleeping porch, this light-filled space lined with 50 feet of windows on three sides encourages comfort and creativity; it has the feel of an artistic treehouse. Designer Dana Triano replaced a bump-out and a window into an adjacent bathroom with a niche lined with shelves (over the sofa) that hold artist's models. The 9-inch-wide redwood planks that surrounded the window were salvaged and turned into a Craftsman-inspired easel. Flanking the easel are plant stands with a rusted patina that were made from salvaged Los Angeles street lamps.
Paintings over sofa: Teale Hatheway; window sheers and daybed fabric: Décor de Paris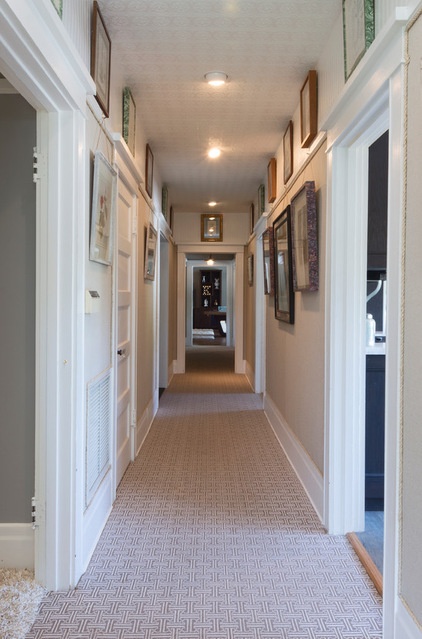 Hall, Carriage HouseDesign team:
Interior Devine (this photo and next)
A hall on the second floor of the carriage house acts as a gallery of creative frames and wall coverings. Designer Paul Devine framed 17th-, 18th- and 19th-century botanical prints using a French matting technique he loves. "I have a thing for marbled paper," he says. He uses cotton archival board and watercolors to create one-of-a-kind pieces of art. The art hangs by rope from a picture rail, giving the hall a "barn-y feel," Devine says. He used paper with a raised beadboard pattern on the walls and paintable Anaglypta wallpaper on the ceiling.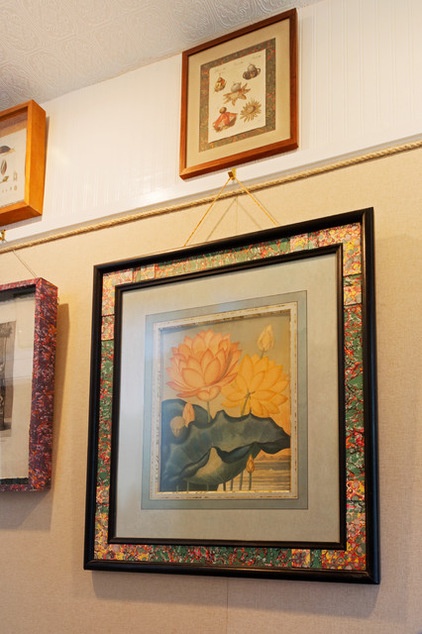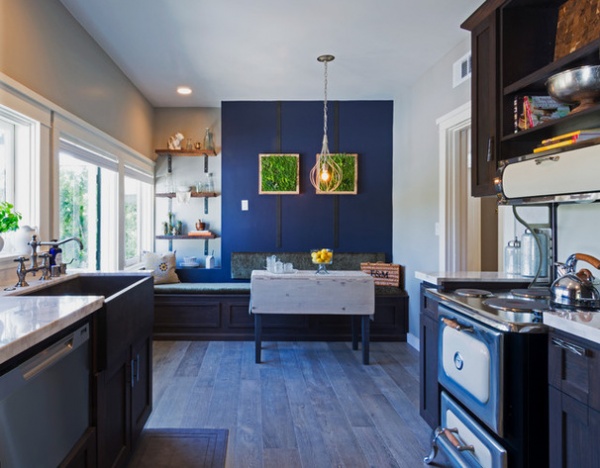 Guest Kitchen, Carriage HouseDesign team:
G.H. Wood Design
Inspiration for this homey kitchen came from the original vintage stove, which still works. "We wanted to create a rustic modern space to showcase its charm," says designer Kaleena Khademi. Gray-washed oak cabinets and a faux-wood tile plank floor complete the look.
Furniture, cabinets: built by G.H. Wood Design; tile: Statale, Walker Zanger; counters: Sky Marble & Granite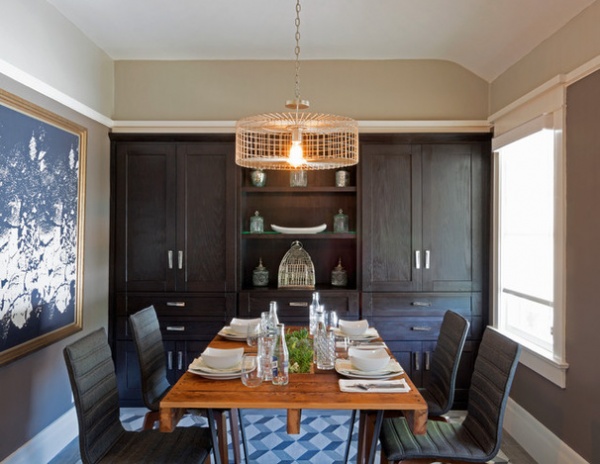 Guest Dining Room, Carriage HouseDesign team:
G.H. Wood Design
Planks of wood from a hutch that was previously in the space were used to create the dining table. Walker Zanger's Sterling Row Oxford–patterned tile sits under the table, almost like a rug. Faux-wood tile planks have been carried over from the kitchen.
Furniture, including hutch: built by G.H. Wood Design; tile: Walker Zanger; artwork: Larson Juhl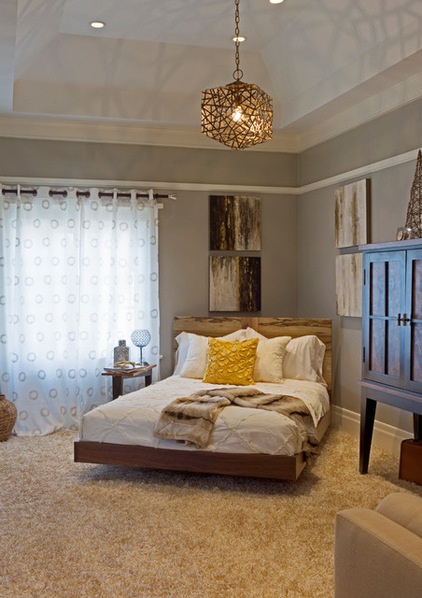 Guest Bedroom Suite, Carriage HouseDesign team:
G.H. Wood Design
For this space, designer Kaleena Khademi says the team wanted to do "something a little bit different, playing with different geometric figures." They constructed a bed of black limba wood and walnut, which looks like it floats but is supported by a metal structure.
Furniture: built by G.H. Wood Design and Jaxon Home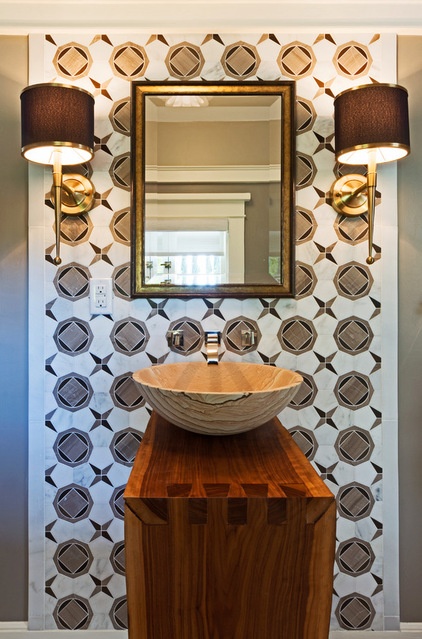 Guest Bathroom, Carriage HouseDesign team:
G.H. Wood Design
Exotic wood continues in the guest suite's bathroom. Striking Moorish Villa d'Oro tiles from Walker Zanger make the walls stand out. But the inspiration for the bath was the small vanity, which was constructed from one piece of walnut cut into two pieces and dovetailed, says designer Kaleena Khademi. A wood-mimicking stone vessel sink sits atop the vanity.
Vanity: G.H. Wood Design; tile: Walker Zanger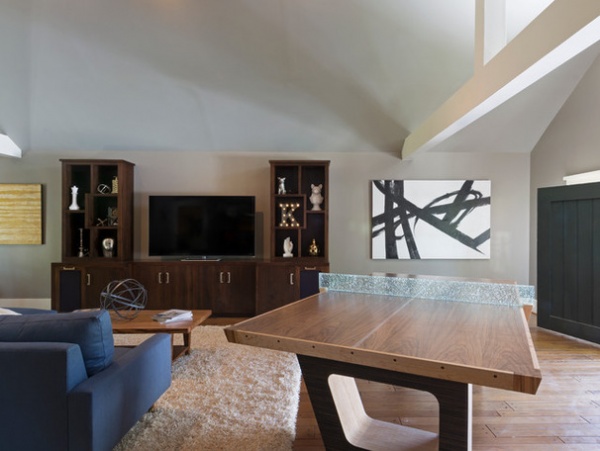 Family Room, Carriage HouseDesign team:
G.H. Wood Design
Designer Kaleena Khademi says the team wanted to do something with a midcentury vibe, so some geometric pieces were incorporated into the expansive family room, where shadows play off the beamed ceiling. The focus is an eye-catching Ping-Pong table made of walnut, curly maple and zebrawood, with cracked glass serving as the "net." A music case made of alder has cubbies holding vintage album covers from 1960s rockers, cementing the midcentury feel.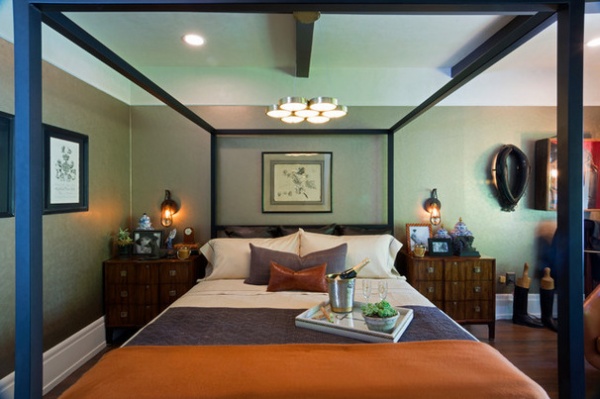 Executive Bedroom, Carriage HouseDesign team:
L2 Interiors
They may be youthful, but designers Stephanie Leese and Jason Lai knew how to meld art deco sleekness, Craftsman sensibility and modern touches in the executive/guest bedroom. The striking four-poster iron bed was created for the space, which also includes equestrian antiques. A sitting area near a window incorporates leather club chairs around a shiny cylinder table.
Antiques: Charles & Charles; lighting: Lamps Plus; bed, drapery hardware: custom made, Roberts Iron Works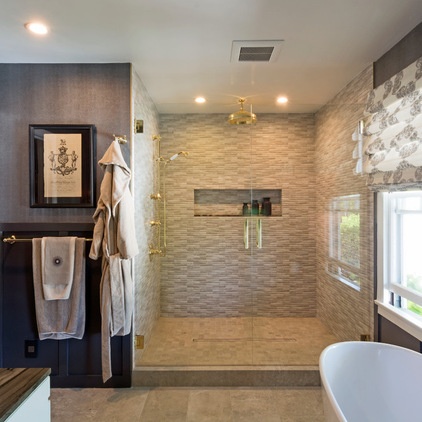 Executive Bathroom, Carriage HouseDesign team:
L2 Interiors (this photo and next)
Double doors on the shower and an oversize ceiling-mounted showerhead make a grand statement. The snakeskin-textured wall covering has a leather feel that creates a masculine vibe. Inside the shower it's all Zen calm, with wall tiles that look like mini waterfalls when water hits them, says designer Jason Lai.
Lighting: Lamps Plus; wall covering: Innovations; tile, quartzite counters: Pental Granite & Marble (tile from Castlestone Collection; counter is Sequoia Brown quartzite); plumbing fixtures: California Faucets, Hydro Systems, Icera, all supplied by George's Pipe & Supply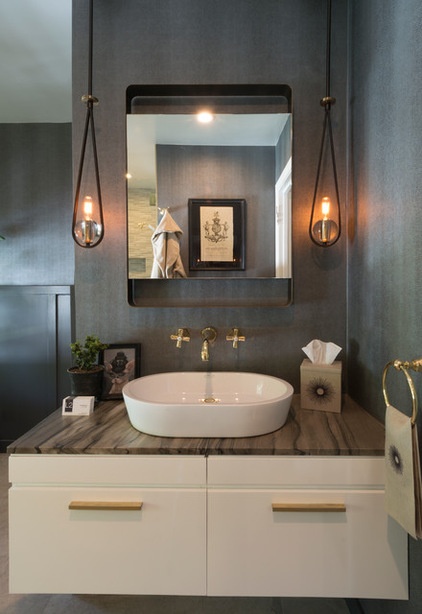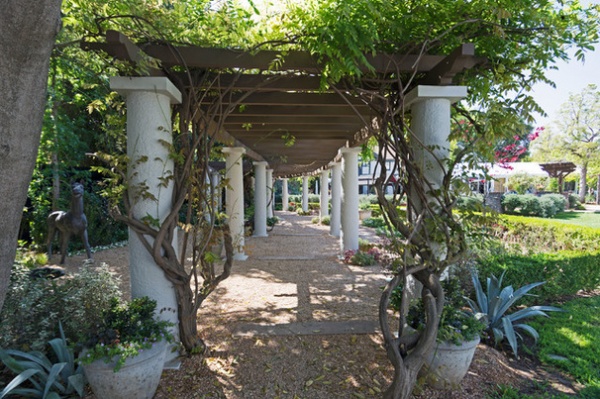 Wisteria ArborDesign team:
Lauterbach
The crushed-rock walkway of an existing arbor is shaded by century-old wisteria. A horse statue appears to drink from a pond, and planters with succulents accent the path.
More:
9 Beautiful Craftsman Touches
'Wolf Hall' Style: The Secrets of Tudor Architecture
URL:
Livable Luxury at the 2015 Pasadena Showcase House of Design
http://www.decor-ideas.org/cases-view-id-25920.html