Novel Ways With Bedroom Books
http://www.decor-ideas.org 05/18/2014 22:03
Decor Ideas
A natural part of leisure time at home, books and bedrooms have been companions for years. Wordsworth penned poetry in bed. Proust, late in life, wrote in his brass bed. Truman Capote once claimed, "I am a completely horizontal writer." And Twain, pipe in hand, wrote his iconic novels nestled between the four posts of his carved oak bed.

Where great authors write, great readers read, and in an age of e-readers and flat-screen TVs, the bookshelf still holds a place close to the bedroom's heart. Shelving allows personal expression, and books, no matter the genre, are an engaging accoutrement in this sacred space. Add the convenience of reaching for a good read before switching off the light, and the bedroom bookshelf makes a strong case. Here are 11 ideas for bringing the library bedside.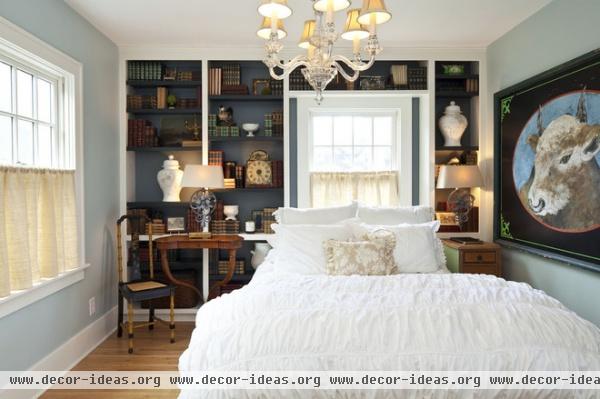 A classic touch.
Traditionally bound books have a refined feel. Here the white urns are a subtle nod to Keats' "Ode on a Grecian Urn," making this shelf appropriately poetic.
On the cheap:
An affordable way to get the look of a built-in bookcase without the cost is by setting a prebuilt freestanding bookcase against the wall, securing it and then adding molding to the base and top.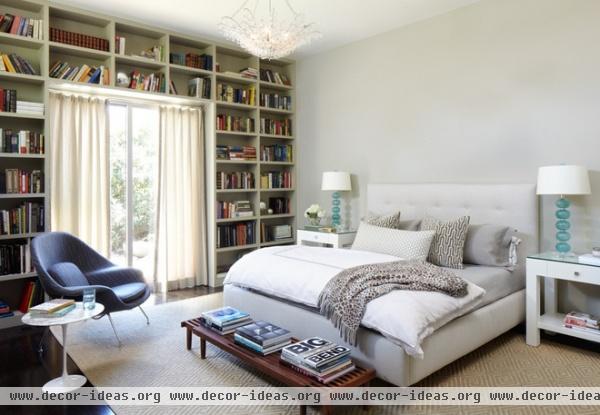 Great wall of inspiration.
Floor-to-ceiling shelving gives ample opportunity for expression, and, with the classic look of a good book, why stop with the walls? Here some big spines also take the bench at the foot of the bed.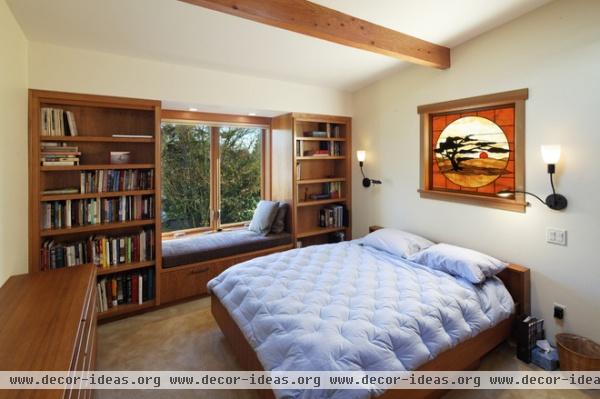 The reading nook.
A cozy reading spot is the bookshelf's best friend. Anchored by two built-ins, this window nook is an appealing option.
Custom costs:
Brian Egan of Corvallis Custom estimates custom bookcases at "about $500 to $600 per lineal foot," with the costs depending on wood choice and special features. The 14-foot built-in cherry bookcases and bench here cost $8,500.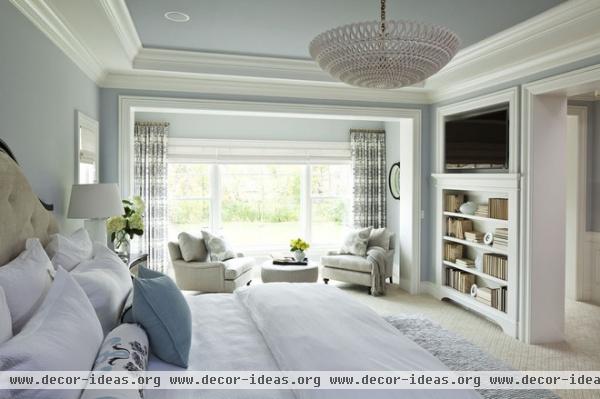 A shared space.
Whatever side of the bedroom-TV debate you take, there's always a way to find middle ground. Bound books are a tasteful nondigital touch to counterbalance an electronic bent.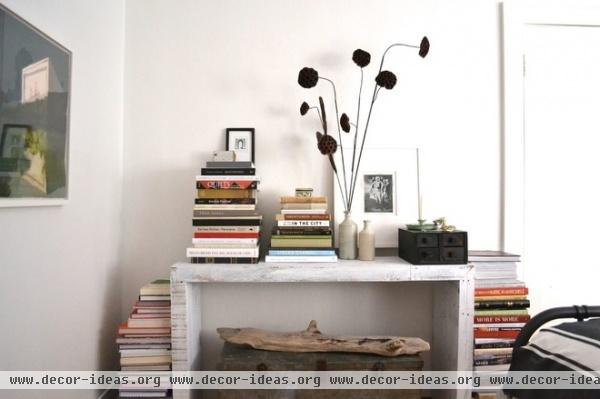 Design within reach.
Books have a strong visual aesthetic that adds excitement to a room's design, and an eclectic show of color can make a distinct statement. Here a neat stack of books uses the most affordable of storage options: gravity.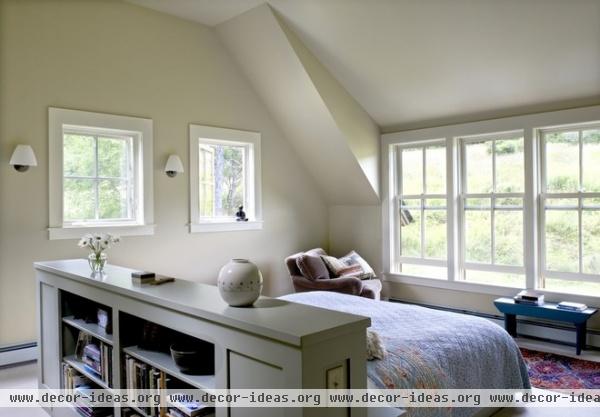 Add a headboard.
A bookcase can also function as a dividing feature, anchoring a centrally located bed and placing a read within reach.
Browse headboard bookcases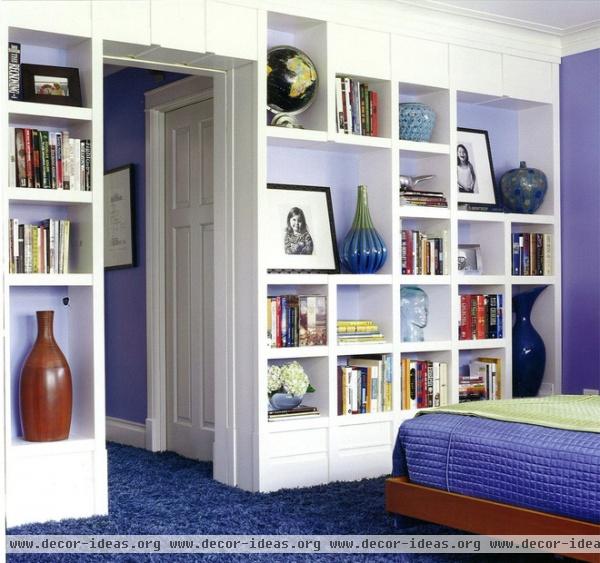 Books in blue.
A bookshelf is more than a place for books. Shelves provide space for your own expression, letting you pair favorite titles with personal photographs and symbolic objects.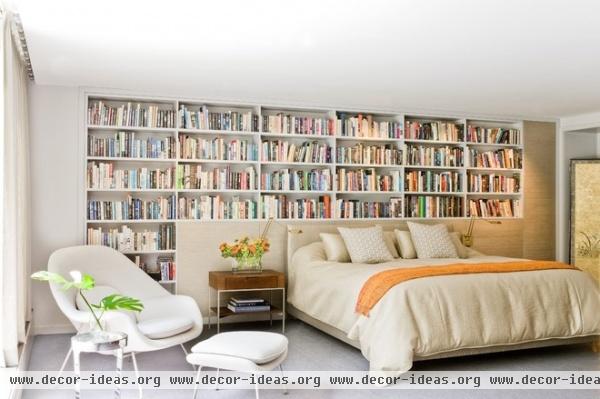 Headlining the room.
If reading by osmosis has merits (we hope it does), then above-bed bookcases are a compelling option for the effortless assimilation of intelligence.
Be a woodsmith:
For bookcases you plan to paint, consider using poplar wood. It's light and affordable; you can drill and nail it easily (then fill the holes with wood filler, which eliminates the need to use a finish nail gun); and it takes paint nicely.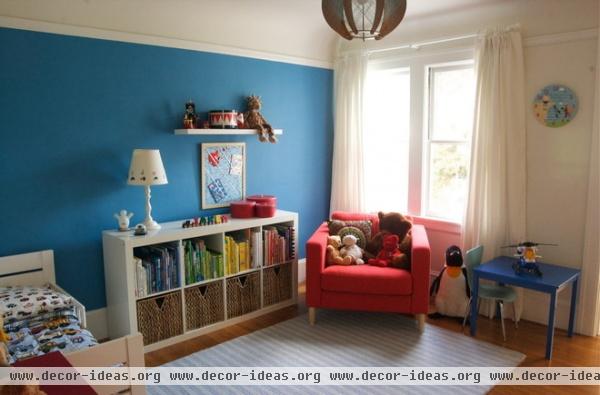 Start young.
No one is ever too young to be read to. For the disciples of Jim Trelease, a good bookshelf is a mandatory touch in a budding reader's bedroom.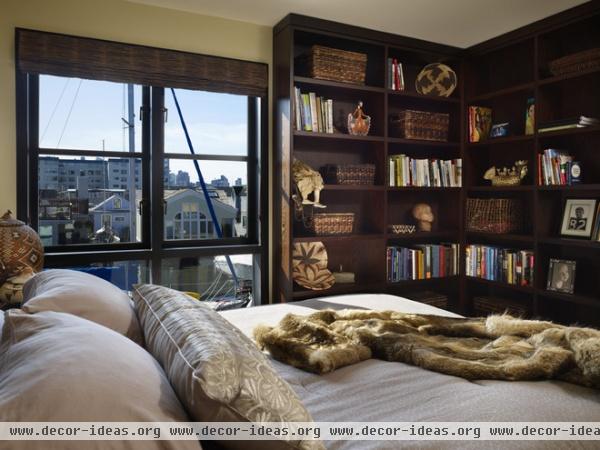 A book with a view.
The same natural light that gives a bedroom morning appeal allows for great reading light. But, for best book preservation, avoid direct sunlight on the spines.
Custom cost:
For the simple, classic bookcase shown, architect Dan Nelson consulted with Justin Hamlin of Impel Construction on pricing. Hamlin quoted a streamlined case like this one at approximately $450, but costs vary depending on wood, size and custom details.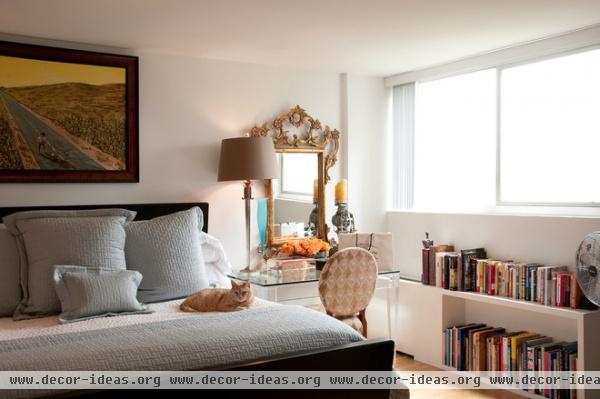 The subtle shelf.
Books don't need to take center stage — a touch here, an accent there is often enough to give a literary vibe.
Easy work:
Shelves are simple to attach (or build), and can be layered and arranged to fit the design needs of your wall.
Browse bookshelves for walls in the Products section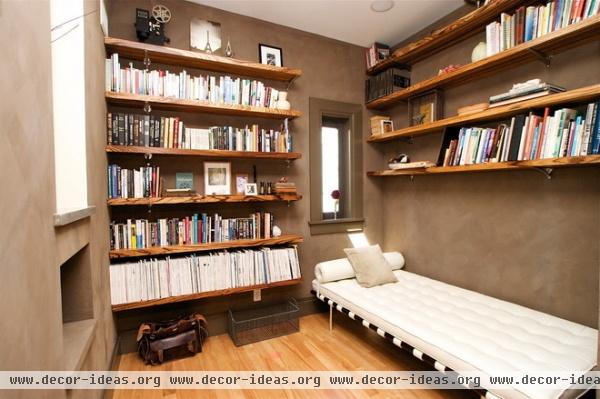 If a DIY project isn't in the works, feel free to call in a pro. The investment is often worth it, as built-ins add value to your room (and your home). Cabinetmakers also make great bookcases and occasionally — especially with dual projects — offer a discount.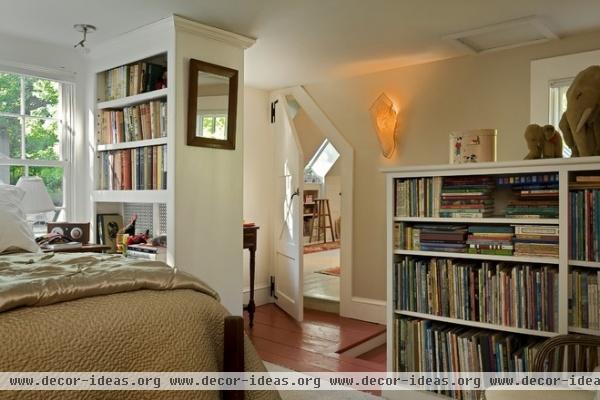 More:
Making Books a Part of your Home's Design
Reading in Bed Comes Out From Under the Covers
How do you keep books in the bedroom?
Share your ideas and photos below.
URL:
Novel Ways With Bedroom Books
http://www.decor-ideas.org/cases-view-id-23547.html