10 Ways to Enjoy Your Outdoor Room More
http://www.decor-ideas.org 05/17/2014 22:04
Decor Ideas
Hanging out in a backyard haven is a wonderful way to savor warm weather. But what about those less-than-pleasant aspects of outdoor time, like bugs, rain and blazing-hot sun? Here are 10 tips to help make the time you spend in your outdoor rooms more comfortable.
1. Define what you really want from your outdoor room.
It sounds obvious, but it's surprisingly easy to plow ahead designing a space for one purpose (say, an outdoor dining room) when what you really want is something else entirely (like a place where you can kick back and chat with friends). It's also easy to overlook our own preferences — for instance, some folks love being out in the elements, while others are sensitive to wind and sun; some love entertaining, while others want to enjoy a solo retreat. Answer these questions to get a better sense of what you really hope to get out of your outdoor room:
Do you prefer to spend time in your yard with family and friends or alone?How do you want to use your outdoor space — to cook, dine, lounge, play? Or do a combination of those?Do you mind carting stuff from the house to the yard, or would you rather have easier access?Do you like the feeling of sitting out in the elements, or do you prefer a more sheltered space?How important is privacy to you?What times of day do you like to use your yard?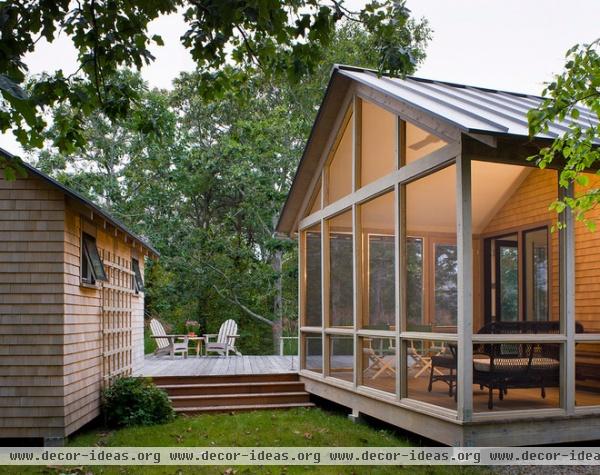 2. Deal with bugs.
If mosquitoes are a problem in your area, dealing with the issue is essential if you want to be able to enjoy the outdoors. Screening in a porch is a wonderful way to be able to feel like you are outside without the nasty bug bites. Other ways to keep the buggies away include:
Do not keep any standing water on your property. Even a single forgotten flowerpot full of rainwater can become a mosquito breeding ground.Make water features running rather than standing, or treat them with mosquito "dunks."Install ceiling fans on porches — flies and mosquitoes do not like moving air.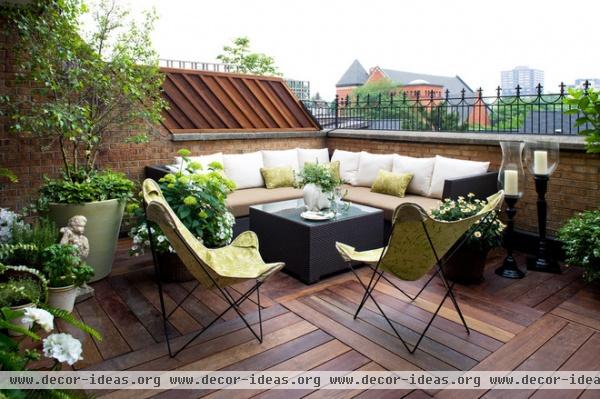 3. Use outdoor fabrics and materials in exposed areas.
On a covered porch, you can get away with using more delicate furniture and regular indoor cushions. But if your seating area is exposed to the elements, you'll want to invest in fabrics and furniture made for the outdoors. Outdoor fabrics do tend to be more expensive, but they won't fade in the sun, they resist stains, and water just beads right off. Outdoor cushions are stuffed with material that sheds water easily, so they won't stay waterlogged for long.
4. Store cushions so they don't get soaked.
While outdoor cushions are designed to stand up to repeated soakings, they will still be wet for a while directly after a rainstorm. To avoid sitting down on wet cushions, keep a storage bench beneath an overhang and toss the smaller pillows in it when you know there is a chance of rain. Lean the larger seat cushions against the wall of your house, and if you have any lightweight folding chairs (like the butterfly chairs shown here) tuck them under the eave too. If your outdoor room is far from the house, you could try using a waterproof outdoor storage bench that doubles as seating and quickly toss pillows in it when it rains. Sliding larger seat cushions under a table will offer some protection too.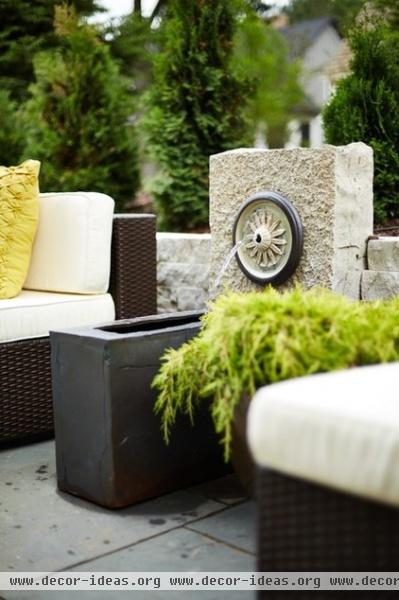 5. Mask sounds with running water.
Water is a great way to gently camouflage sounds from close neighbors. Try installing a small fountain near your seating area for a more peaceful atmosphere.
6. Or provide your own soundtrack with outdoor speakers.
Soft music playing in the background can be just as effective at masking sounds as running water. If you don't have outdoor outlets, try wireless speakers that connect to a sound system in your house.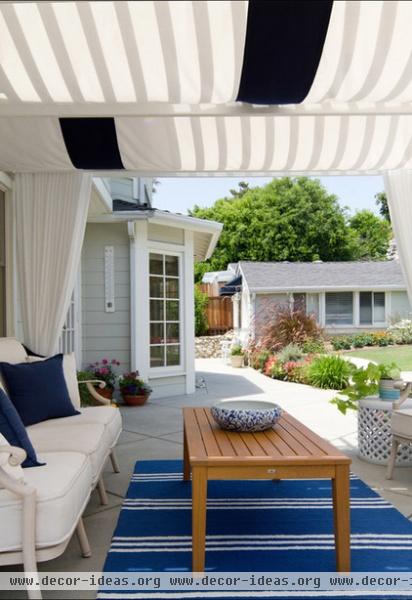 7. Have enough shade.
Sitting outdoors with zero shade on a hot, sunny day is nice … for about five minutes. After that you and your guests will be running for cover. There are lots of options for adding shade to your yard — try freestanding umbrellas, a cloth overhang, lattices, a shade tree or a pergola.
6 Patio Cover Types to Shade You in Style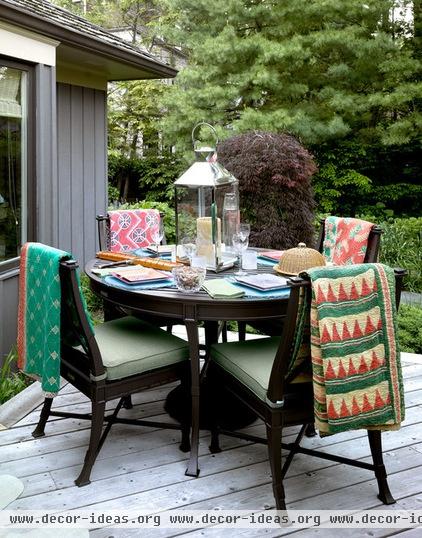 8. Put together an outdoor dining kit.
It can be easier to motivate yourself to dine outdoors if you have a kit ready and waiting. Try putting some of your most frequently used outdoor items in a basket or on a big tray with handles, so you can just grab it and go. Here are a few things you might want to include:
Unbreakable wineglasses and platesA carafe for water, wine or juiceBig napkinsCandles and matches or a lighterA wicker or mesh dome-shaped cover to keep flies off the foodUnbreakable outdoor serving piecesA bottle opener
9. Offer blankets on chilly evenings.
Keep a pile of blankets by the door — old wool camp-style blankets, lightweight kantha quilts or fringed throws work well — and pass them around on chilly evenings in the garden. Your guests will thank you!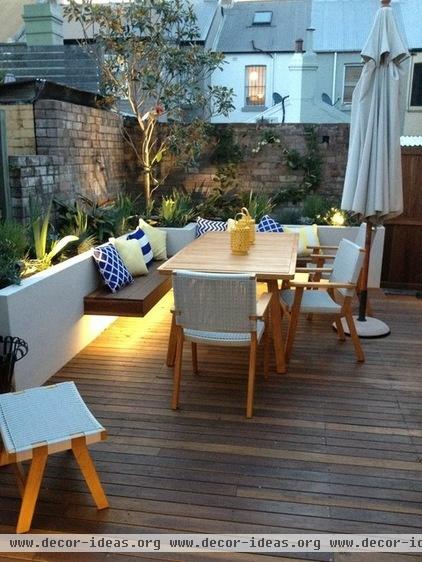 10. Boost lighting for nighttime.
The right lighting can make even the simplest outdoor space really come alive at night. Try placing lighting under a bench seat for a subtle illumination, make a ring of lanterns on the grass around your dining table or hang strings of lights overhead. Landscape lighting placed farther away in the garden will make the space seem larger and more mysterious.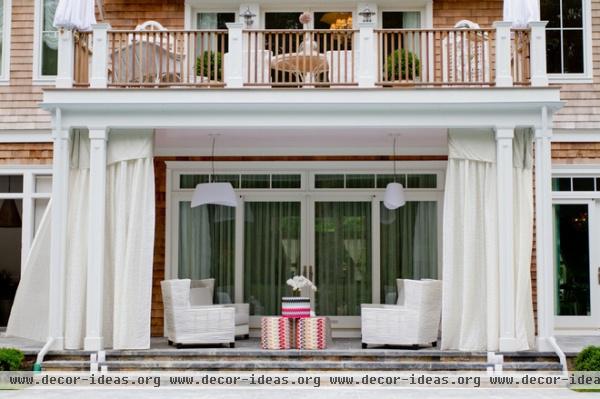 Tell us:
What are your biggest challenges when it comes to enjoying your outdoor space? If you could wave a magic wand and transform your porch or patio, what would you do?
URL:
10 Ways to Enjoy Your Outdoor Room More
http://www.decor-ideas.org/cases-view-id-23541.html