neighborly advice(6)
http://www.decor-ideas.org 05/10/2013 17:35
Decor Ideas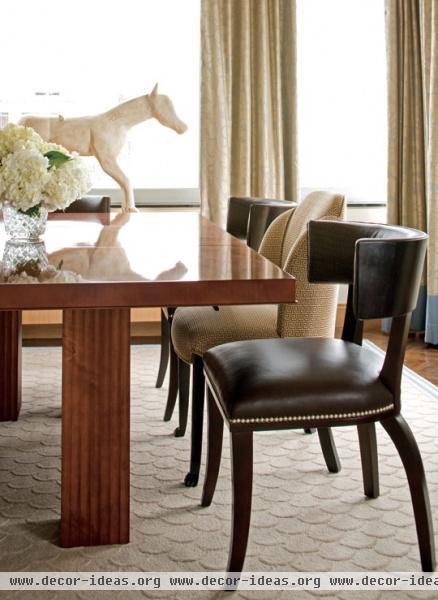 neighborly advice
Two different styles -- black leather chairs and Deco slipper chairs -- keep things casual at the dining table.
Sources:
Chairs: owner's collection. Reupholstered by Windows, Walls & More, 212/472-4800.
Chair fabric ("Aegean Texture''/Tan, Off White #HW-0881-KB): Hinson & Co., 212/688-5538, trade only.
Side chairs ("Clivedon Chairs'' #1807-28-62): Ralph Lauren Home, 888/475-7674, ralphlaurenhome.com.
Side-chair back fabric ("Jumbo Crocodile''/Deep Brown #BC03); side-chair seat fabric ("Dream Cow''/Fudge #DRC16): Edelman Leather, 800/886-8339, edelmanleather.com, trade only.
Dining table (by Barbara Barry): Baker, Knapp & Tubbs, 800/592-2537, trade only.
Sconces: Eric Cohler for Visual Comfort & Co., 713/686-5999, trade only.
Carved wood horse: Sentimento Antiques, 212/750-3111, sentimentoantiques.com.
Bar cabinet; chandelier: owner's collection.
Paint ("Old Prairie'' #OC-42): Benjamin Moore & Co., 888/236-6667, benjaminmoore.com.
neighborly advice(6)
http://www.decor-ideas.org/cases-view-id-1279_6.html