SIMPLY SERENE
http://www.decor-ideas.org 05/10/2013 12:35
Decor Ideas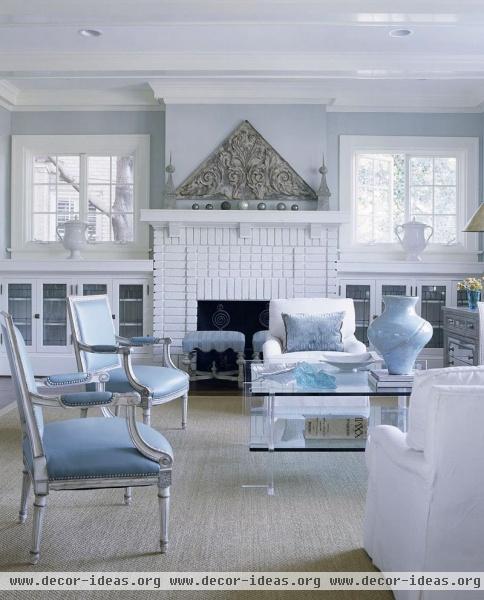 SIMPLY SERENE
Household serenity and teenage triplets sound like a contradiction in terms. Add a single mom, heaven help her, and the domestic scene potentially grows even wackier.
"We've definitely had our issues," laughingly concedes Atlanta homeowner Kathryn Kreimer, recently divorced mother of triplets Karl, Katrina, and Kimberly, and their older sister, Shelley, who lives at home between college terms. But life is good and relatively chaos-free. The triplets' individual iPods keep the daily decibels down, and a house redecorated in soothing water colors with splashes of sunshine turns the mood rings blue (that's good!) and spirits rosy.
When her marriage ended, Kathryn, more than ever, needed the family's 1920s Craftsman bungalow in the city's Ansley Park neighborhood to be her sanctuary-serene yet playful, more like herself. In 2003, she called on award-winning designer Mimi Williams to begin the home remodeling. "I was starting over," Kathryn says. In no time, Williams picked up on Kathryn's pulse-every bit as idiosyncratic as her own. "I embrace quirkiness," declares the designer. "I would worry if everyone understood me." Kathryn considers herself among the lucky. "Mimi just has a style and an approach I like. I wanted a designer who's willing to get out there and take a risk," she explains.
Pairing the living room's small-scale antique Gustavian furniture, like a settee, with the mantel's oversize architectural tin piece-a bold triangle that sounds a modern note that has nothing to do with its age-comes second nature to Williams, as does including glass and mirrored tables and any number of light-reflecting blue spheres in the room's eclectic stew. Similarly, the pair of daybeds in the family room wouldn't be every designer's first choice for major seating. But Williams's keen eye saw them as more practical than whimsical.
"At our first meeting, it was obvious to me that Kathryn's lifestyle is full, frantic, and fun," Williams observes. "I naturally concluded she needed a casual design-out of both necessity and preference." The daybeds are a serious family favorite. "When the triplets arrive home from school, they sprawl out on them to crash, watch TV, study, and simply enjoy this relaxed space," notes the designer. Plus, the daybeds "have the bonus of being different as well as playful." Deservedly confident, Williams calls her time-tested technique, which can manifest itself any number of ways, a "hit of wit."
As much as she does her own thing with home interior decorating, Williams first and foremost projects her client's personality and preferences onto the interior designs. With Kathryn, that meant paying tribute to the "beach girl" very much alive in a landlocked house. An Atlanta native, Kathryn spent summers as a child at the beach on Savannah's Tybee Island. "That's where I developed my love of the beach and of various shades of aqua and turquoise," she says. Even now, she hangs out, as much as she can get away with, at her parents' Blue Mountain Beach house, near Destin, Florida. During her visits there, she even manages to conduct her online business, Campus Cuisines, which brokers restaurant meals to private-school students.
SIMPLY SERENE
http://www.decor-ideas.org/cases-view-id-1228.html