SUNNY SOPHISTICATE
http://www.decor-ideas.org 05/10/2013 12:30
Decor Ideas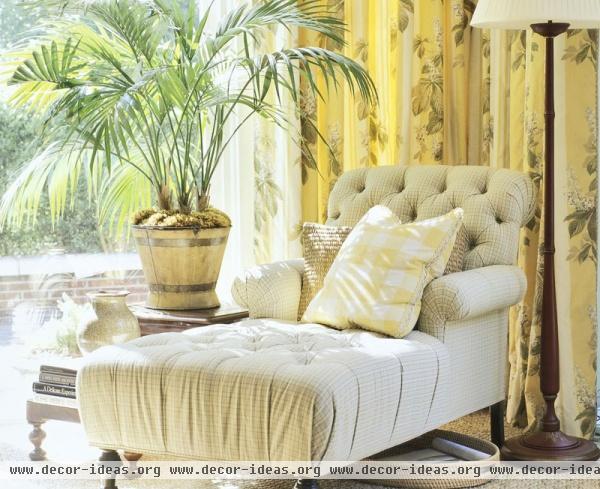 SUNNY SOPHISTICATE
Eighteenth-century design will always have its detractors-those who condemn the Golden Age of furniture as impractical, uncomfortable, and outrageously expensive for modern American lifestyles. Atlanta interior designer Dan Carithers turns a deaf ear to the diatribes, not only ignoring them but disproving them-one eminently livable house after another.
A convincing case in point is the 1930s Georgian-style home of Virginia and James Ellis-an Atlanta house Carithers sumptuously decked in 18th-century French, English, and Italian furniture and objects d'art. His design renders the constellation of stellar antiques viable not only for the adults but for their 12- and 15-year-old daughters and all their pals.
"We wanted to live up to the house, with its great moldings and 11-foot ceilings," says Virginia, a TV investigative reporter-turned-full-time mom, "but we also wanted our home to be comfortable and approachable. We're just as likely to invite three families with all their children for the evening as we are to have formal dinner parties. It's not unusual to have as many as 10 children running around the house-and it works. This is Dan's special gift. He not only makes rooms pretty, he makes them practical."
Circumscribed by displays of 18th-century delft and sang de bouf (oxblood) Chinese porcelains, three old swivel chairs of no special provenance are integral to the living room's main conversation area. "When Dan first suggested these, I had to pause," admits Virginia. "Swivel chairs? I thought of my grandmother. But Dan explained how they could be angled to ease conversation; how we would grow to really appreciate them-and he was right. We do."
Further, Carithers liked the aged look of the chairs' original upholstery and urged his clients to leave the chairs unchanged. "It might be 25, 50, or even 75 years old," Carithers says. "What's important is that mellow, slightly weathered look it brings to the room."
When orchestrating an elegant design like the Ellis home, Carithers is constantly on the prowl for that perfect piece of furniture that will sound a slightly discordant note to keep the design, and those who are viewing it, on their toes. He explains: "If it's a really grand room, I like to bring it down. I always like to do something that introduces a humble quality."
In the living room, it's the 18th-century "cartoon" (drawing for a tapestry) behind the silk sofa that relaxes the room's highbrow tone. "It was very crudely done," says Carithers, "and was exactly what was needed here." The piece's scale, too, is right on.
SUNNY SOPHISTICATE
http://www.decor-ideas.org/cases-view-id-1227.html